Introducing the Home Coming Characters
A new home for the Home Coming Statue
As you know, the story depicted in the statue is that of a homeless veteran, John, his daughter Colleen, and her dog Joey who have a chance encounter on the edge of a woods with an African American woman, Ms. Annatene. She is also homeless and trudging from nowhere and going nowhere. The little girl leads the way when she opens her daddy's coat and invites the old woman into their camp. The father, his gaze lost in the fire, stirs from his reverie, takes the little girl's lead and joins in calling the old woman into the camp.  While they have nothing, they share what little they have…the warmth of their fire, and their humanity.  It is called The Home Coming. The saga of the Home Coming is found in Chapter 13.
Read more on the saga of the Home Coming and how to end and revent Homelessness in Richard's new book
View the photos of the final clay sculptures from which the bronze was cast.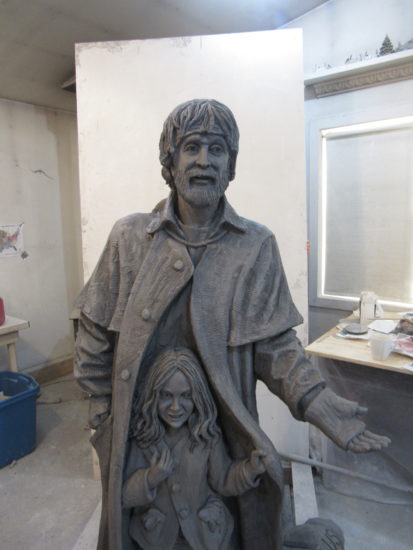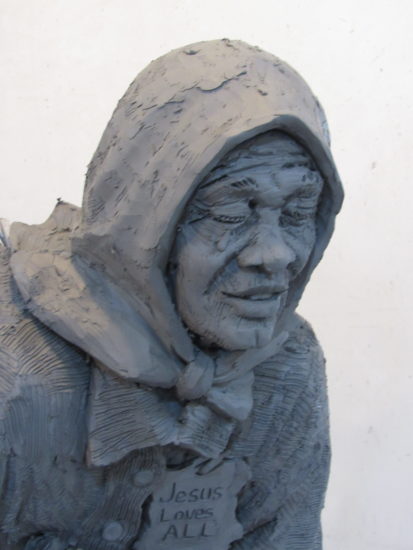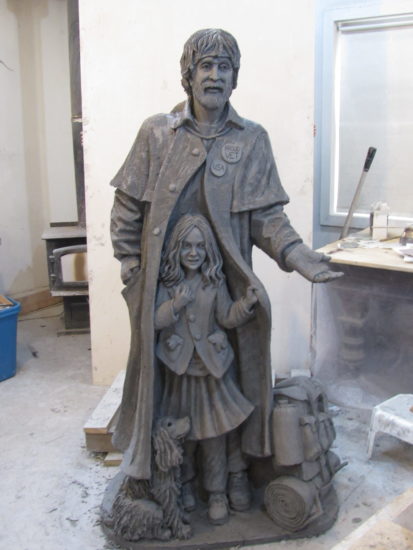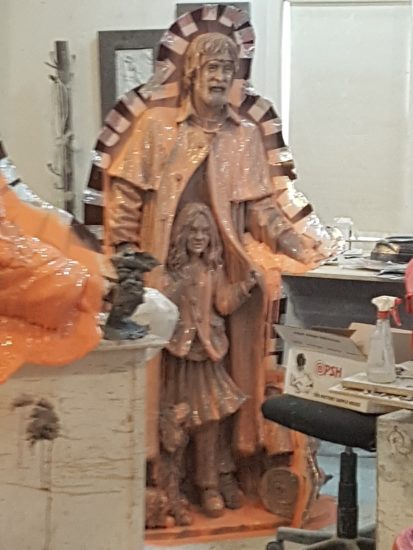 Statue in mold prior to bronzing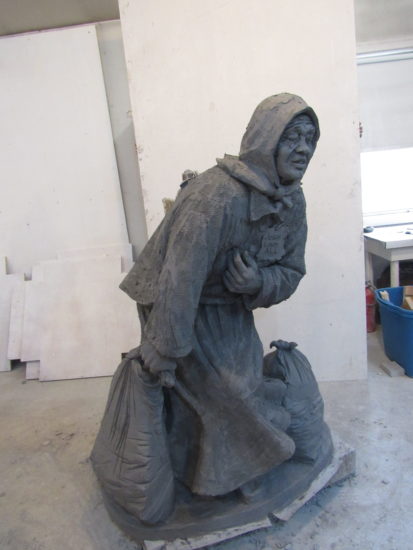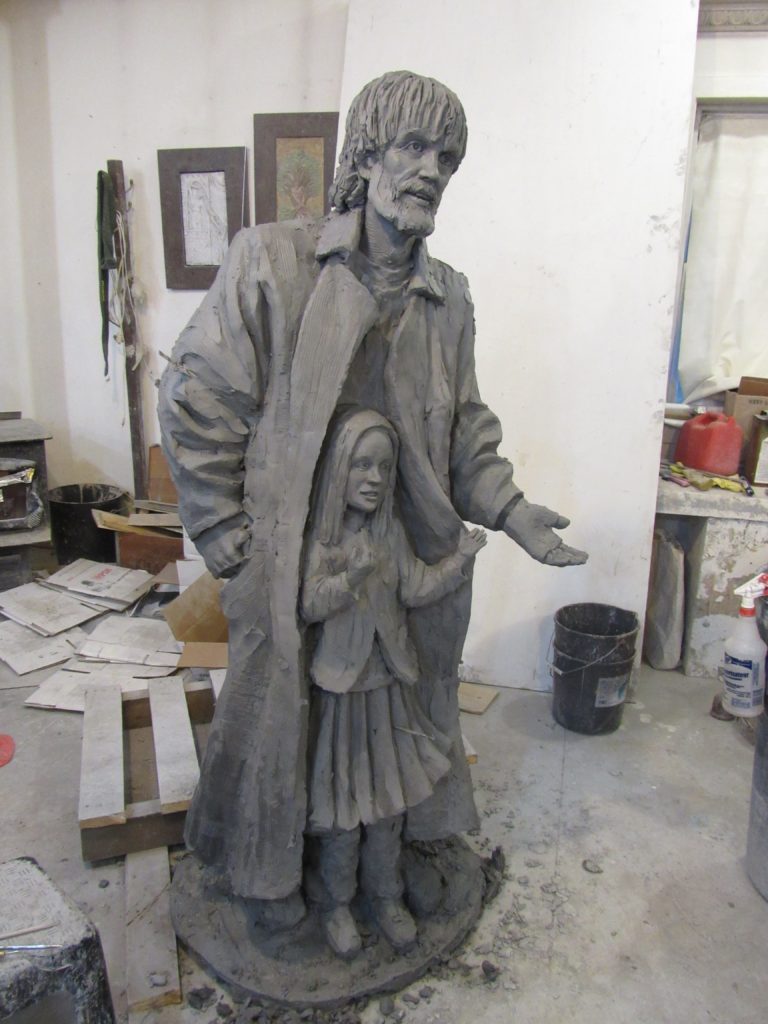 Figures coming to life in the gifted hands of Timothy P. Schmalz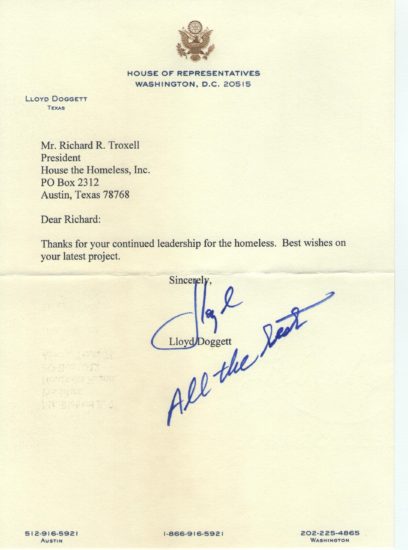 Thank you to Congressman Doggett for making a donation to The Home Coming Statue Project. We appreciate your continued support!
Watch the video from the Dedication/Blessing ceremony at the Basicilica of the Shrine of the Immaculate Conception in Washington, D.C. held on October 1, 2022.video credit: Matthew Gossage Homecoming-Brochure-FINALDownload
Recognition
Champion for the Homeless- $10,000+ 
Jeff Serra
Advocate for the Homeless- $5,000-$9,999 
Eric Anderson & Marilyn Lindgren
Supporter of the Homeless-  $1,000-$4,999
Will Adams
Alan Graham
Amie Henry
Julia Marsden
Laurie Raymond & Tom Parker
Joe Smith w/ Bread for the Journey
Dan Vogler    
David & Patti Stephas
Friend of the Homeless– $250-$999
Cathy Capers
Scott & Vicky Chapman
Namkee Choi
David & Debra Evans
Ed & Michelle Ford
David & Mary Gomez
David Hall & Pam Brown
Sara Hickman & Lance Schriner
Paul Hilgers
Mike Hirsh & Carol Moczydemba
Ed Ishmael
Jeff & Alyssa Korn
Debra Mann
Griff Martin
John Mason
Eddie Mire
Paul Mowry
John Nyfeler
Linda Ramsey
David Ashley Sheppard
David & Cheryl Snell
Rev. Cathy Stone       
Libby Sykora 
Will B. Hyatt w/ University United Methodist Church        
Sue Watlov-Phillips w/ National Coalition for the Homeless  
Michael Albrecht
John Mason    
Foot Soldiers for the Homeless– $10-$249
Cecilia Blanford
Jon Sullivan
Catherine Lane
Crystal Boyd 
Carole Leandra
Daniel Armendariz
Colleen Steele
Ed Lalone
Teresa Cue
Supporters
Businesses
Atelier 3D
The Natural Gardner
Don Gardner Arborist
Engineer- Jaster and Quintanella & Associates
Lobbyist/Consultant
Austinuts, Inc.
Mike Kelly Lobbyist
Sisters & Brothers, Inc. Makers of SASS
Clip Joint
Worley Printing
Organizations
State of Texas NAACP
Austin Baptist Chapel (Angle House)
The Salvation Army
Mobile Loaves and Fishes
Texas Civil Rights Project
Texas Civil Rights Project Attorney
Greater Calvary Bible Church
Director- Casa Marianella
Central Presbyterian Church
Foundation Communities
Texas Civil Rights Project
Travis County Veterans Service Office
Meals on Wheels & More
Caritas of Austin
Project Help-AISD
Peoples Community Clinic
Safe Place
Trinity Center
Art on the Way
The Challenger Street Newspaper and Staff
Wildflower Church, a Unitarian Universalist Congregation
Jaster/Quintanella and Associates-Engineers
Individuals
Tosin Agbabiaka
Hazel Barbour
Rick  Beaubouef
Sam  Biscoe Travis County Commission Judge
Barbara Budde Austin Dioceses
Fred Butler Community Action Network
Frank Cooksey Former COA Mayor
Kevin  Dietz Attorney at Law
Robert  Doggett Attorney at Law
Steve Dubov Sculptor
Bruce  Elfant Travis County Tax Assessor & Voter Registrar
Phil Friday Attorney at Law
Fred Fuchs Attorney at Law & Associate Professor
Michael Galbrecht
Gus Garcia Former COA Mayor
Joe Gieselman Former Executive Manager for Travis County and Sculptor
Jackie Goodman Former City Council Member
Tor Gotun, DDS
Tricia Graham  Mobile Loaves and Fishes
Max Greenbum
Susan  Greene Sculptor
Alexis Guadarrama
Sara Hickman Singer/Song Writer- Texas State Musician of the Year 2010
Amanda Hill Texas Civil Rights Project Development Director
Chirag Jhaveri, MD
D'Ann  Johnson Attorney at Law
Lauren Kelleher
Wayne Krause  Krause Attorney at Law
Jane Lee Attorney at Law
John McCarthy Bishop Austin Diocese
Nelson Mock   Attorney at Law
Mary Morse Sculptor, Prsident of Texas Society of Sculptors
Laila Nabi Texas Civil Rights Project
Amir  Naim Texas Civil Rights Project
Kiran Narra Texas Civil Rights Project
John O'Neal
Glenaan O'Neil
William Plunkett
Mary Christine Reed  Attorney at Law
Deanna Rene Singer Song Writer
Phil Sanders Retired Municipal Court Judge and Federal Magistrate
Lance Schriner Graphic Artist
Amy Scofield Sculptor
Deanna Serra Philanthropist
Jeff Serra Philanthropist
Randi Shade Former COA Council Member
Brigid Shea County Commissioner Elect
Aalap Shah Texas Civil Rights Project
Kalpita Shah Texas Civil Rights Project
David Sheppard Attorney at Law
Eva Sikes Texas Civil Rights Project
Naiara Leite Silva Texas Civil Rights Project
Tom Spencer I Live Here I Give Here
Elena Stross
Tere Tillotson Attorney at Law
Heather Tolleson Sculptor
Ignacio Trevino Attorney at Law
Ben Vaughan  Attorney at Law- Armstrong, Donohue, Ceppos, Vaughan & Rhoades, Chtd. & Philanthropist
Kirk Watson Texas State Senator
Dr. Debbie Web Professor
Byron Webre  former Newscaster
Tracey Whitley Attorney at Law
Wayne Krause  Yang Texas Civil Right Project
Honoring Statue Stewards
Phil and Pam Friday
Michael and Sharon Chesser
Statue Advisors
Steve Dubov and Heather Tolleson
Michael Hall
Colleen Regnier Steele
Sylvia Troxell
Shannon Brooke MantromKevyn Meagher
Darleen Crawford- graphic designer
Statue Enactment Team
Pam Friday
Dixie McGrath
David Kee
Hill Country Middle School, Austin,Texas
Justin Noonan, videographer
Blythe Plunkett
Cecilia Blanford