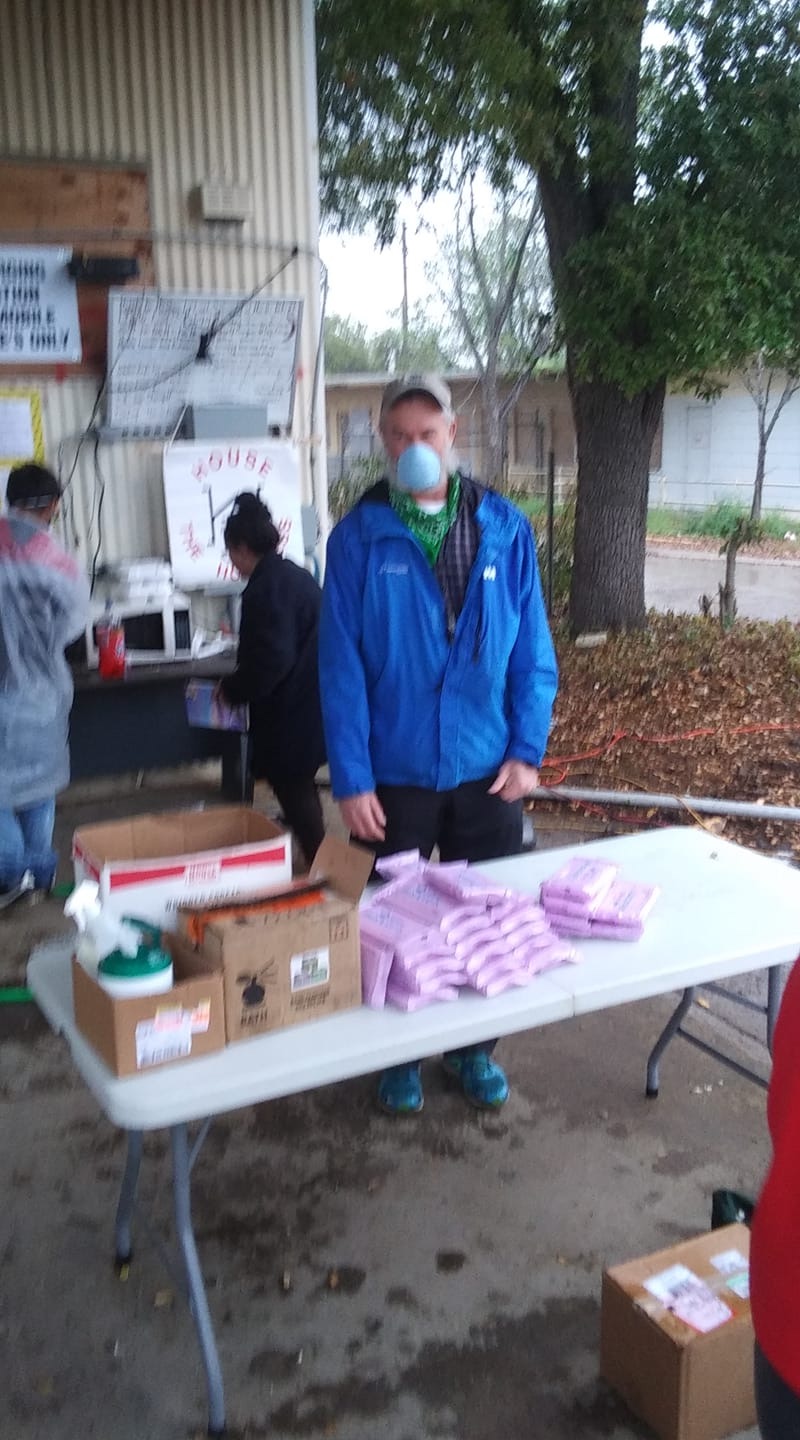 PPE and Essentials
Distribution to where people experiencing homelessness are trying to survive.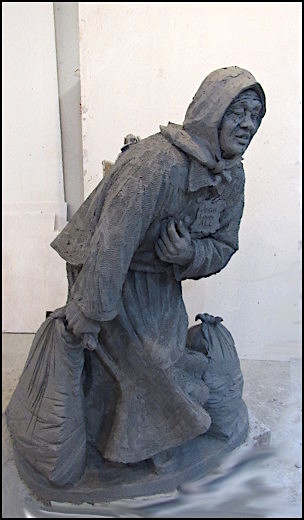 Please wish us well and keep us in your prayers as Sylvia and I head back to Washington DC. On the way there, we will detour to Baltimore Maryland. We have been invited to present before the US Conference of Catholic Bishops. On this Sunday, November 14th, I will speak for exactly 10 minutes in an effort to convince the Catholic Church to accept the Homeless-Home Coming statue at the Basilica of the National Shrine of the Immaculate Conception in Washington D.C. on the grounds of Catholic University.

   The statue is the story of a chance encounter between strangers, who have lost all material things.  Warming themselves at a fire barrel, the little girl, Colleen, sees, then, calls to the old woman. She urges her father to reach out to the African American woman to share the fire. Bent over from life's burdens and trudging through the woods, she has lost all hope. She is coming from nowhere and going nowhere.  Colleen realizes that the old woman is also suffering some kind of visual impairment as she wanders through the darkness. Ms. Anateen, is sure she could not possibly dare enter the camp of strangers.  Colleen repeatedly calls to the old woman to join them. "Come on, come on," she called as if calling to her puppy.  Finally, John, a Veteran and Colleen's father, takes her lead with a broad smile and a booming voice, "Come on ahead old woman.  All are welcome here!" The woman, also destitute, very cold and very tired, is overwhelmed by the invitation.  She drops her bags. Air escapes her lungs. Her hand covers her heart. Her gaze turns toward the heavens. Humbly, she offers up a whispered prayer, "Thank you Jesus." While my concept, the sculpting was a collaborative effort between Timothy P. Schmalz (heralded as "The Michelangelo of our times") and myself when it was sculpted over  4 1/2 years, over the phone.
Thank you.
Richard
Created by Richard R. Troxell as a House the Homeless, Inc. project in 1989, the HtH Plastic Pocket Resource Guide is designed to equip persons experiencing homelessness with easily understood information on what, where, when and how resources (food, shelter, healthcare, crisis numbers, etc.) can be accessed. This takes into consideration the fact that many of these neighbors do not have access to phones nor computers. We have updated this critical resource 18 times with 10,000 printed each time.
Members of HtH keep them in our vehicles as do our full Board of Directors. We fold a dollar into each one and hand them out to people standing on our corners. We exchange first names and it breaks the ice with those who often feel ignored or even invisible. Other organizations and churches request a number of these and we invited a small donation to offset costs.
The Plastic Pocket Guide is an 8 paneled card that is printed, laminated, (against the ravages of rain) and scored so they can be folded down and placed in a pocket. We ask that the cards not be photo-copied but rather that people contact us for new or replacement cards so we can monitor the level of community need.
We afford this project through individual donations; and over the years, a number of entities have supported re-printing, including most the City of Austin Parks Department. We provide one side of a panel for their important environmental communication. In that panel the Parks Dept. shares concerns about such things as defecating or urinating too close to water sources, etc.
As you can imagine, the Plastic Pocket Guides do what the Internet cannot, it provides valuable information along with the very personal message that society (the community of Austin) cares about them. Good stuff.