You shall not abuse a needy and destitute laborer, whether a fellow countryman or a stranger in one of the communities of your land. You must pay him his wages on the same day, before the sun sets, for he is needy and sets his life on it; else he will cry to God against you and you will incur guilt.
Deuteronomy 24:14-15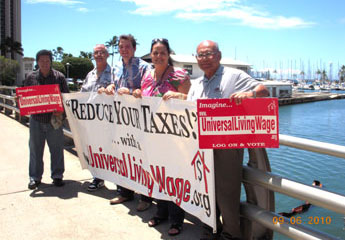 Greetings!
Mark your calendars and contact your Board of Directors! Friday, April 15th, is our 11th annual Universal Living Wage Tax Day Event! From 7:30-9:00 am and 4:30-6:00 pm, we will go to our nation's post offices and call for a Universal Living Wage. Once again, 3.5 million minimum-wage workers are expected to experience homelessness this year. Using existing government guidelines, we have devised a single national formula that ensures that anyone working 40 hours a week will be able to afford basic food, clothing, shelter (utilities included), and have access to health care.
We have found that American businesses have grown to rely on government subsidies to pick up that portion of the basic wage that they have failed to provide. Workers have been forced in ever increasing numbers to depend on food stamps, general assistance, and Temporary Assistance for Needy Families (TANF). Congress intended these to be emergency, stop-gap measures. Instead, many businesses use government support to save on basic payroll. A national shift is occurring from the businesses' responsibility of paying a "fair wage for a fair day's work" to creating an ever increasing burden on the taxpayer.
We know that if businesses paid their employees a fair living wage, we could dramatically reduce the burden to taxpayers.
We will provide you a 4-foot by 10-foot banner, free, that says:
Reduce Your Taxes!
… with a
www.UniversalLivingWage.org
People will be drawn to the ULW website, which will display your contact information. We encourage you to use this opportunity to tout your own local living wage campaign. We can provide the banner, push cards (clearly explaining the formula), and a flyer explaining the issue.
Save us work, please email us your desire to participate. Some of you do not have email, so, for you, this will be our only opportunity to communicate. Call us at (512) 796-4366 or toll free at (888) 484-8591 if you wish to be a lead organization and receive a banner or just join in at a post office action lead by another organization.
Select the post office in your city where the media shows up every year to report on the last-minute tax return filers. Then call or email us with that address at rrtroxell@aol.com. Be sure to put "Tax Day" in the subject line.
Don't delay, act now, April 15th is almost here!
Go to www.UniversalLivingWage.org to see photos of our past Tax Day and "Bridge the Economic Gap Day" held on September 6th. We are creating a national ground swell of support which will carry us to the "tipping point" when we will fix the Federal Minimum Wage and create a Universal Living Wage!
In Unity There Is Strength,
Richard R. Troxell
P.S. Hunger Action Network NY won our digital camera for best action. Is it your turn?1