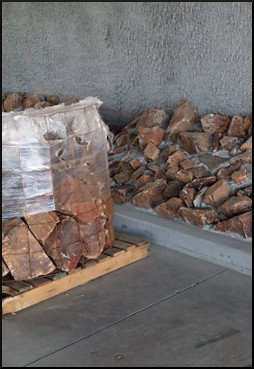 Many cities are on the "sweep" bandwagon, and newspapers across the country are full of "sweep" news. Somehow the idea has become popular that the best thing to do with people experiencing homelessness is keep moving them around.
Citing the frequency of fights, fires, and drug overdoses in a 31-acre encampment, Brockton, Massachusetts, swept the area last month. The former residents, who were given a week's notice before the place was bulldozed, are now scattered throughout the city.
Reporter Benjamin Paulin talked with Leigh Fuller of Church in the Woods, which provides clothing and tents, and feeds about 50 people every Saturday. Fuller told the reporter that the Tent City settlers "brought it on themselves" with unacceptable behavior, and expressed his disappointment that so few of those who could use rehabilitation are willing to accept the available programs. Some people moved to available shelter, while others returned to a roaming existence, sleeping in alleys.
West Coast
What happens when the city with the nation's fourth highest homeless population gets ready for its biggest-ever month of tourism? Looking ahead to the Major League Baseball All-Star Game and the many events surrounding it, San Diego, California, started months ago to shuffle the homeless out of sight. Back in April, the city attracted unfavorable publicity by piling $57,000 worth of jagged rocks along the walkways of a pedestrian underpass, to prevent people from sleeping there.
In late June, hundreds of campers near Petco Park were given 72 hours notice before city crews cleared the area to wash sidewalks and throw out trash. A woman who was camping two blocks from the ballpark told a reporter that she and others had been threatened with arrest, while a city spokesperson said that most of the people who had been moved for the cleaning would end up back in the same place.
Early in July, a group of protesters made their displeasure known. A local pastor reported that he had been threatened by the police and a civic group, and told to stop serving weekly meals. Word on the street is that at least two other organizations were asked to stop feeding the homeless during July.
Reporter John Magdaleno says:
During a February 12 meeting with the San Diego Police Department and Clean & Safe, police officers allegedly threatened to "bring the hammer down" on [Pastor James] Merino if his non-profit hosted one of their meals during the week of the All-Star Game.
While the local police department declined to comment about procedures or the number of "encroachment" tickets it has distributed, homeless activist Michael McConnell gave the reporter his point of view:
"It's a process of criminalizing homelessness," says McConnell, speaking about the city's protocol when it comes to its clean-up sweeps. If you have outstanding tickets, you're liable for arrest, and one of the bargaining chips police might use in that case is a stay-away order for the area you were ticketed in, according to McConnell, who regularly interviews the homeless. "[It's] the ultimate displacement because if you come back to that area, then you just continually get arrested," he says.
Earlier this summer in Portland, Oregon, the city carried out a cleanup in an area where an estimated 300 people camped. Apparently the people just moved eastward a bit along the Springwater Corridor to join up with an existing camp in a wildlife refuge, making it one of the largest homeless settlements in the country. But no one is proud of the statistic, and now, that patch is scheduled to be depopulated of some 500 residents between now and August 1.
Like many other politicians, Portland's mayor speaks of "public safety and environmental issues" as if the people experiencing homelessness are somehow not part of the public, and as if the environment is more crucial to housed residents than to the people who actually live out in it.
Meanwhile, in the city, a 200-bed shelter is expected to open next week — but a 267-bed shelter will close on the same day, making a net deficit of 67 beds. The really sad part is that Portland is an open-hearted and forward-thinking city that tries a lot harder than most. If it is capable of dislodging 500 people in a single action, imagine what goes on in worse places.
Recalling the old saying, "Everybody's gotta be someplace," reporter Rachel Monahan obtained from homeless advocate Israel Bayer a very eloquent quotation:
The situation on the Springwater is the direct result of not having any physical locations for people experiencing homelessness to be.
Reactions?
Source: "Brockton homeless advocate worried for those kicked out of 'Tent City'," EnterpriseNews.com, 06/27/16
Source: "No Action Taken Against Downtown Homeless Ahead of MLB All-Star Game: City," NBCSanDiego.com, 06/27/16
Source: "San Diego's Controversial Push to Hide Its Homeless Before the All-Star Game," Citylab.com, 07/11/16
Source: "Mayor Charlie Hales is Evicting Hundreds of Homeless Campers from the Springwater Corridor," Wweek.com, 07/15/16
Image by Michael McConnell