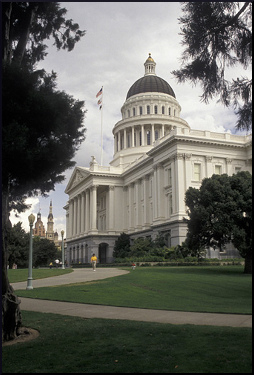 The statehouse in Sacramento, California (pictured), is surrounded by a 40-acre park, one of the luckiest parks in the world because, for over two decades, caring for it was the obsession of a chronically homeless man named Randall Koroush.
Journalist Cynthia Hubert wrote:
He picked up fallen camellia blossoms, oak tree branches and palm fronds. He raked leaves from the steps and sidewalk. He polished iron gates and swept dirt from bathroom floors. No one paid Koroush for his work.
He would arrive first thing in the morning and spend 10 or 12 hours making sure the park stayed free of litter. He always wore a clean white t-shirt tucked into jeans, and never accepted any offer of food or drink. His habitual lunch was a cup of instant ramen noodles.
The park administration allowed him to store his belongings in an old greenhouse, but he slept under a bridge or behind a church. With people, he would respond politely, but not chat. Sometimes he talked to himself or to a person who wasn't present, but then, don't we all?
Mike Nielson, a General Services supervisor who knew Koroush for most of his time at the park, said, "He wanted to do right by this place. He wanted it to look good." A police officer described him as having "dignity and purpose." Although visitors sometimes reported him as a suspicious person, all the law enforcers who patrol the park on bicycles and horses looked out for him. They knew that Koroush was the son of a California Highway Patrol retiree and brother of a current CHP employee. The family acknowledges how kindly their son was treated.
Escape from history
Not many people knew that, back in the day, Koroush had never been very good at holding a job. He had been a hard drug addict, though at the time of his death at age 56 he hadn't used in more than 10 years. As a child, Koroush wanted to be a forest ranger. His "poor choices" ruled that out, but dedicating himself to a park was the next best thing. That is his mother's theory, and it is as good as any other.
Hubert wrote, "Koroush had four siblings and parents who loved him and tried and failed on many occasions to get him inside." He did laundry and had the occasional meal with his folks, but getting back to the park was his number one priority.
The reporter goes on to say:
According to police and relatives, he walked into Sutter General Hospital on Feb. 1, toting his belongings, struggling to breathe and with cuts and bruises on his face. He died at UC Davis Medical Center a few days later.
There were pre-existing medical problems, but the patient had also had apparently been assaulted. However, with no reliable evidence, the police did not institute a homicide investigation. Although his death was a great loss to Sacramento, Randall Koroush was a rare and special case. In the entire country there are probably very few cities, capitol or otherwise, where a person in his situation would be treated with such leniency.
Los Angeles
The other park story is also from California. "Skid Row" is a term that can send shivers down the spine. In Los Angeles, Skid Row means 10,000 people in tenements and welfare hotels and tents, in about a 50 square block area that is constantly squeezed by encroaching development. This evolving community has little in common with the Downtown and Historic Cultural neighborhood councils that claim it. Activists are trying to break away and form a discrete Skid Row neighborhood council.
A few years back, there were state-level budget cuts, and the area's only two public parks almost lost their funding. The city took over to provide enough support to pay for the upkeep of San Julian and Gladys. Members of the public also contribute their time and energy, and one of the most noticeable has been A.J. Martin.
For LAWeekly.com, Mindy Farabee told his story, which she casts as an example of "the redemptive power of just showing up for your community everyday." The journalist wrote:
His gig at the park allows him "to give, to help, to be a part of something," he explains. "It's helping me stay solid, it's helping me stay firm, it's helping me personally stay secure instead of lost in a lot of misery and a lot of torture and a lot of pain."
In an unofficial capacity, Martin takes care of Gladys Park. He makes sure the restrooms are in order, and issues brooms to other helpers, who may be marginally functional at best, yet do a conscientious job of sweeping and tidying.
The manager of an adjacent hotel says, "Things run smoothly with him around." This is no small feat, because a lot goes on there. Health fairs for the local street people and free clinics for their pets set up in the park. A New Orleans-style jazz band makes events festive. There are sports teams for kids and, as might be expected, it is where faith-based groups bring food.
Gladys Park hosts annual two-day art festival organized by the Los Angeles Poverty Department, the collective whose slogan is "Walk the Talk."
An important function
The journalist follows Martin through an evening as he closes the park to get ready for a meeting of the solidly established local branch of AA. Farabee says:
At 7 p.m., A.J. opens the gates again and the Drifters and their fellow travelers file in, like a walking Bukowski poem… Some come from as far as Malibu, Orange County and Whittier to remind themselves where they came from or where they could end up.
It is AA policy to serve freely, but this group passes the hat to provide Martin with a small stipend. When the meeting ends at 8:30 p.m., he locks up the park again, this time from the outside, and sleeps on a nearby sidewalk.
As of the most recent news mention, less than a year ago, he was still a fixture. Also, last summer, new water fountains were installed outside the gates of both Skid Row parks.
Reactions?
Source: "He cared for a huge park for free while sleeping under a bridge. His death is a mystery," NewsObserver.com, 02/19/17
Source: "The Homeless Man Who Runs a Park," LAWeekly.com, 08/14/14
Source: "Skid Row Gets New, Much-Needed Drinking Fountains," Curbed.com, 06/29/16
Photo credit: Mark Goebel (Sangre-La.com) via Visualhunt/CC BY