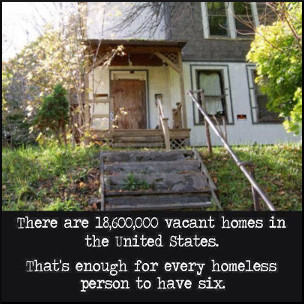 The illustration on this page is, like so many internet memes, an oversimplification. Socially conscious commentators like to point out that there are enough empty properties that each homeless person in America could have anywhere between 6 and 22 of them. Of course an exact number would be impossible to obtain, because it all depends on how you define "available" and "homeless" and a whole bunch of other variables. But the stark truth is that while hundreds of thousands of people have no place to call home, an astonishing amount of livable indoor space is empty.
About a year and a half ago, a website asked for comments on this particular 6-to-22 house claim, and collected some numbers and some sources (or possible sources) from which the numbers were derived. Those behind the site didn't reach a definitive answer.
Philadelphia contains about 40,000 abandoned houses, lots and commercial buildings, and Detroit between 50,000 and 60,000. Why can't at least some of those empty buildings have people in them? Why are perfectly viable buildings torn down? Why can't people be allowed to squat or homestead in abandoned spaces? What kind of twisted logic says they are better off with no shelter than with substandard, even code-violating shelter?
Using Abandoned Housing Fairly
But then you have to look at the basic fairness of the thing. Say there's a house where the people had to give up and move out because although they tried hard, they couldn't pay the mortgage. If this house could somehow be used to house the homeless, is it fair that someone should get to live there who never even tried to pay a mortgage? Obviously, something is wrong with that picture.
And what about the family who originally tried to buy the house? Do they move into a different place that was foreclosed on because they are now homeless and it's empty? Does the whole society turn into a vast game of musical chairs? We have to find a way to cope with the basic insanity of so many empty buildings and so many unhoused humans. In August of 2013, Daniel G. J. of StoryLeak.com wrote:
There are still over 14 million homes sitting empty in the United States…The worst-hit city is Las Vegas, which still has 40,481 vacant single family homes, 5,137 empty townhomes, and 16,542 empty condominiums.
In the same year, the point-in-time count found 7,355 people experiencing homelessness in Southern Nevada. And don't forget, Las Vegas is the place with hundreds of miles of flood tunnels underneath it, where at least 300 people are said to live.
Less than 6 months ago, Alana Semuels reported for The Atlantic that Baltimore, Md., held 16,000 vacant homes, and that a group had formed to try and make them into affordable, permanent housing for the city's currently homeless residents. She wrote:
A minimum-wage worker in Maryland would have to work 138 hours a week to afford a two-bedroom unit…Baltimore closed the waiting list for Section 8 Housing vouchers eleven years ago.

Housing Our Neighbors, part of the Housing Is a Human Right Roundtable, is made up of labor activists, homeowners, and homeless people…They say the data will show there are far more vacant homes in Baltimore than the city has previously acknowledged, and they argue that those homes should be turned into affordable housing.
The goal here is to create a nonprofit community land trust, a legal construct that "takes the "market" part out of the housing market, allowing people to buy homes but restricting their resale value in order to make them affordable for the next buyer." Hopefully, it shouldn't be hard to get started, since "out of the 300 homes the Roundtable has surveyed, about 80 are owned by the city." Semuels says this method has worked in Austin, Texas; Albany, Georgia; and Albuquerque, New Mexico.
Reactions?

Source: "Are there enough unused houses in America for each homeless person to have six?," Stackexchange.com, 11/10/13
Source: "Philadelphia Raises Stakes With Plan to Reverse Blight." NYTimes.com, 08/22/13
Source: "Recovery? US Has Enough Empty Houses to Hold Population of Britain." StoryLeak.com, 08/06/13
Source: "Inside Las Vegas' Underground Homeless Community," PhoenixNewTimes.com, 04/07/14
Source: "Can Homeless People Move Into Baltimore's Abandoned Houses?," TheAtlantic.com, 10/20/14
Image by the Internet