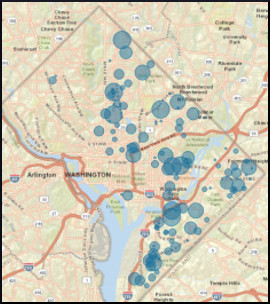 Each city has its own particular culture and problems, and it's instructive to pick one out for a closer look. Part of the uniqueness of the homelessness picture in Washington, D.C., is that it is America's capital. To some observers this implies that whatever the government does ought to happen there more efficiently, more sanely, and more humanely than anywhere else. Otherwise, how can it claim to be a "capital"? The word comes from Latin, and relates to the head. If the head is sick, how can any other part of the body be well?
Kathryn Baer provides a really stunning breakdown of all the latest numbers, and none of them are good. She mentions the most recent one-night count of people experiencing homelessness in the District of Columbia:
On a night late last January, 1,231 families in the District were in an emergency shelter or transitional housing. This represents a one-year increase of about 25.2% — and a mind-boggling increase of 109.7% over 2008.

At this one point in time, 2,236 children were homeless and with parents or other caretakers.
Washington, D.C., is surrounded by the six of the 10 richest counties in the the nation — for instance, Fairfax County. There, the count found 1,534 homeless individuals, one-third of them children. Young students from Capitol Hill Montessori participated in a program, run by a government agency and the National Geographic Society, designed to "use geographic information systems and local data to bring light to social causes." Using data from the education department, they created a map illustrating how many homeless students are enrolled in each D.C.-area school.
At the beginning of this year, Washington recreation centers were repurposed as family shelters, but few parents feel safe in them, and fears over children's safety have sparked rebellious attitudes. Azmat Khan wrote:
Seventy-nine homeless families are currently suing the city over the makeshift conditions, and on Monday, a D.C. Superior Court Judge ordered the city to immediately provide more private rooms for families as the class-action lawsuit plays out.
After a series of welfare motels and horrible apartments from which they were frequently evicted, 8-year-old Relisha Rudd lived with her mother and brothers in the shelter that used to be D.C.'s General Hospital. Shamika Young allowed her daughter to leave the premises with a trusted family friend, and it was probably a fatal decision. Relisha's fate is still unknown, but the margin for hope is between slim and nonexistent.
Her disappearance can't be blamed on the shelter administration. It's not a prison, and those who suggest that the authorities perform bed checks, or take other intrusive measures, are misguided. Even homeless parents are entitled to some dignity, and the degree of surveillance necessary to prevent a similar occurrence would be unconscionable.
On the other hand
However… there is absolutely no doubt that Relisha hated the shelter, described as a "grim place with bedbugs and no playground." A Washington Post piece by Theresa Vargas, Emma Brown, Lynh Bui and Peter Hermann paints a sordid picture and gives a definite impression that the repulsiveness of the venue was as much a factor as anything else in Relisha's disappearance. Relatives said she would pretend to have asthma attacks in order to spend time at their homes. Teachers and staff described her reluctance to leave at the end of the school day.
Why didn't some family member step up? For one thing, if a family receiving housing assistance wants to take in a relative, they have to negotiate forbidding and complicated Section 8 red tape. And maybe Relisha's mother would not have agreed anyway. One Post commenter wrote:
I've seen first-hand my own parents' hands tied by "the system" when trying to take care of a family member child whose parent(s) effectively abdicate responsibility via abuse/neglect. There's virtually nothing you can do until that parent legally releases them to your care or until the children are forcibly removed by the overworked, overburdened, underpaid, understaffed 'system.'
The article also points to the self-perpetuating nature of such an unstable existence:
Shamika Young … also lived in shelters as a child. She was 6 years old when she entered Virginia's foster-care system, where she bounced between homes until the age of 18, relatives said. About a year later, she had Relisha.
Critics can't help asking why an unmarried teen in such a precarious situation would have a baby. There are many answers, including the decreasing availability of abortion. People with more empathy understand that maybe the father promised a home and stability. Maybe the young woman just wanted somebody in her life to love her — and a baby is the one person guaranteed to do that, instinctively and automatically. Personal issues aside, it is crystal clear that allowing so many kids to grow up in shelters and foster homes is beneficial to no one, and certainly not to society as a whole.
Reactions?

Source: "Over 25 Percent Increase in Homeless DC Families, Annual Count Finds," PovertyAndPolicy.wordpress.com, 05/15/14
Source: "More Than 1500 Reported Homeless in Fairfax County" greateralexandria.patch.com, 05/23/12
Source: "Where do DC homeless students go to school? These tween hackers can show you!" MiddleChildInDC.wordpress.com, 05/04/14
Source: "Are We Doing Enough to Protect Homeless Children?" AlJazeera.com, 03/27/14
Source: "Before Relisha Rudd went missing, the 8-year-old longed to escape DC's homeless shelter," WashingtonPost.com, 04/05/14
Image by ArcGIS.com