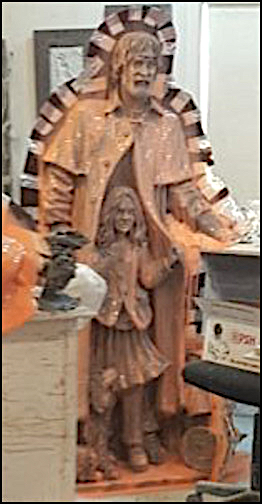 It all started in 2013, when the Board of Directors of House the Homeless happened to be talking about how good art can start conversations. Co-founder and President Richard R. Troxell had an idea about how to put a positive face on homelessness — with a sculpture of multiple figures that tells a story about their homelessness. His daughter Colleen had painted oil portraits of people experiencing homelessness, so the concept seemed like a natural.
The Austin American-Statesman heard about the project and gave it front-page coverage (twice). A sculptor from Scotland called, and so did one from Kitchener, Ontario, Canada. This was Timothy P. Schmalz, who happened to be rather busy at the time, what with meeting Pope Francis and all. He traveled to Rome to present a cast of his sculpture "Jesus the Homeless" which is installed outside the Papal Office of Charities.
The art of the positive
Around the world, many other copies exist of this portrayal of Christ as an anonymous figure asleep on a park bench. The wounded feet sticking out from under the blanket give away the secret. The work has caused plenty of comment, which is only fitting, as it was intended to be provocative and challenging. "Homeless Jesus," as it is also known, is supported by a Bible verse, Matthew 25:40, whose broadest interpretation is that when someone does a kind deed to help another person, it's the same as doing a good turn for Jesus himself.
In December of 2013 Schmalz wrote about how he had spent the last 25 years "visually translating important truths of the Bible into visual signs for people" because a visual representation can often be more powerful than the written or spoken word. He said,
The homeless project that Richard is planning will tell a much needed story at a glance to all that pass by. Richard Troxell's vision provides a great starting place for a journey that has the potential to lead to a great work of art. This sculpture will show that ALL are valued in our democratic society and that ALL should be respected.

As an artist, I am often challenged with taking what is invisible and making it visible, subject matter such as the soul, the spirit, love, etc. Today, the homeless in our society are likewise often invisible. This sculpture will help change this and in turn, help build a more compassionate society.
Schmalz of course had many projects in hand, but he was intrigued by Troxell's own sculpture and he had been insistent that he be part of sculpting Troxell's vision. (Locally, Richard had studied for a year with Steve Dubov of Austin's Atelier 3-D, making four different starts on the sculpted figures.) Timothy wanted the collaboration to happen so badly that he even came in at a quarter of the usual cost.
During the next four and a half years, the two participated in something new for them both — a long-distance collaboration. (The maestro's business partner, Tony Frey, is also to be thanked in this endeavor.) Fundraising efforts were launched, and an event at Austin's Umlauf Sculpture Garden saw the unveiling of a two-foot-tall version of The Home Coming.
Placement of The Home Coming statue
Originally, the hope was to place the sculpture at Austin's Homeless Memorial crafted by Troxell years before on the shore of Lady Bird Lake. In the summer of 2014, Richard met with the Parks Department about filing a variance, with the help of engineer Gary Jaster. Complications arose when objections were raised about putting it in a flood plain, even though the Stevie Ray Vaughn statue, an earlier engineering feat of Gary, was already there. Another city department wanted to call a moratorium on all statue-related projects until its own master plan was completed.
After much complicated discussion, the City Council voted to let The Home Coming application process go ahead. Ultimately, homeless haters passed an ordinance that prevented the statue from being placed at the Homeless Memorial of 26 years. Troxell considered filing a lawsuit to force it being "grandfathered" in. However, after two more years of pushback, Troxell decided to keep the Memorial and choose another site for The Home Coming statue.
Look and listen
Now for some media clips: In "The Home Coming" (2:30) Richard introduces the figures and explains their significance. In "Home Coming Model, " Timothy Schmalz speaks about the sculpture, and in this footage, he works on it.
We invite you to the Home Coming Unveiling Ceremony, details below:
When: Saturday, May 18, 2019, 9 a.m.
Where: Community First! Village, 9301 Hog Eye Rd., Austin, TX 78724
Getting there: The bus from downtown Austin leaves at 6:58 and 7:58 a.m. (Take the route 6, East 12th, from 7th & Colorado).
Accommodations: Out-of-town visitors are welcome to stay at the Community Inn on premises. Call 512-551-5453 or contact the Inn at communityinn@mlf.org for more information.
The Home Coming statue will be placed in the community garden. There will be live music, and free coffee and food will be served as part of the unveiling event.
Reactions?
Image by Timothy P. Schmalz