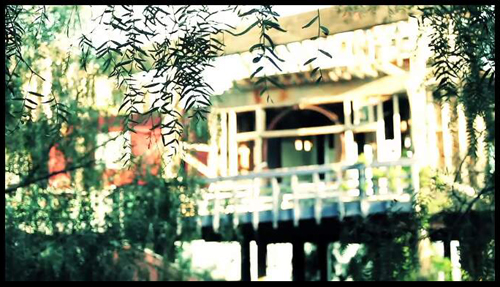 The story titled "L.A. County's Private Property War," by the L.A. Weekly's Mars Melnicoff, goes into extensive detail about how the ruggedly independent settlers and longtime landowners of California's Antelope Valley are being cleared out. About five years ago, they noticed an increase in the selective enforcement of zoning rules and building codes, along with general hassling and harassment.
When they got together and compared notes, they realized that something dark, insidious, and deliberate is going on. Paranoia? Doesn't look like it. Looks like a major land grab, pure and simple, for the benefit of developers with big ideas. The likelihood of this is clear to attorney Robert McNamara of the Institute for Justice, who is quoted:
That certainly does happen. We have seen zoning enforcement that can be explained by nothing else.
Besides, the longest-serving member of the county Board of Supervisors has already revealed his plans for the area on his website. Unfortunately, the place is within commuting distance of Los Angeles. It's a hardscrabble existence for the "desert rats," but with them out of the way, corporate investment in amenities could turn the area into… anything.
One after another, families and individuals are being manipulated into leaving, through penalties for victimless misdemeanors and code violations. It doesn't matter that a community is destroyed. It doesn't matter how many people are losing what they had worked for all their lives, or how many local businesses go under. Somebody wants them out of there.
Melnicoff says,
Tough code enforcement has been ramped up in these unincorporated areas of L.A. County, leaving the iconoclasts who chose to live in distant sectors of the Antelope Valley frightened, confused and livid. They point the finger at the Board of Supervisors' Nuisance Abatement Teams, known as NAT, instituted in 2006…
The NAT crew makes first contact armed, and clad in bulletproof vests — an entire team of Sheriff's deputies, health inspectors, District Attorney's investigators, zoning officers, inspectors from Building and Safety, and animal control personnel. (Speaking of which, the same kind of multi-agency, heavily armed contingent is sent out against 85-year-old grannies with too many cats. That's just how they do things in L.A. County.)
The head of the NAT maintains that the safety of his teams is more important than the convenience of someone in an "unknown structure." Oscar Castaneda, pastor of a historic church in one of the area's few towns, knows about this. After 22 years of peace and quiet, he was ordered one day to "freeze" in front of his home, out in the middle of nowhere.
An elderly woman in a similarly remote spot exited her cabin to find it surrounded by combatants in body armor, with guns drawn. These crews show up and tell people they are living on their land illegally, and threaten them with liens and bulldozers. People have been jailed for trespassing on their own land. Most of those affected can't afford lawyers and can't afford to hire helpers for the wrecking work. People who thought they were safely retired are forced to dismantle their own homes board by board and nail by nail.
Melnicoff says,
Some residents believe that county Nuisance Abatement Teams order the more modest compliance actions first, such as weed-clearing, then build up to ordering residents to remove their homes, saving the county from paying for costly cleanup once a dweller with little financial means is pushed out.
Their methods are effective. The reporter tells of an "off-the-grid family living atop a 4,000-foot mountain," just trying to be left alone and care for their mentally disabled adult son. The Kirpsies were prosecuted as criminals, in violation for their old trailer homes and scrap-metal recycle heaps. They only avoided prison by agreeing to totally clear the land and move to another state. There's one family gotten rid of. They had somewhere to go, but others don't.
Zoning official Oscar Gomez ought to have his own stand-up comedy act. He told Melnicoff that horrid things like sheds and trailers "bring the property value down." Wait, what? The stakeholders are the people who currently own their land, and who built homes planning to stay there forever and never sell anyway. Why is the county making the "property value" its problem? Why is the county blathering on about "safety," as if homelessness will somehow be "safer" than even the most ramshackle dwelling?
Kevin Scanlon's five-minute videotape introduces a few of the people and homes referenced in the article. And treat yourself to Devin Schiro's enchanting video portrait of Phonehenge West, an architectural marvel 20 years in the making. Many believe it should be preserved like the Watts Towers, the Winchester Mystery House, and other examples of American folk art.
Schiro invites viewers to:
… join a growing community of people who protest what we consider the senseless persecution of a man whose only 'offense' is taking a stand on behalf of beauty, creativity, and the inalienable right of free expression.
It is heartbreaking to hear retired phone technician Kim Fahey recount his relationship with the authorities. Fahey became the national media face of this struggle because of the remarkable desert structure, which is being demolished despite the fact that he deliberately built it to exceed the code requirements.
He lost his five-year court fight last month, and has already been jailed and bailed out, and then hospitalized for a medical problem exacerbated by all the stress. He could end up serving seven years in prison, for building a house. On his land alone, there are several people facing homelessness.
Fahey told the reporter,
The story is more important than me, because they are doing this to thousands of people. I'm just trying to bring it to the forefront.
Reactions?
Source: "L.A. County's Private Property War," LAWeekly.com, 06/23/11
Source: "L.A. County's Private Property War (VIDEO)," LAWeekly, 06/23/11
Screen capture of Phonehenge West by Devin Schiro, used with permission.