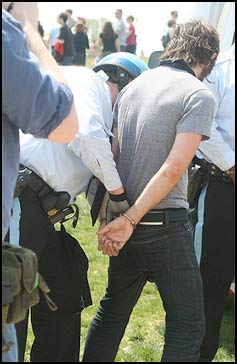 Do what? Get people experiencing homelessness under a roof. Even the most expensive supportive housing is cheaper than what it costs to keep a person on the streets. This has been demonstrated over and over again. Amazingly, many people, even those who are already moved by compassion to act, are not aware of the facts.
If a piece of clothing is torn, the hole is likely to catch on something and rip even further. But if it's sewn up quickly, it's much less work to repair. That is why "A stitch in time saves nine" is a venerable old saying. When the social fabric is torn, the adage is equally true. Sure, money is tight, but spending a dollar now will prevent the spending of many multiples of that dollar. One stitch instead of nine. And the beauty part is, the savings begin immediately.
The people mainly concerned here are the chronically homeless, meaning, on the streets for more than a year, or with a history of four or more episodes of homelessness in the previous three years. Often, there is a component of mental illness and/or substance addiction. Overall, less than one-fifth of people experiencing homelessness fall into this category. But their care accounts for more than half of the resources set aside for homeless assistance.
Budget-wise, the law enforcement and medical establishments take the biggest hit. Courts get jammed up, fire departments are affected, and the cost even extends to public libraries, some of which have added extra staff and new programs to cope with their patrons experiencing homelessness.
Whether agencies are funded by city, state, or federal government, the same people pay for all the damage, and they're called taxpayers. It has been proven that a lot of social problems can be alleviated with a lot less of the taxpayers' money. Of course, people experiencing homelessness pay taxes, too. Like everyone else, they pay sales tax on what they buy. And they have their own special tax, embodied in the ordinances that cities everywhere are instituting. They get fined for Breathing While Homeless. Not surprisingly, they mostly can't pay, so homeless people are thrown in jail and become a big expense to everybody else. Then, they wind up back on the streets again and cost the citizens even more.
It doesn't have to be this way. The answer is "housing first," an idea which took flight in New York City in the 1990s. People are encouraged to get off street, into subsidized housing, with no strings attached. They do not have to get sober or un-addicted first. It's a come-as-you-are invitation.
The always-emphatic Kirsten Anderberg puts her own spin on it:
No one makes sobriety a requirement for middle class people to live in, own, or inherit houses. That clean and sober requirement to live in housing is a bar a majority of middle class people could not meet yet they demand it of the poor. The double standard where the middle class can act irresponsibly… but if you are poor, you need to be a damned angel to get any help, needs to be examined.
The majority of "housing first" clients take advantage of the opportunity to pull themselves together and become productive members of society. In a story that gives some very detailed instances of success, Amy M.E. Fischer writes:
The Housing First approach takes chronically homeless people off the streets and places them in their own apartments, without the usual hurdles of screening and strict rules. They are assigned a caseworker whom the landlord can contact at any time… The program […] pays part or all of the rent on a decreasing basis, depending on the case… Case workers slowly ratchet up the expectations for addressing their problems and becoming self sufficient.
In January, The Christian Science Monitor's Andrew Mach reported that in the previous year,
[…] the number of so-called permanent supportive housing units in the United States exceeded the number of emergency shelters for the first time. The reason is simple, advocates say: Permanent supportive housing not only removes the stigma of homelessness but is also cheaper than other alternatives, studies show.
Yes, cheaper. In Los Angeles County, Project 50 saved $238,700 over two years by locating Skid Row's 50 most long-term, substance-abusing individuals and housing them without requiring that they sober up first. The program then went on to help many more.
In 2009, a study called "Where We Sleep: The Costs of Housing and Homelessness in Los Angeles" looked at more than 10,000 people and arrived at these numbers:
— Cost of a homeless person on the streets: $2,897 per month
— Cost of a person in supportive housing: $605 per month.
In Denver, CO, a "housing first" program brought down jail costs by 76%. In other words, to only one-quarter of the previous high. In Seattle, a similar project saved nearly $30,000 per year per tenant. A study by the University of Pennsylvania showed the yearly cost to the taxpayers of one homeless person with severe mental illness on the street: $40,451. Placement in supportive housing saved an impressive $16K per capita.
CBS's Phil Hirschkorn recently reported on a shelter called "Safe Harbor" in Tampa, FL. Its founder, Sheriff Bob Gaultieri, told the reporter that while jail costs $106 a day, the shelter costs $13 a day for each resident. Cowlitz County, WA, decided to try "housing first" in 2011, and there are many more examples. According to the Na­tion­al Alliance to End Home­less­ness, four American cities have achieved stardom in this area — Chicago, IL, Norfolk, VA, Quincy, MA, and Witchita, KS.
Philip Mangano was in charge of homelessness policy under President George W. Bush, and he helped to pioneer "housing first." Eventually, Mangano was able to gather figures from 65 cities where the concept was being tried. He found that the annual cost of keeping one person on the street is between $35,000 and $150,000, whereas the yearly bill for supportive housing is more like $13,000 to $25,000. In other words, supportive housing at the high end is still cheaper than street homelessness at the low end.
This spring, HUD Secretary Shaun Donovan came out in favor of "housing first," saying:
The thing we finally figured out is that it's actually, not only better for people, but cheaper to solve homelessness than it is to put a band-aid on it. Because, at the end of the day… it costs about $40,000 a year for a homeless person to be on the streets.
It's a shame that more taxpayers in more cities can't see their own long-term good staring them in the face. Of course, there is always the NIMBY, or "Not In My Back Yard" factor, when the feeling is, "Sure, help the homeless — just don't do it near me." This works against society's need help people off the street-hospital-jail-street merry-go-round.
Reactions?
Source: "Middle Class Denial of Privileges is Offensive to the Poor," Portland IMC, 05/21/10
Source: "Housing First: County poised for major shift in dealing with homelessness," TDN.com, 05/14/11
Source: "How to curb chronic homelessness? First, a home!," The Christian Science Monitor, 01/25/12
Source: "Building Housing For Homeless People Saves L.A. County Money, Study Shows," North Hollywood-Toluca Lake, CA, Patch, 06/07/12
Source: "Tampa area has nation's highest homelessness rate," CBS News, 08/26/12
Source: "HUD secretary says a homeless person costs taxpayers $40,000 a year," PolitiFact.com, 05/05/12
Image by Elvert Barnes.a