Over the years, our Thermal Underwear Party has grown from a gift of warm clothes, a cup of coffee, and a dessert donated local bakeries to a three hour party with music from P.J Lyles and the South Austin Rockin' Gospel Project with a hot lunch of ham or turkey, desserts, and coffee and cocoa.
We need your help this year with your donation of $25.00 for the HUGS (Hats, underwear, gloves, socks, and scarves) and if possible a donation to sponsor a honey ham from Texas Honey Ham.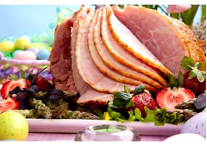 For several years now, Texas Honey Ham has given HTH 3 hams to help with our lunch and HTH has purchased the rest to feed our 400-500 guests. At $6.99/pound, their wonderful hams cost between $49 and $70, feeding 10-22 people.
Sponsor a pound or two of ham today and feed a few people experiencing homelessness at the Thermal Underwear Party on Monday, January 2nd and support this local business.
Click the button below to donate online!