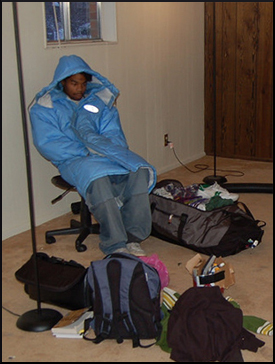 Twenty years ago, Dr. Roseanna Means looked around Boston and didn't much care for what she saw — homeless women on the streets. She started volunteering at homeless health clinics, and in 1998 started her own nonprofit, Women of Means, which now encompasses a team of 16 volunteer doctors who collectively chalk up 10,000 professional visits per year with women experiencing homelessness.
For CBS News, Elaine Quijano learned what inspired such activism. Dr. Means told the reporter:
When I see these women, I see this could be me, it could be you, It could it could be any one of us, because there's nobody that goes through life without having any problems. My own personal life, I've been through cancer, I lost a child, I've been through divorce, I have steel knees — I've been through lots of personal things in my life.
Last year, the same news agency profiled another Massachusetts medic, Dr. Jessie Gaeta of Quincy. This success story, reported by Seth Doane, merits close attention from other cities. Working in the emergency room at the Boston Medical Center made one thing very clear to Dr. Gaeta — for many homeless patients, it was a "revolving door." She is quoted here:
It wasn't until I had just a couple of patients housed that I saw this turnaround in their health. Basically I was seeing that if I could write a prescription for keys to an apartment that that was going to do more to improve the health of the patient sitting in front me than the prescription I can write for anything else.
In 2006, Dr. Gaeta got state funding for the program known as "Home and Healthy For Good," which espouses the "housing first" principle, i.e., first get the person under a roof and between some walls, then bring on the counseling, substance abuse programs, and other measures (a model embraced by House the Homeless at its inception in 1989, as may be guessed from the name).
Here's what happened in Massachusetts, and watch out, because this part will knock your socks off:
The program has helped reduce homelessness by 63 percent in Quincy and has also cut medical costs for formerly homeless people by more than two-thirds.

'It was astonishing that a year into this project, we saw such a decrease in medical costs, that we could basically more than afford to pay for the housing,' said Gaeta.
The "Housing First" philosophy is based on the concept of meeting people where they are, and the reason it works is because where they are is really the only place at which people can be met, no matter how fervently opponents might wish it were otherwise. We hear it again, from Ken Stevens of Waterville, Maine, who says:
My mission is meeting people at their point of need.
The North East Dream Center is where it happens, we are told by journalist Amy Calder. Volunteers pick up or drop off donations for the food warehouse. "Unemployable" people experiencing homelessness and ex-convicts are set to work making furniture and learning skills. Clothes and counseling are also available. The furniture sales help pay for gas to get more donated food so Stevens and his crew can deliver it to food pantries, soup kitchens, and senior citizens all over the surrounding area.
Now Stevens, with the help of Mid-Maine Chamber of Commerce president Kimberly N. Lindlof and other supporters, is raising money for a larger space where these activities can continue with the addition of more ambitious plans. Calder writes:
A big part of the plan is to launch a manufacturing incubator that would provide administrative support and space for 20 startup businesses, as well as jobs and training for people, including those who are 'unemployable.'
When asked if he has formal training to run such an enterprise, Stevens answers:
Yes. I got trained by the best — God's spirit.
Reactions?
Source: "Boston doctor's kindness helps save homeless," CBS News, 04/23/13
Source: "Mass. doctor's prescription for homelessness," CBS News, 02/23/12
Source: "From homeless and hopeless to vital link in the food pantry chain," KJOnline.com, 03/24/13
Image by Matt Lemon.