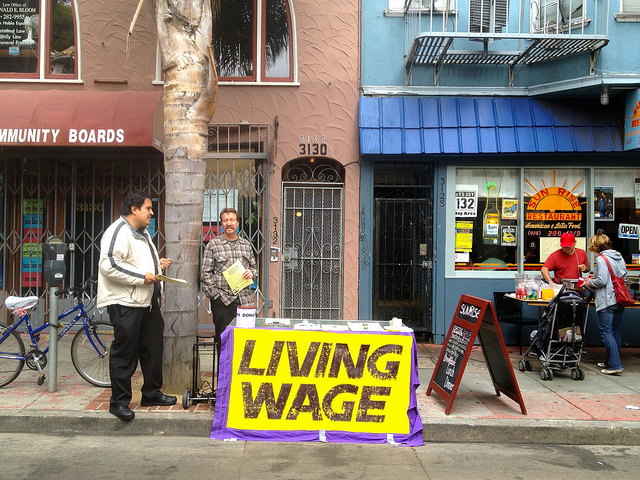 What Higher Minimum Wage Does for Workers and the Economy
Honest economists such as Federal Reserve Chairman Ben Bernanke have haltingly told the truth on the question of whether raising the minimum wage adversely affects the employment rate: "My response is that I think it doesn't lower employment."
Additionally, study after study has shown that 98% or more of all minimum wage increases have been directly spent back into the local economy, thus acting as a local economic stimulant.
Unfortunately, the "Fair" Minimum Wage Act falls short, would hurt small businesses in rural America, and maintains a repressive wage system that would keep workers in a state of poverty throughout our nation.
First of all, how long would it take a worker to climb out of poverty if every step he or she took was less than the distance to reach that poverty goal line? The answer is FOREVER. They would never get there. That has been the Congressional response to minimum wage worker needs for decades. The mantra has been, "Well something is better than nothing." Clearly, that is not true if our path to escape poverty is forever blocked.
The failure of the Federal Minimum Wage (FMW) has manifested itself as 3.5 million workers falling out of work and into homelessness every year for the last 20 years. The single most costly item in the budget of every American is housing. That is why the Universal Living Wage campaign, since 1997, has chosen to index the FMW to the local cost of housing across America.
Unfortunately, the "Fair" Minimum Wage Act fails to to recognize that we are a nation of 1000+ separate economies. Everyone else knows the cost to live in Washington, D.C., is different from living in Harlingen, Texas, or Fort Lauderdale, Florida, or Santa Cruz, California. ONE SIZE DOES NOT FIT ALL! Let's imagine the "Fair" Minimum Wage Act becomes law and the national standard becomes $10.10 per hour. This will not get one homeless minimum-wage worker off the streets of Washington, D.C.! At the same time, this will hurt small businesses in rural Fargo, North Dakota, and Cumberland, Maryland, and Erie, Pennsylvania.
By using the formula of the Universal Living Wage — using existing government guidelines to index the FMW to the local cost of housing — we ensure that a person working 40 hours in a week (be it from one job or more) will be able to afford basic food, clothing, shelter (including utilities), public transportation and access to a hospital emergency room.
Richard R. Troxell
Consult Looking Up at the Bottom Line…The Struggle for the Living Wage for supportive documentation.

Image by Lynn Friedman