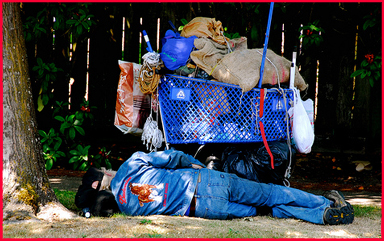 Eugene, Oregon, is a city with the reputation of doing something to house the homeless, and of doing its best to extend other kinds of help in the meantime. Eugene's innovative Homeless Camping Program was instituted in 1998, so it has been operating long enough that other municipalities look to this city as an example. The program is under faith-based management by St. Vincent de Paul, the Catholic charity organization with a long history of helping those in need.
Vehicle camping is allowed in designated places, under strict rules. The aim is to give a person or family a certain amount of stability for three months, in a safe place, and without being penalized, while they try to figure out how to stop being homeless.
Keith Heath is in charge of screening the candidates, who are generally underemployed or unemployed, and often disabled, and matching them up with available spaces. When interviewed by Joanne Zuhl for Street Roots, Heath said the program is generally considered successful. On his wish list right now is an intern, someone to personally approach more businesses and organizations about creating more legal spaces.
Of course, the ordinance bans on-street camping, but supposedly the police are not zealous about enforcement. Apparently, personnel from St. Vincent de Paul have agreed to be the first responders when there is an on-street camping complaint. Supposedly, the police only show up in extreme situations. Often, housed residents don't object to one vehicle camper on the street, but when two or several start to congregate, they raise the alarm. Heath says,
Some in the community argue that the police should be more aggressive at enforcing the camping laws. This is an approach that has been tried and the result was increased police time spent on this issue (at the expense of other enforcement needs), greater anger and stress on the streets among homeless people and no greater success at reducing homelessness.
A homeless activist at one point lobbied the City Council for a more liberal street-camping ordinance, allowing those who passed a police background check to stay parked in a street location for up to four nights, but that proposition didn't pick up any support.
One of Heath's "happy ending" stories concerns Sue Scott, who ran an auto salvage yard with her father, and was left alone to protect the place from vandals and parts thieves when her father died. She donated camping space to two couples with motor homes and a single person with a trailer. They gained sanctuary, and the presence of all those extra eyes and ears put an end to the break-ins.
Early in 2010, Associated Press reported that Edward Russo did a story about Scott. After two years of sharing her property with campers, she felt pretty good about how the arrangement was working out. In the beginning, she laid down some basic ground rules, such as not letting trash lie around or accumulate because "We don't want the place looking like a junk yard," which is unintentionally funny, considering that's exactly what it is. Or maybe Scott was making a little joke on purpose, which wouldn't be surprising, because we all need a sense of humor to get through these difficult times.
At the time of Russo's story, Scott was one of 12 Eugene business owners participating in the Overnight Camping Program. (That is its official name, despite the fact that the campers stay longer.) The city pays for portable toilets and garbage collection at these sites. On non-residential property, which pretty much covers city land, churches and businesses, there can only be three vehicles per location. The participating churches tend to favor families. In the spaces designated for single campers, the person has to be 18 or older.
Of course, the program doesn't solve everything — there are only 20 spaces available, and far more than 20 people need space. Sometimes, three times as many are on the waiting list. As for the fellow in the picture on this page, although he is in Eugene, his shopping cart wouldn't exactly qualify as a vehicle.
According to St. Vincent de Paul figures, in the past year, the Overnight Parking Program has aided a total of 81 individuals, and 27 families that included 41 children. But the numbers of the needy continue to increase, and Keith Heath points out a worrisome trend:
The number of people who are chronically homeless has grown from 16 percent of the local homeless population four years ago, to over 50 percent today.
In other words, fewer are in a transitional situation, the kind of awkward hiatus where they just need a couple of months to save up for a security deposit, or just need a place to stay until some relative can refinish a basement for them to live in, or whatever. More and more of the people experiencing homelessness are falling, through no fault of their own, into the hard-core, permanently homeless zone.
Even though services can never keep up with need, Keith Heath and other Oregonians like him are not prepared to quit. There is an old story, often told by the socially conscious, about a beach where thousands of starfish are washed up on the sand. When a little boy picks one up and flings it back in the water, his father says, "It's pointless, you can't save them all." With relentless logic, his son replies, "Maybe not, but I saved that one."
Reactions?
Source: "Happy (legal) campers — Eugene, Oregon," StreetRoots, 03/12/10
Source: "Eugene looking for more places for homeless to camp," Ashland Daily Tidings, 02/27/10
Source: "Overnight Parking Program," St. Vincent de Paul
Image by Don Hankins, used under its Creative Commons license.