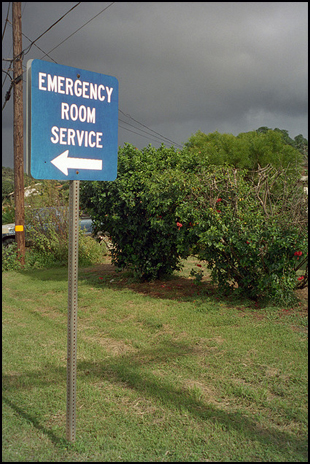 It used to be that Southern California was the predictor. Whatever the folks in LA were doing, the rest of the country would be doing it pretty soon. Maybe that tendency still applies.
In the case of homeless dumping, let's hope not. Some deny that there is such a thing. Others say well, yes, but what else are we supposed to do? This Los Angeles Times story could bring a strong man to tears or make an angel curse.
Staff writer Richard Winton tells us about a legal matter that has finally been settled after four years of wrangling. This goes back to early 2007, when a woman with lung disease, and connected to a portable oxygen tank, was discharged from Centinela Freeman Regional Medical Center in Inglewood, California. She was dropped off at a homeless shelter — not even an established, permanent shelter, but a temporary cold-weather shelter at the Armory in West Los Angeles.
A lawsuit was brought by the City Attorney's office, and here's the upshot:
The hospital's owner will pay $125,000 in penalties and charitable contributions and will abide by rules forbidding such practices at medical facilities it owns… The hospital corporation did not acknowledge any wrongdoing but agreed to abide by best practices protocols for discharging homeless patients.
Let's fantasize for a moment. What if that $125,000 had been spent on the homeless woman? For much less, the hospital could have hired private-duty nurses round the clock to take care of that patient's every need, plus an advocate to work full-time at finding a safe lodging for her. For comparison purposes, it costs the criminal justice system $47,000 per year to incarcerate someone out there in Cali. That 125 grand could have bought that homeless woman more than two and a half years' lodging in the Graybar Hotel. It could have even paid room rent for a couple of years in a real hotel, a nice one.
At first glance, that $125,000 figure sounds almost impressive. But it is illusory. It breaks down to $5,000 worth of civil penalties, a cash amount that in no way compensates the city for what it cost to prosecute the case. Not even close. This is not to imply that the charges should not have been brought, merely to point out that the heftiest portion of the bill is paid, as usual, by the taxpayers. As for the hospital owners, the bulk of the settlement will be payable in the form of $120,000 worth of "charitable contributions to a homeless recovery network that helps mentally ill patients."
A person doesn't like to be cynical, but this sounds kind of amorphous. A good lawyer could convert the sentence to "in kind" contributions, like some vaguely promised counseling program for certain types of patients, which may or may not ever materialize. A person doesn't like to be distrustful, but this penalty appears to be largely symbolic. And it took four years to even get that much.
Centinela Freeman is not the only hospital that agreed to an out-of-court settlement recently. In a similar case, Kaiser Permanente (having sent a 63-year-old woman out into the world by taxicab, wearing a hospital gown) promised to donate half a million dollars or, possibly, something intangible that it claims is worth that much.
College Hospital must pay $1.6 million in penalties and charitable contributions to various agencies. It is said that in 2007 and 2008, this one hospital alone dumped more than 150 patients on skid row. Mentally ill patients. Hollywood Presbyterian's homeless dumping case involved the donation of $1 million to nonprofit groups. It would be real interesting to know if anything close to a million ever finds it way to those organizations.
Of course, they all promise to adopt better discharge rules. Hospitals can volunteer to sign on with a voluntary code of ethics. Or they can be required to, as part of the settlement agreement, if they are accused of unscrupulousness. Things have reached the point where hospitals must be told not to dump patients on skid row. Wouldn't that be a thing you would want to kind of take for granted? Winton says,
The protocols, signed in recent years by several Southern California hospitals, give specific requirements for how patients are to be released from hospitals and how they should be evaluated after their release. It also outlines a process for getting those who need additional care placed into medical or social service programs.
As for homeless dumping spreading to the rest of the country, it looks like it already has. Last November, for instance, we noted an incident in Indiana where a bureaucrat shocked the parents of a disabled child whose benefits had run out, by suggesting that they drop off the patient at a homeless shelter.
Los Angeles had a couple of City Attorneys, Rocky Delgadillo and Carmen Trutanich, who took this shabby treatment of people experiencing homelessness very seriously. California has a state law designed to prevent unfair business practices, which allows a corporation to be sued for unscrupulous behavior. Imagine that! In general, granting human status under the law to corporations is a lousy idea. But if they can be sued for a lack of scruples, there's an example of how it might not be such a bad thing.
What the hell is going on with the human beings, here on Planet Earth? More to the point, what is going in the USA? As Southern California sets the fashion for the nation, America sets things in motion for the rest of the world. We think we're so great, we want every other country to imitate us in every possible way, adopt all our systems and assumptions, and model itself after the United States of America. And this is the example we are setting for the world.
Reactions?
Source: "Hospital accused of dumping L.A. homeless woman to pay $125,000 fine," LA Times, 03/18/11
Image by Joe Shlabotnik, used under its Creative Commons license.