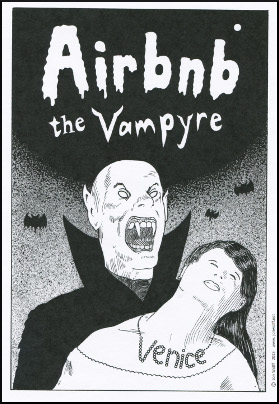 Los Angeles holds the distinction both of having the highest percentage of renters of any American city, and of being, for renters, the least affordable American city. Since the USA is freedom-based, landlords are bitter when not allowed to wring every possible dime out of their properties. The issue of rent control has always been fiercely contested in LA. Hillel Aron explains:
If a landlord's unit falls under the Los Angeles rent stabilization ordinance (meaning all apartment units built before 1978) landlords are prohibited from raising the rent above a certain amount, and these buildings can only be torn down or taken off the market in certain circumstances.
Since 1982, the Mello Act has been in place, ostensibly preventing landowners from converting residential units for commercial use. But somehow it happens anyway. Leading up to the 1984 Summer Olympics, poor people all over the city were displaced for the sake of wealthy visitors. This happens, Mark Lipman says, when…
Laws are ignored, process is circumvented, zoning is changed, exceptions are made, and enforcement is non-existent, when it favors the land speculator….
More recently, the advent of Airbnb and similar enterprises really threw gasoline on the fire. In March, the Los Angeles Alliance for a New Economy released a study showing that more than 7,000 rental units had disappeared from the city's traditional rental market for use as short-term rentals or what some call "underground hotels."
Of course, the people in favor of permitting unregulated, short-term renting talk about how much it helps the average tenant of a house or apartment, because they can sublet a spare bedroom to a traveler and make a bundle. Homeowners can benefit even more. Theoretically, a homeowner can rent out his place for a couple of weeks and earn enough to pay for his own vacation, plus a couple of months' mortgage payments.
In theory, it all sounds delightful, but in practice, the situation is quite different. While Airbnb claims that 80% of the 4,500 amateur innkeepers in LA are "primary residents" of the spaces they offer, opponents tell a different tale. They say the overwhelming majority of Airbnb listings originate from professional companies that specialize in managing numerous short-term-rental units.
The Nine LA Gold Mines
In Los Angeles, more than 70% of Airbnb profits emanate from just nine neighborhoods, of which the beachfront community of Venice is one. An astonishing 12.5% of all the rental units in Venice are now rented out through Airbnb. One sad example is the venerable Waldorf, where Charlie Chaplin used to occupy the penthouse. Among the consequences is a reduced quality of life for the tenants who are being encouraged to leave. Adrian Glick Kudler writes:
The owner has been changing units over to Airbnbs as soon as they become vacant and residents "have felt increasingly unwelcome in their homes [and] believe their landlord is no longer performing basic maintenance on their apartment because they are not as profitable as the tourist-serving units."
Judith Goldman of Keep Neighborhoods First told LA Weekly that neighborhood residents are being harassed and intimidated into leaving, and when possible, outright evicted. She characterizes the rise of Airbnb as not home sharing, but home snatching. Elena Popp of Eviction Defense Network told a reporter, "Venice is a nightmare." The Weekly says:
According to Airbnb's website, the average Venice rental goes for under $200 a night—for a weeknight. Weekends average around $225. The most expensive places go for more than $1,000 nightly.
No wonder Airbnb spends $100,000 per year to lobby City Hall office-holders! Writing for the Free Venice Beachhead, Mark Lipman indicts the Council District 11 office, which apparently is in the habit of changing zoning rules and issuing permits without the required public input. Consequently, in the 3-square-mile Venice Coastal Zone, more 1,200 units have dropped out of the regular rental market. Lipman says:
This is having a devastating effect on our community, exacerbating homelessness and driving the price of rent through the roof.
Venice has always had a large and flagrantly visible homeless population and now, with this Airbnb takeover, it is growing even larger. In many American cities, Lipman notes, there is a "drastic ramping up of criminalization of status." In Venice, this happens to the point where he sees the municipal government as both creating homelessness and making it as miserable as possible.
This area of the city is policed by LAPD's Pacific Division, which by its own admission spends four fifths of its energy and resources dealing with people experiencing homelessness. In the main, that means harassing people for doing things that people have to do, like sit and sleep. (During one era of Venice history, a mentally disturbed young man spent his days walking in circles in a particular spot on the boardwalk. Tough as his life was, at least "Circles" never got a ticket for sitting or sleeping.) It costs $62,000 to keep a person in jail for a year in LA. Lipman says:
That's a lot of money, to pay a lot of police salaries…money we wouldn't have to spend—police we wouldn't need on the streets—if we simply provided the basic services that our communities have been demanding for well over a decade.
Obviously, corporate shell companies and foreign investors, and the prison guards' powerful union, are in need of some policing, but as usual, all the law enforcement attention is focused on the poor and the homeless.
The short-term rental business is both a direct and an indirect cause of homelessness. In light of this, Richard R. Troxell of House the Homeless suggests that cities take regulatory action that would create a contributory pool into which Airbnb and similar enterprises would donate a small amount, perhaps 2%, of their profits for the benefit of people experiencing homelessness.
Furthermore, we urge you to contact your local government officials and state legislators.
Reactions?

Source: "Airbnb Is Making Things Worse For L.A. Renters, Report Says," LAWeekly.com, 03/06/15
Source: "Why Venice Beach is Ground Zero For the Airbnb Backlash." LAWeekly.com, 08/19/15
Source: "Follow the Money – The Political Will of Creating Homelessness." FreeVenice.org, September 2015
Source: "Airbnb and other short-term rentals worsen housing shortage, critics say," LATimes.com, 03/11/15
Source: "The Nine Neighborhoods That Make All the Airbnb Money in LA," curbed.com, 03/11/15
Image by http://www.jonwolff.net/ with permission