The staff and volunteers at House the Homeless were saddened to learn that Judy Lynn W. Beall, ("Lynn"), 41, died this past Saturday from stomach cancer. Lynn was very sick and on the streets until two days before her death. She was picked up by local emergency services because of her deteriorating condition.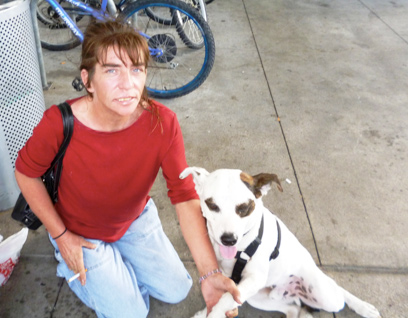 Lynn and her dog, Charlie, are featured on the February page of the HtH pets with people experiencing homelessness calendar. She was born November 5, 1970, and died June 23, 2012. She is survived by her boyfriend, who is also homeless, and dog Charlie.
Lynn's devotion to her dog is a reminder that people and animals deserve love, no matter their circumstances. Please consider making a tax-deductible donation or volunteering with our organization to help more people and pets get off the street. We extend our condolences to Lynn's friends and family on and off our city streets.