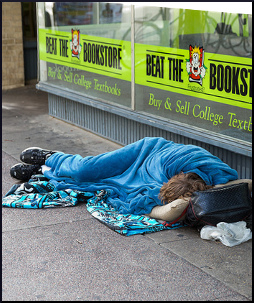 Last week, House the Homeless considered the activities of Pastor Kelly Boyd of Eugene, Oregon, who brings together givers and people who need things. By running for city council, he combines the faith-based approach with the political approach.
In some states of the union, earnest people have a better chance to thrive among progressive-minded neighbors. In other locales, a different social climate produces different results.
There is a growing tendency to criminalize, or at least seriously impede, grassroots activism and individual efforts. It's as if the government has a split personality, and wants to both ignore the root causes of homelessness, and at the same time own and control everything about homelessness.
The same mindset prompts humans to murder their domestic partners who want to leave. "If I can't have you, nobody else can either." The government seems to be saying, "I can't or won't do very much for you, but I'm going to make sure nobody else will, either."
A great philosopher once said that what every person really wants is to make a difference. All over America, individuals are trying to do that in the area of homeless relief. At the same time, penalizing the helpers has become a thing.
One ongoing story happens in Madison, Wisconsin. Brenda Konkel, executive director of the Tenant Resource Center, used to let as many as six people sleep on the porch of the home she shares with Robert Bloch. The couple also fitted out the porch with a dozen locker-room-style storage units for their guests to use.
The city threatened to fine them $300 a day. Journalist Pat Schneider wrote of Konkel, who used to be a city council member:
She worked with members of Occupy Madison a couple of years ago as they tried without success to get city approval to erect a homeless encampment and was instrumental in the group's success in getting zoning approval for a village of "tiny houses" now under construction on the city's east side.
Robert Bloch told the reporter that there had only been one police visit to the porch-sleepers, when an ambulance had to be called for a medical emergency. He also said, "The system is not working."
The homeowners were granted time extensions, but were warned again two months later to clear the porch. The absence of sleepers was not enough, the city wanted the lockers gone too. This was not the activist's only battle over storage. Tony Galli wrote:
Konkel says the problem of finding places to store the valuables of people who are homeless was highlighted this week, when county facility staff members removed more two dozen large plastic bags of belongings from Madison city hall. Konkel and other advocates for the homeless returned the bags to city hall, and facility officials say they will allow them to remain stacked on the building's porch, as long as they are not unattended.
Another Konkel effort is toward establishing a day center to meet the needs of people experiencing homelessness. A location has been proposed but, not surprisingly, someone challenged it in court.
A local blogger uses cruel labels and accuses Konkel of being anti-police.This is apparently because she contradicts the mayor's claims that the city needs somewhere between 13 and 361 additional police officers. She used to sit on the Police Staffing committee, before the department banned anyone, including City Council members, from collaborating on those decisions. Brenda Konkel is still an activist, advocate, and writer about homelessness in Madison.
Reactions?
Source: "Brenda Konkel could be fined for allowing homeless to sleep on her porch," Madison.com, 09/18/14
Source: "Advocate's lockers for the homeless must go," WKOW.com, 11/14/14
Source: "We need 13-361 New Police Officers?," ForwardLookout.com, 01/05/17
Source: "Tonight! Evictions & Homelessnes," ForwardLookout.com, 01/10/17
Photo credit: John Benson (ibm4381) via Visualhunt/ CC BY