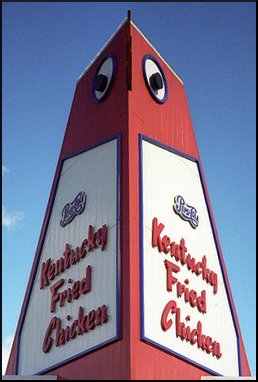 Last June, this Question & Answer appeared in the online forum ExpertLaw.com:
Question:

Is it legal for an employer to deny employment to an individual who they consider otherwise qualified, if it is discovered that the individual currently lives in a homeless shelter?

Short answer: yes. Neither federal anti-discrimination laws nor most state anti-discrimination laws preclude disparate treatment/employment discrimination against individuals residing in a homeless shelter. (ESteele, Senior Member)
A few weeks ago, in Tupelo, MS, after months of job-hunting, Eunice Jasica found work and seemed to be on track for the next phase of life — saving up to move out of the Salvation Army lodge. But when she reported for her first day on the job, fast-food franchise owner Chesley Ruff withdrew the offer of employment "due to lack of residence and transportation."
Say what? Then, a couple of days later, the manager backpedaled and said his refusal to honor the hire was really because Ms. Jasica had no experience in the difficult and demanding field of fast-food preparation. Plus, he doubted that the 59-year-old woman could lift the 40-pound boxes in which the food arrives. So never mind, no job after all.
Adding insult to injury, he implied that the job applicant had misunderstood and was delusional about having been hired in the first place. This shabby treatment is legal according to both the great state of Mississippi and the Kentucky Fried Chicken corporation. Reporter Emily Le Coz writes:
KFC operates more than 5,200 restaurants nationwide and follows all applicable employment laws, but its independent franchisees make their own hiring decisions, said KFC Corp. spokesman Rick Maynard.

Mississippi is an at-will employment state. That means the employer or employee can terminate the relationship at any time for any reason as long as it doesn't violate anti-discrimination statutes based on factors like race, age, color, religion, sex, national origin or disability.
In Tupelo, Maj. Sue Dorman of the Salvation Army was shocked, possibly because this didn't fit with Mr. Ruff's customary behavior. He had previously hired a man who was not only homeless but a former convict, who had done very well in the business, and whose success story had been featured in a newspaper. The same manager had also hired other Salvation Army residents in the past. Dorman called Ruff, who told it is not company policy to hire people who don't have stable housing or transportation, which made it sound more like a corporate-level matter.
And indeed, when The Huffington Post made inquiries, Ruff had nothing to say, but referred questions to the chicken vendor's head of media relations, Rick Maynard, who emailed:
KFC Corporation believes in a culture of respect toward all people, and we abide by all applicable employment laws. The restaurant in Tupelo is operated by an independent franchisee who shares our beliefs, but is responsible for making hiring decisions for the restaurant he owns.
So this was starting to resemble what is colloquially called a runaround. Meanwhile, the Huffington Post story garnered well over 1,000 comments from all over the map, both geographically and philosophically. Typical is the response of "EarthMonkey07," who wrote:
So now in order to even get a job, you can't appear to need it in any way? You need to already be employed (since the statistics say they won't hire you if you're already unemployed), housed (since they won't hire you without an address), with transportation (they won't hire you if you don't have a vehicle) AND have a bank account (because they won't hire you if you can't do direct deposit). This is getting crazy.
Exactly. And the craziness is not exclusive to the USA. A report from a prominent organization in Great Britain, St. Mungo's, revealed that two out of three homeless job seekers had been rejected for employment because of their homeless condition. Half had found the lack of a mailing address to be an obstacle, and two out of three lacked the appropriate clothing, tools or equipment for the jobs they applied for. Universally, even those who are lucky (or adept at hiding their true circumstances) find that the low-paying jobs they land do not come near to providing enough for housing anyway.
The really imposing feature of the St. Mungo's report was the contrast between 1986 figures, showing that 83% of the homeless people surveyed then had some kind of paid employment, and their 2005 numbers, which revealed only 5% of their homeless clients holding jobs.
Meanwhile, because of the publicity surrounding this debacle, Ms. Jasica received several other job offers and was "tentatively hired" by On Time Transportation to drive Medicare and Medicaid patients to their doctors' appointments. While this promises a happy ending for her particular story, many other homeless people throughout the country are not so fortunate.
Not surprisingly, House the Homeless has been involved in this struggle for years. Its Homeless Employment Survey of 2007 inspired the state of California to conduct a similar survey in 2009. Here is House the Homeless co-founder Richard R. Troxell's candid response to Eunice Jasica's plight:
Very sad. I for one am outraged! So while the Puritan Work Ethic remains intact for someone who has lost all of their worldly possessions, the compassion, empathy and love for one's fellow human being has dissipated like water on the sidewalk. Shame on that franchise and shame on KFC for allowing this act of inhumanity to occur in their name. It's only a matter of time before people will no longer accept this kind of treatment. Then what? There are 3.5 million people experiencing homelessness again this year.
In the Sacramento survey, 70% of the respondents identified the reason for their homeless condition as economic, 87% wanted to work and felt they were able to, and 42% identified their homelessness as the most significant barrier to working. Lack of transportation, as always, plays a big part in the employment equation. One of the recommendations resulting from this survey was:
Expand mail, email and voicemail services: We recommend universal coverage of a mailing address, email and voicemail services for homeless people to dramatically increase their chances for employment.
This excellent idea is, of course, one of the things that objectors are currently complaining about. They are against any plans that are put forward to provide cell phones to the homeless, because why should street people get fancy technology for free? And so it goes…
Reactions?
Source: "Q & A," ExpertLaw.com, 06/06/12
Source: "Woman fired for being homeless," ClarionLedger,com, 03/21/13
Source: "Eunice Jasica Claims KFC Franchise Reneged Job Offer…," The Huffington Post, 03/28/13
Source: "Hard Work for Homeless People," samhsa.gov, 2005
Source: "Homeless Employment Report: Findings and Recommendations," National Coalition for the Homeless, August 2009
Image by Joe Schlabotnik.