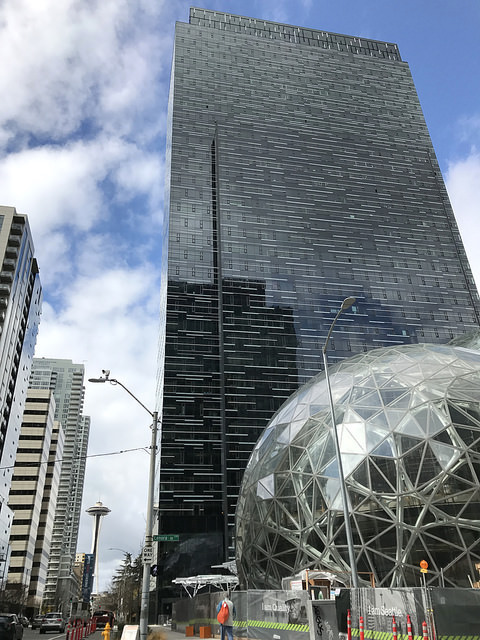 Austin, Texas, where House the Homeless is located, has something in common with 18 other American cities and Toronto, Canada. All are finalists in a competition where victory could result in chaos and misery.
Last September, the marketing behemoth known as Amazon revealed its intention to establish a second headquarters. More than 200 cities originally applied for consideration.
Amazon said it would spend at least $5 billion to construct its palace of commerce, and would potentially employ around 50,000 people. What's not to like? As it turns out, plenty.
Every city in the running already has unhoused people, and what happens when an extra 50,000 either arrive from elsewhere, or suddenly get jobs that enable them to afford pricier housing? Chances are, before too long a lot of people can no longer afford to live there at all.
Dire predictions
The real estate website Zillow projected the likely rent increases in several cities. Nashville rents would probably rise 3.3% per year. That may not sound like much, but it would amount to an average rise of $400 per month within 10 years. Boston and Los Angeles would be even worse, while Denver, where rents have already grown alarmingly in the recent past, would probably escalate close to 6% each year.
Journalist Marco della Cava points out that, paradoxically, the smaller candidates like Raleigh and Columbus would be better equipped than the larger cities to cope with an influx of 50,000 Amazon workers. In Indianapolis, for instance, Zillow would expect the effect on rents to range from negligible to nonexistent.
On the other hand, real estate speculators are always panting to jump into the flip game, buying and selling lots, houses, condos, and apartment buildings with the carefree abandon of kids playing a video game. In neighborhoods, rapid gentrification extracts a huge toll. Lower-income families are squeezed into doubling up, inhabiting inferior quarters like garages, becoming homeless, or leaving the area.
In Boston, a spokesperson reminded newspaper readers that, even with Amazon not in the picture, the city is projected to need at least 160,000 housing units before the year 2030. Apparently, the federal government puts obstacles in the way of letting cities figure out how to raise funds for new housing.
Reluctance and objections
In many cities, commuter traffic is already nightmarish. In terms of highways and public transit systems, their infrastructures are not prepared to handle any increase. The prospect of school overcrowding is not attractive to parents. Utilities can't keep up, and at the lower end of the socioeconomic spectrum, the need for services takes a sudden leap.
In Seattle, Amazon is said to have been very stingy with philanthropic donations to local charities until a public shaming campaign was mounted. Rumor has it that Amazon gives back grudgingly, and doesn't want to talk about it.
Pushback occurs here and there. Virginia produced a group called Our Revolution Arlington, which works to prevent the possibility of Amazon relocating in its borders. Depending on who tells the story, the Coalition for Nashville Neighborhoods is either presenting obstacles or protecting the city.
For USA Today, Elizabeth Weise quoted Matthew Gardner, of the Institute on Taxation and Economic Policy:
It seems pretty clear now that whoever "wins" the HQ2 battle is very likely going to be giving Amazon a free pass on a wide variety of state and local taxes for some period of time.
Come hither
Amazon chose Seattle for its first headquarters for compelling financial reasons. According to federal law (which may soon change) a mail-order company would only pay sales tax in states where they had actual physical buildings. Also, Washington charges no personal state income tax, which approximates a pay raise for employees, without the corporation needing to give out an extra dime.
From whichever city wins its contest, Amazon is looking for a cushy deal. When 238 cities asked for the chance, Danny Westneat wrote that the responses…
[…] amply demonstrate our capitulation to corporate influence in politics… Some City Halls seem willing to go beyond just throwing money at Amazon. They're turning over the keys to the democracy.
Chula Vista offered to donate $100 million worth of land, and forego property taxes for three decades, which would save the corporation around $300 million. Fresno was willing to "put Amazon inside the government" by letting it mold the city to its liking.
Tax would be paid to the city, but Amazon would get to decide how the money was spent. A new fire truck, or a sculpture for a courtyard frequented by executives? Amazon would decide. Chicago offered to let the workers pay their projected $1.32 billion worth of income taxes directly to Amazon, and Newark somehow cast a bold $7 billion lure. (Chicago, Newark, Nashville and Boston are still in the running.)
For the satirical McSweeney's.net, Michael Maiello envisions the letter that Satan might write to Amazon big boss Jeff Bezos. He favorably compares Hell to Philadelphia, which is one of the actual candidates, and asserts that Hell's labor statutes are business-friendly. Among other enticements, he promises no taxes, and throws in a free building with living gargoyles perched along the roofline.
Hell can easily accommodate a structure housing 8 million square feet of Class A office space. We can even build it for you for free, using the labors of the legion of the damned, whose numbers total in the hundreds of billions.
For Amazon's delivery service, the imaginary ruler of Hell suggests using not drones, but demons:
I know you're worried about access to airports. Good news: every airport in the world, especially those in the United States, serve as gateways to Hell… Who do you think trains TSA workers?
The Father of Lies ends his invitational letter with a poignant plea:
You know deep down in your dark heart that Amazon belongs in Hell. It's time to come home, Jeff.
Reactions?
Source: "What Amazon's HQ2 could mean for winning city's rents," SeattleTimes.com, 04/25/18
Source: "Amazon headquarters finalists: Some say winning would come at too high a price," USAToday.com, 01/25/18
Source: "After losing fight to levy 'Amazon tax,' Seattle is back to square one on helping homeless," USAToday.com, 06/17/18
Source: "This City Hall, brought to you by Amazon," SeattleTimes.com, 11/24/17
Source: "Satan Makes His Pitch to Amazon.com," McSweeneys.net, 09/14/17
Photo credit: kiewic via Flickr