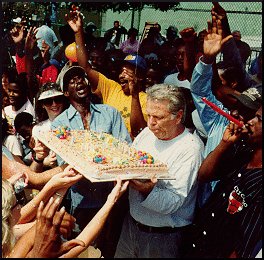 Last time, House the Homeless paid respect to several people who made life better for people experiencing homelessness, and who passed away recently. Fortunately, many such heroes are still alive and at work among us.
In mid-2012, Ray Castellani served his one millionth sandwich to residents of Skid Row in Los Angeles, under the auspices of the nonprofit group he founded in 1987. For many years, Castellani was tethered to this life mission by empathy cultivated by three aspects of his own earlier years: as a military veteran, a recovering alcoholic and an occasional Skid Row homeless person himself. When the former Marine started to make a good living from painting houses and from the occasional acting job, he was prompted by spiritual convictions to give back.
During the years when the Frontline Foundation operated at its peak, it made and served more than 6,000 meals every month. In 1990, when the group's truck was stolen, that well-publicized crime brought an outpouring of generosity from the community. In 1995, Castellani was summoned to Washington to receive the President's Service Award, which is the most significant prize a volunteer can get.
Ups and downs
With the economic recession, donors cut down their giving significantly, and the foundation had to close its Van Nuys facility. But the day was saved by a generous donation from a storage company, so despite financial setbacks (and two heart attacks), Castellani continued to deliver as much food as he could, as often as he could, to the inhabitants of L.A.'s scruffiest district.
As recently as March of 2013, he was still active at age 80, and friends organized a celebrity golf tournament to raise money for Frontline Foundation. The photo depicts one of the birthdays he celebrated, with a little help from his friends, on Skid Row. Daily News writer Susan Abram describes another occasion when the longtime activist was interviewed:
On a recent day at his home, Castellani said he was awaiting a volunteer to bring him some ingredients for the sandwiches, likely hundreds of them, he'll serve on Skid Row today. He'll have tuna fish, peanut butter, and egg salad sandwiches, along with some chips and candies. He likes to give the homeless a choice, he said, because they have so few.
In Dallas, David "the SoupMan" Timothy has been serving the homeless for ten years. An interview with KERA News reporters Courtney Collins and Rick Holter revealed that Timothy's own childhood was blighted by food insecurity. He pointed out that hunger is hard enough to deal with, but the really painful part is when a person doesn't know when or if there will ever be anything to eat again.
Normally the SoupMobile sets up near a city park, but on Christmas Eve, Timothy hosts a gala at a downtown hotel. For this special occasion, as many as 2,500 volunteers help out with an event that creates a special holiday for 500 people experiencing homelessness. There is a huge banquet, with gifts of new clothes and other necessities, and the guests stay overnight so that "when they wake up on Christmas morning, it's in a warm, safe bed." Of course this haven is only temporary, but the following week Timothy and the SoupMobile are back on the streets again along with the disenfranchised poor. He told the news team:
Every day when we feed the homeless, not just feeding their stomachs, but we feel like in a very powerful way that we're feeding their souls with some hope and some caring and some love and compassion. And we just think that makes a real long-lasting difference.
Tomy Bewick, a man with a reputation as one of Toronto's best slam poets, demonstrates that Canadians also have compassion. Several years ago he established an annual grassroots initiative called Straight to the Streets, which collects winter clothing for distribution to people experiencing homelessness. Workers also buy or put together "survival kits" containing socks, gloves, scarves, hygiene products, water bottles and other useful items. Writer KJ Mullins makes an interesting point about the event:
Giving to others may seem like the main focus of Straight to the Streets but it's not. It's taking the time to interact with another person. For many of the volunteers it was the first time that they had a true respectful conversation with someone living on the streets. Those conversations help to change lives. The lives changed are those of the volunteers who finish the day wanting to do more.

Straight to the Streets shows that one man's decision to make a difference does just that… Once a person can see that they, a single person, can make a difference in the world they want to continue helping others. It's a never ending circle of good.
Reactions?

Source: "Ray Castellani serves up his one millionth sandwich to homeless," DailyNews.com, 05/12/12
Source: "The SoupMan On Making Christmas Bright For 500 Homeless Men, Women and Children," KERANews.org, 12/24/13
Source: "Op-Ed: One man's vision — Straight to the homeless of Toronto," DigitalJournal.com, 12/16/12
Image by Frontline Foundation