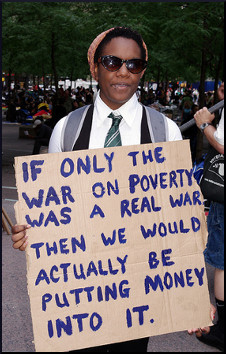 German Lopez of Vox.com has published a very enlightening essay called "11 myths about homelessness in America."
Perhaps the saddest is Myth #2 — "Getting a job will keep someone out of homelessness." If only! Instead, as House the Homeless has emphasized many times, even full-time work is no guarantee of living inside walls. That condition of being employed, yet unable to afford housing, is called "economic homelessness," and it is ugly. Not only ugly, but absurd. In what universe would these words make any sense?
The National Low Income Housing Coalition found a full-time minimum wage worker would have to work between 69 and 174 hours a week, depending on the state, to pay for an "affordable" two-bedroom rental unit … A full-time minimum wage worker couldn't afford a one- or two-bedroom apartment at Fair Market Rent, a standard set by the federal government, in any state.

Source: "11 myths about homelessness in America," Vox.com. 01/15/15
Image by David Shankbone