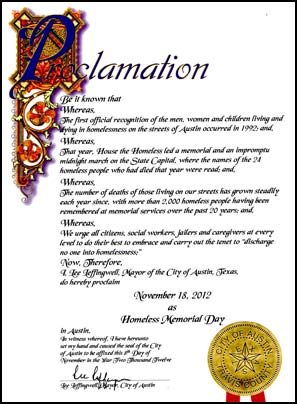 Richard R. Troxell, founder of the nonprofit group House the Homeless in Austin, TX, has initiated a campaign to "Discharge No One Into Homelessness" (DNOIH) which he is convinced will resonate with many people. In Surviving on the Streets, Ace Backwords mentions an example of homeless humor:
'What does the street person do when he gets sick?'
'He dies.'
Indeed, we don't even know how for how many people illness, homelessness, and lack of family or other support system, adds up to a death sentence. In a Huffington Post article about cancer patients discharged into homelessness, Pat LaMarche writes:
Frustratingly, the only statistics I could find on homeless individuals getting ill were pretty ancient history. Most dated from the 1990's. Then — and all advocates for the homeless would agree things have only gotten much worse… As for how many were hospitalized? The very few statistics I could find were provided by the Veterans Administration… The VA says that about 30% of homeless vets are ill enough to require hospitalization.
What happens to the elderly and chronically ill, and the street kids who get sick or hurt, when a hospital, clinic, or nursing home discharges them? Patients are just one subgroup at risk. What happens to those whose military service ends, and to teens no longer supervised by child protection agencies, and to juveniles and adults released from jails and prisons and halfway houses?
Brittany Wallman recently reported on how the state of Florida is in danger of violating a federal consent decree that concerns inmate overcrowding. Homeless people who can't afford bail stay locked up, at huge expense. Fewer people would be discharged into homelessness if fewer homeless people were jailed in the first place. Wallman says:
There are better ways to deal with homeless people, many of whom are mentally ill and need treatment, not jail. They get no treatment there, and so frequently land right back in jail. Undeterred, the cycle perpetuates itself. Unacceptably, it has been doing so for years… The problem cannot be solved without addressing the complex interplay of homelessness, mental illness and the justice system… Mental health and social service agencies must be involved too. They're the only ones that can give many of the homeless the help they need to end this costly cycle that does neither the homeless nor the justice system nor the taxpayers an ounce of good.
By a change in circumstances, a person is taken out of accustomed life, forced into a new environment, and turned into something they previously were not: patient, inmate, foster child, soldier. Time goes by, and they are tossed back out into the world, often alone and without resources. All these extreme life changes have one thing in common: a very definite transition point between one condition and another.
The trouble is, when someone leaves hospitalization or incarceration, or is discharged from the military, or "ages out" of foster care, there might not be any place to go back to. They can't stay where they are, and will have to go somewhere anyway, so an intervention at this point is a pragmatic way to divert a person from the streets and lower the homelessness statistics.
The "Discharge No One Into Homelessness" tenet is a practical step toward the overall goal of ending homelessness in our lifetime, and an example of how an ounce of prevention is better than a pound of cure. In our newsletter, Katie McCaskey noted:
In a recent House the Homeless survey of 601 Austin residents experiencing homeless, 90% of these people wanted to work. However, 40% had spent time in mental health facilities — a stigma on job applications — and 48% were unable to work due to physical limitations or illness. With the combined efforts of those participating in a DNOIH outreach we could reduce the societal costs of homelessness and find productive work suitable to all who benefited from this housing.
With the help of all these institutional staffs and social workers, we need to figure out how to ensure that people are discharged, on time of course, into safe and stable housing environments. So here it is on paper, the "Discharge No One Into Homelessness" proclamation:
Be it known that whereas, the first official recognition of the men, women and children living and dying in homelessness on the streets of Austin occurred in 1992; and, whereas, that year, House the Homeless led a memorial and an impromptu march on the State Capital where the names of the 24 homeless people who had died that year were read; and, whereas, the number of deaths of those living on our streets has grown steadily each year since with more than 2,000 homeless people having been remembered at memorial services over the past 20 years; and, whereas, we urge all citizens, social workers, jailers and caregivers at every level to do their best to embrace and carry out the tenet to "'no one into homelessness'; now, therefore, I, Lee Leffingwell, Mayor of the City of Austin, Texas, do hereby proclaim November 18, 2012 Homeless Memorial Day in Austin.
The "Discharge No One Into Homelessness" proclamation was presented and read at the Austin City Council meeting on November 8 by City Council Member Laura Morrison. Morrison has been very supportive of the effort to provide more shelter for vulnerable women experiencing homelessness. That dream will become reality thanks to the efforts of House the Homeless, the Salvation Army, Trinity Episcopal Church, the Austin Human Rights Commission, and many others.
In the recent elections, Austin came through like a champ, as 60% of the voters voted with their hearts and said yes to a bond package that includes $3.8 million for expansion and rehabilitation of the Austin Women and Children's Shelter.
Here is proof that, as Richard believes, people are moving forward in their thinking, toward a more humane world. Leaving aside ethical and moral issues, society is also moving toward recognition of the economic reality that when people have somewhere to stay, it costs society a lot less, both in the short run and in the long run. Michael Stoops, Director of Community Organizing for the National Coalition for the Homeless, wants to send Austin's "Discharge No One Into Homelessness" proclamation to cities all over the United States for their consideration.
Readers who believe in this cause are urged to comment here. Everyone is invited to sign the petition and share it with others via Facebook.
Austin's Homeless Memorial
Keynote speech — Brigid Shea
Prayer — Pastor Doug Keenan
Songs — Sara Hickman
Perspective — Richard R. Troxell
At sunrise – 6:59 a.m.
On Sunday, November 18th
Auditorium Shores at the Homeless Memorial (South 1st & Riverside Dr.)
Reactions?
Source: "Surviving on the Streets," Amazon.com
Source: "Too Many Cancer Patients Leave the Hospital for Homelessness," The Huffington Post, 10/02/12
Source: "To fix jails, address revolving door," Sun-Sentinel.com, 11/03/12
Source: "Discharge No One Into Homelessness," House the Homeless newsletter