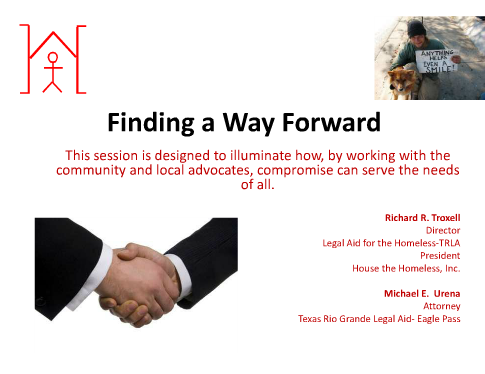 In the mid-1980s, homelessness had again begun to manifest itself in the United States. In 1988, the U.S. Congress declared it had reached a crisis level and passed the McKinney Vento Act in an effort to find funding solutions to end homelessness.
In 1989, Richard R. Troxell founded Legal Aid for the Homeless in Austin, TX, where he repeatedly went through an 18-month process to get disabled individuals experiencing homelessness disability benefits. It turned out that this benefit was about half the amount earned under the federal minimum wage.
At same time, the U.S. Conference of Mayors began issuing reports that concluded that no one can get into — and keep — basic rental housing anywhere in this country even when working full-time at a minimum-wage job. The federal government was setting standards so low that it was the single greatest manufacturer of homelessness!
In 1997, Richard R. Troxell set out to "fix" the federal minimum wage. To this end, he designed a three-pronged formula using existing government guidelines that ensures that if a person works 40 hours per week, be it from one job or two, he or she will be able to afford basic food, clothing, and shelter (including utilities), wherever that work is done throughout the United States. Clearly, this relates to people who can work.
In the 1990s, at the behest of the business communities across America who felt under attack by people experiencing homelessness, municipalities began to pass "Quality of Life" Ordinances and to share their success among themselves. These ordinances include: no camping, no panhandling/soliciting (aggressive or non-aggressive), no sitting/lying on sidewalks, etc.
The following is the Power Point Summary of House the Homeless, Inc.'s efforts to bring the City of Austin's "No Sit/ No Lie" Ordinance, as it relates to people who cannot work, in compliance with the Americans with Disabilities Act.
View and/or download the presentation by clicking below.
Finding a way forwardView more presentations from House the Homeless.