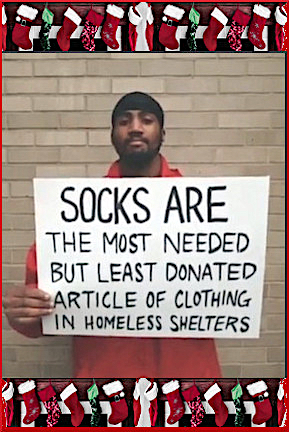 Sure, we love to fill Christmas stockings with candy canes and trinkets. This year, try something different — FILL SOCKS WITH FEET!
Thanksgiving in Denver, CO, looked a bit different this year thanks to the nonprofit organization Impact Locally. Usually, it is a store that sells nothing, but gives away clothing to people who need it.
This November, CEO Travis Smith had the clothing racks moved elsewhere for the day and turned the premises into a free restaurant with fancy accoutrements like tables and menus, allowing the guests to do something they don't often have a chance to do — sit down and choose what they wanted to eat, and eat it while listening to music. (The page referenced here even includes a nice video from photojournalist Josh Whitston.)
Bellingham, WA (90 miles from Seattle), has the reputation of an elite enclave often named one of the best places to live in the United States. It has also been named one of the worst places, in terms of affordability, with a house costing typically $300,000.
Bellingham has splendid outdoor recreation opportunities, a great bookstore, and a lot of bars. Almost 20% of its residents admit to binge drinking, which may include the tech ninjas and successful writers, and/or the 21% of Bellingham's population who live in poverty (which is well above the national average).
The county's homeless population has increased by 10% in just the last year, and the housed people of Bellingham, to their credit, currently see homelessness as the city's top challenge. The Lighthouse Mission has a daytime drop-in center, but sometimes it reaches capacity. This winter, a meeting room in the basement of the Public Library will be used in extreme weather as a daytime refuge. If things really get rough, City Hall also has emergency daytime shelter space.
The Lighthouse Mission also vets female candidates for nighttime space at Fountain Community Church. Over the three harshest winter months, the church hosts between 45 and 50 women each night, but they must vacate the premises by 7 a.m., a not particularly hospitable time to emerge into icy wind and snow.
Last year, the church's sleeping quarters were administered by a total of 130 volunteers. Journalist Kie Relyea reported,
The shelter is a partnership among several churches… It will cost about $35,000 to operate, with money coming from church congregations, the city and private donors, [Pastor Rick] Qualls said. About $5,000 is set aside so that single moms and their children can stay in a hotel room, which also gives them a place to stay during the daylight hours…
The reverse Advent calendar is an idea for any year, anywhere. Joshua Barrie wrote about this charming custom, recommended by a group from across the ocean, called the UK Money Bloggers. Traditionally, an Advent calendar dispenses a little treat or gift to a child, each day of the weeks leading up to Christmas. With the reverse Advent calendar, a household sets aside a box or a bag and puts something it each day, to eventually be donated to the local food bank.
Actually, this concept works better by not strictly following the calendar. Mid-November to mid-December is a good time to do it. The local food bank will tell people the best time to make donations so families can access them before Christmas.
Food banks and community pantries are familiar with an increase in requests in holiday seasons, when people who never have much have even less. They find themselves asking questions like, "Do we heat, or do we eat?" By the way, please consult this excellent article about things that food banks need and don't get enough of. One of them is socks!
Sock it to me…
There are excellent reasons why people experiencing homelessness need a lot of socks. Wearing two pairs at once can improve badly fitting shoes, or provide extra insulation against cold. They tend to be worn 24 hours a day, and to wear out fast. Regrettably, they pretty much need to be treated as disposable, for good reason.
Laundry opportunities are rare, and if a backpack is your only home, there is a certain reluctance to give houseroom to a bunch of dirty socks. Fast-food restaurant customers and library patrons are displeased when someone washes their socks in the establishment's restroom. Even if socks can be washed, there is nowhere to dry them, especially in cold weather. So, new socks are highly prized.
Veteran Robert Graves wrote about England in the aftermath of World War I in Goodbye to All That, which was published in 1929:
Ex-service men were continually coming to the door selling boot-laces and asking for cast-off shirts and socks.
Boston's Dr. Ernesto Gonzalez spoke to an interviewer about issues stemming from exposure to wetness, and the lack of hygiene opportunities:
Athlete's foot is a very common disease among people who are unable to change their socks or their shoes, or who cannot take showers frequently. So it's very frequent for them to have fungal diseases.
An anonymous former homeless person wrote,
Socks mean the world to you. They keep you warm, make you feel like you have something new, and just comfort you.
People experiencing homelessness need more socks, and they need to not have their socks and other belongings stolen and destroyed by cops and city or transit workers. They need places to keep their stuff. They need places to keep themselves. But let's start with the socks.
In and around Austin, TX — or anywhere!
Please learn more about how to donate cold-weather necessities, through House the Homeless.
Reactions?
Source: "From free clothing store for the homeless, to free Thanksgiving restaurant for the homeless," TheDenverChannel.com, 11/22/18
Source: "It's cold outside, so Bellingham church makes a difference by sheltering these women," BellinghamHerald.com, 12/08/18
Source: "Why the 'reverse advent calendar' is the best thing you can do this December," Mirror.co.uk, 11/02/17
Source: "10 Things Food Banks Need But Won't Ask For," 1027KORD.com, 12/23/13
Source: "Boston Doctor Who Quietly Treats The Homeless Is Honored," WBUR.org, 04/25/11
Photo credit (middle; top and bottom): Fair Use; Ryan Tyler Smithright (inov8d) on Foter.com/CC BY