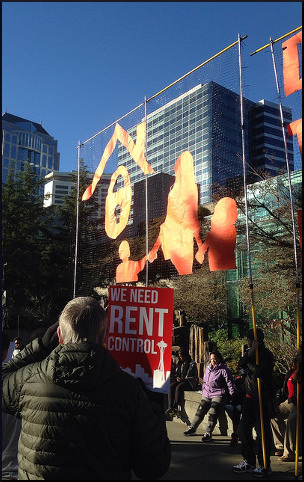 "The Monkey's Paw" is an immortal tale because it embodies an unassailable truth: Be careful what you wish for. Amazon has not yet named the next city to be blessed or cursed with the company's presence. Do the competing cities have any clue about what is in store for the winner?
One thing is for sure. Wherever Amazon HQ2 lands, the number of people experiencing homelessness in that city will increase.
The residents of Seattle were manipulated to want Amazon. Having viewed an Amazon recruitment video, Seattle journalist Dae Shik Kim Hawkins implies that professionals all over America were equally manipulated into relocating to Seattle.
Naturally, the company portrayed the town as yuppie heaven — which it pretty much was, and largely still is. This is partly because the city is adept at rendering its homeless people invisible, and "the most helpless communities are being systematically displaced to make room for others." The writer says:
Rather than eradicate homelessness at its root, the city's strategy thus far has been to sweep the homeless from public view; destroying their encampments, issuing tickets for their vehicles, and installing hostile architecture that keeps people from sleeping on benches and in city parks.
In Seattle, site of HQ1, the homeless count is the third largest in the nation. Hawkins correlates the era of displacement with the "Amazon boom" of 2012. There are about 12,000 homeless people in King County, and about half of them are unsheltered. In the first half of this year, 52 members of the community died. Last year, Seattle spent over $10 million on "sweeps."
Snitch culture
Hawkins describes a new smartphone application that sounds like a nifty idea on the surface; a way to report to the city if a traffic light is out of order, and so forth. But zealous citizens also use "Find It, Fix It" to report homeless camps and people asleep in vehicles. In other words, the app has "warped into a powerful instrument for high-tech community patrolling" that makes it super-convenient for annoyed citizens to punish people experiencing homelessness.
It became especially appreciated by residents of a particular upscale neighborhood. The Ballard Alliance, headed by Mike Stewart, took it upon themselves to get the locals riled up about homelessness, but not in any useful or constructive way. Hawkins says,
Stewart's idea was to use this app to bombard the inboxes of city officials with homeless-encampment sightings around their neighborhood, hoping to create a sense of urgency for the city to remove homeless people from Ballard.
According to August Drake-Ericson, of the Seattle Homeless Encampment Response team, last year the city registered 12,500 homeless-oriented complaints, averaging more than 30 per day, and mostly originating from the new app. When anonymity can be maintained, the idea of being a ratfink is more attractive.
Crisis sometimes produces comical headlines, which happened in July. Examples: "Seattle mayor suggests rental assistance, car repairs could help some homeless" and "Seattle authorities luring homeless off the streets with plane tickets, rent." Rent money could help the homeless. Who knew?
This is a mayoral plan, christened "one-time diversion spending," and designed to keep people from slipping into homelessness. In real life, it's no joke. Often, a one-time expense will tip the scales for an individual or a family. If you need a car to get to work, or else lose your job, and something happens to the car, and you have to choose between fixing the car or paying the rent, that scenario can throw a person into the streets.
It's also the exact type of one-time financial emergency that friendly intervention, in the form of cash, can actually help. A month or two of rent, donated at the right time, can save the city a lot more than that, later on.
In June, the city council passed a tax on the full-time employees of the biggest local businesses, including, of course, Amazon. Originally, it was supposed to generate $75 million per year for affordable housing and homelessness services, but the corporations wangled it down to $45 million.
That much could be expected. In the kabuki theater of negotiation, the initial demand is always unreasonably high, in order to give the other side a partial win, in the name of compromise.
It didn't work. The corporations, organized under the umbrella of the Seattle Metropolitan Chamber of Commerce, waged an aggressive pressure campaign, and a few weeks after it had been passed, the tax was repealed. Writer/activist Hawkins added a few words about the irony of Find It, Fix It:
If anything needs to be fixed here, it's the fact that a city with so many resources is not using its financial might and technological prestige to help the vulnerable few.
Reactions?
Source: "An App for Ejecting the Homeless," TheAtlantic.com, 07/02/18
Source: "Seattle mayor suggests rental assistance, car repairs could help some homeless," KOMONews.com, 07/02/18
Source: "Seattle authorities luring homeless off the streets with plane tickets, rent payments," WFIN.com, 07/02/18
Photo credit: Backbone Campaign on Visualhunt/CC BY