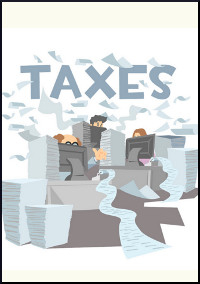 There are a thousand different reasons for it, but the bottom line is, income tax is a huge issue for almost everyone. For more than 15 years, House the Homeless has promoted the annual "Tax Day Action!" on April 15.
This year, as always, the HtH family will take part in protests at Post Offices throughout America. Richard R. Troxell, the organization's president, explains the rationale:
Workers have been forced in ever-increasing numbers to depend on food stamps, general assistance, and Temporary Assistance for Needy Families (TANF). Congress intended these to be emergency, stop-gap measures. Instead, many businesses use government support to save on basic payroll. This is creating an ever-increasing burden on the taxpayer.
What happens when businesses take unfair advantage of the tattered few remaining shreds of the social safety net? Children don't have proper nourishment and are unable to get the most out of their schooling. Families can't afford rent, and wind up living in garages, basements, vans and, in the worst-case scenarios, in shelters or constantly-harassed homeless camps.
Learn more about the Universal Living Wage concept and what to do about it. Meanwhile, let's look at some specific issues connected with how the refusal to end homelessness impacts the taxpayer.
Whether a service is paid for by local, state or federal taxes, all taxes come from the same source: us. The government, per se, does not have any money. At the municipal, state, or federal level, the government has no money except what we hand over to it in the form of income tax, property tax, sales tax, and so forth.
Sure, the government takes in a little something from the few remaining corporations that deign to pay taxes, but how do those businesses make up what they consider to be their rightful profits? Again, they get it from us.
What happens when a business, large or small, does not pay employees fairly or adequately? Every taxpayer chips in to pay for food stamps, medical care, and other necessities for those employees and their families. There are all kinds of less obvious costs, especially when people are unable to pay to live under a roof, and experience homelessness. Taxpayers finance the building of shelters or, more likely, the repurposing of old buildings to become shelters.
Police are kept busy chasing unhoused people from one makeshift settlement to another, and arresting them for minor crimes, and who pays to keep them in jail? We all do. The mission of the police, supposedly, is to serve and protect the citizens. That mission has been perverted into serving and protecting only property owners, while making life miserable for those who need protection the most, the people who have lost almost everything and really don't need to be served any more grief.
Courts systems waste their time and our money assessing fines that will never be paid, for rinky-dink offenses like loitering. Another thing that courts do, occasionally, is to award damages to people who have been harmed by over-zealous policing. People whose possessions have been destroyed by police sometime band together, find willing legal representation, and sue cities for damages.
It's never an easy battle, but hospitals that dump patients on Skid Row have been fined – and one way or another, the person who ends up paying the bill is the ordinary taxpayer. The families of homeless people killed by the police have been awarded damages. Allowing homelessness to continue in America damages everyone.
Tax Day always hurts, but when the panic and the cussing are over, it is totally worth sitting down to have a good hard think, about exactly who is paying for what, and why.
Reactions?
Photo credit: efile989 via VisualHunt.com/CC BY-SA