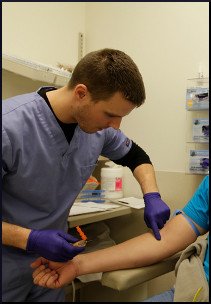 America engages in constant military activity and pays lip service to the honor and respect owed to the troops on the ground. But actions speak louder than words and, sad to say, once the veterans are back in the USA, the country does a lax job of taking care of them. House the Homeless has been looking at examples of both individual and institutional wrongdoing that end up being detrimental to veterans who are homeless or at risk of becoming homeless.
It isn't just the government. Other entities have plenty of opportunity for wrongdoing. And it isn't just homeless vets who get shortchanged. Having a place to live doesn't guarantee timely attention or good care. The thing is, every adverse event that happens to a vet makes it more likely that she or he will at some point end up on the street. Once there, the climb back to conventional life is so much more difficult.
One of Four Troubled VA Projects
In mid-December, construction of a new Veterans Administration hospital ground to a halt, and a panel of three federal judges ruled that the VA was in breach of contract. The contractor Kiewit-Turner, which had kept working until $100 million of its own money was sunk into the project, was allowed to quit.
Only 62% completed, the new hospital was already over budget by hundreds of millions of dollars. It was supposed to replace the existing Denver VA hospital, in business since 1951 and described in a comment appended to this Wall Street Journal article as a "gilded rat hole." If it is ever finished, it will serve over 80,000 vets, or nearly 500,000, depending on which news source you look at.
The original contract said Kiewit-Turner would complete 10 hospital buildings, a research and treatment center, a 30-bed rehab center, and three parking garages for $600 million. It required that construction begin even though plans had not been finalized. This backwards approach led the contractor to warn that the whole thing, as conceptualized, would cost over a billion dollars. Apparently the VA told the company to go ahead and keep on building, or else it would be in breach of contract. Reporter Ben Kesling wrote:
VA management problems led James Lynn, a top employee at the VA's construction manager for the project, to describe it as having "the least effective and most dysfunctional staff on any project that he had ever seen."
Then in January it was double-whammy time, as a VA whistleblower revealed how the existing Denver VA hospital had lied about its secret waiting lists that kept hundreds of veterans from getting timely care. Senator Jerry Moran of Kansas started a movement to cure the "system that rewards mediocrity and failure" by giving the VA secretary more power to discipline the high-ranking executives responsible for messes.
In 2012, Eric Shinseki had created a Construction Review Council to oversee VA projects and put some accountability in place, but it was too late to help the Denver project. And by the time Sen. Moran got on the case, after the nationwide scandal over waiting times in the VA medical system, Shinseki was no longer Secretary.
A New Start for VA Hospital Projects
Earlier this month, in the wake of hearings held by the House Veterans' Affairs Committee, more details of the Denver hospital project emerged, like how multi-million dollar machines could not fit into the rooms designed for them, because nobody had taken correct measurements. It was determined that the final cost for the facility will work out to about $9.5 million for each of its 182 beds. Normal is, at most, $2 million per bed.
Meanwhile, the General Accounting Office added the Denver project to a growing list of other VA hospital projects—in Orlando, New Orleans, and Las Vegas—where similar bungling and a total disconnect with reality had run up hundreds of millions of dollars of cost overruns. Representative Mike Coffman of Colorado was quoted as saying:
The VA couldn't lead starving troops to a chow hall when it comes to managing a construction project. They need to get out of the construction business.
Reporter Emily Wax-Thibodeaux of The Washington Post added:
Internal VA e-mails dating to 2010 show that VA contracting officials were ignored when they warned their supervisors about mounting cost overruns.
They were not only ignored, but fired, like the unfortunate whistleblower Adelino R. Gorospe, Jr., who was let go by Glenn Haggstrom, executive director of the Office of Acquisition, Logistics and Construction. Haggstorm is the same VA bigwig who was awarded more than $50,000 in performance bonuses for unexplained reasons, before retiring in the face of investigation of the Denver project.
As it stands, the Army Corps of Engineers has been given responsibility, and Kiewit-Turner is back on the job, and aside from a paltry emergency $56 million that was allotted, nobody knows where the rest of the funding will come from.
Let the Punishment Fit the Paycheck
Often, the people who cheat veterans work directly for the government, and are even high officials, but the public only learns about a small fraction of what goes on. The workings of the military bureaucracy keep the threat of retribution active. It is possible to make a case against anyone, so almost no one dares to report anybody, because they can be made to appear equally bad, even if they never did anything wrong. The threat hangs over every whistleblower that he or she will be next on the chopping block.
Apparently, there isn't a lot of oversight, and the old question of "Who watches the watchdogs?" is appropriate. On the rare occasion when someone is caught doing something criminally culpable on the job, it might help if the punishment were proportionate to pay grade. If a top administrator steals, the sentence should be many times longer than it would be for an Army private.
Reactions?

Source: "VA Hospital Project Grinds to a Halt Amid Budget Overruns
WSJ.com, 12/10/14
Source: "Video: Denver VA reverses denials, admits using secret wait lists
Hotair.com, 01/30/15
Source: "VA building projects riddled with mistakes and cost overruns
WashingtonPost.com, 04/13/15
Image by Parker Knight