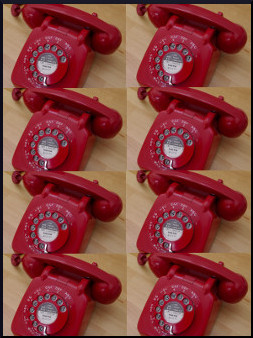 Last week, House the Homeless deplored the mismanagement of a certain project, and it turns out there is more to say. Here are some excerpts from the official government webpage:
The Department of Veterans Affairs' (VA) has founded a National Call Center for Homeless Veterans hotline…
Available 24 hours a day, 7 days a week
You will be connected to a trained VA staff member.
Homeless Veterans will be connected with the Homeless Point of Contact at the nearest VA facility.
Contact information will be requested so staff may follow-up.
Thanks to Office of the Inspector General, and the investigative journalism practiced by WNDU-TV, several things became evident regarding the project's first year of operation. As we mentioned, the "trained counselors" were missing in action during many of their scheduled work hours, and didn't do a heck of a lot even when they showed up.
The most outrageous discovery was that over 20,000 calls were relegated to a bank of answering machines, and 13,000 veterans were never called back because (supposedly) their messages could not be understood or because they did not leave contact information.
Verbal Deconstruction
Let's parse this sentence: "The Department of Veterans Affairs' (VA) has founded a National Call Center for Homeless Veterans hotline." Consulting several dictionaries, we find that a "hotline" is universally agreed to have certain characteristics. As a means of communication, a hotline is direct, immediate, and in constant operational readiness. Also, the caller is likely to be in crisis. Nowhere in any definition of "hotline" do the words "answering machine" appear.
Now, for the most diabolical aspect of the whole sorry tale. Who are the clients? Veterans with serious and even life-threatening problems. What is their situation? They live on the streets or in shelters or transitional housing. It's all there in the project title: "National Call Center for Homeless Veterans."
Another Definition
Homeless means without a residence or permanent abode – in short, without a home. And for many of these homeless veterans, the only way they can access the help line is by leaving a message on an answering machine and waiting to be called back. Called back where, and at what number, and when? Most shelters kick everybody out at the crack of dawn. Sure, in a large urban area a day center with a phone may be open, where there is a slight possibility of receiving a return call – if it isn't mealtime, or if someone else isn't tying up the line with their own crisis.
At least in the old days, there would be a phone booth, or a pay phone attached to the wall of a laundromat or pool hall, where a person could stay, hoping for the phone to ring. Eventually, the message-leaver would have to go find a place to pee or would be chased away for looking suspicious. Try to find a phone booth now, or any spot where a person experiencing homelessness can hang around all day, every day, waiting for some VA "counselor" to call back.
But Don't They All Have Cell Phones Now?
Contrary to popular belief, all street people do not have cell phones. Some do, and manage to figure out how to renew the service without a bank account, and cleverly find ways to recharge their devices. Some did have cell phones, but they were stolen by other street people or by thugs from the allegedly more decent housed population, or ruined by water damage, or just plain lost. Or thrown away by police officers, with the rest of their belongings, in what the housed people call a "sweep."
Speaking of which, check out the news from Tucson, Arizona, which generously allows people experiencing homelessness to sleep on the sidewalks that border a certain park – as long as they don't step inside the park, which can get them arrested. So can owning more than three items. That's right, a homeless person is legally allowed to possess a blanket, a bedroll, and a beverage. Period. It's an ordinance that leaves no room for a phone.
Reactions?

Source: "Homeless Veterans," VA.gov, undated
Source: "Court: Confiscation rules at Tucson park unfair," Tuscon.com, 12/26/14
Image by DaveBleasdale