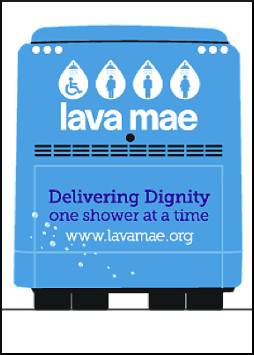 The homepage of Lava Mae is a model of classic simplicity and clarity. "Mobile showers for the homeless," it says, and lists the vital information front and center. On Wednesdays the San Francisco hygiene bus is parked at a women's center; on Thursdays and Fridays at a venue in the fabled Tenderloin district; and on Saturdays at a resource center in the historic Mission district.
The bus has two bathrooms, with a sink, toilet, and shower in each. People sign up ahead of time for ten minute slots, and are assured a private and safe bathing experience. Lava Mae is a pun on the Spanish for "wash me," and the official motto is "Delivering dignity, one shower at a time." Founder Doniece Sandoval once told a reporter:
The United Nations states that access to clean water is a basic human right, but for many residents in our city, that is clearly not a reality. This is about restoring some of their dignity.
This was back in 2013, when Sandoval was working on design basics and figuring out where to get the money to turn her vision into reality. Her vision came from a street incident, when she walked past a young homeless woman who lamented out loud that she would never be clean again.
At the time, the Lava Mae crew reckoned it would cost as much as $100,000 to retrofit a single bus. San Francisco Municipal Transit donated one of its retired vehicles and committed to follow up with more if the pilot project worked out.
Lava Mae's Origins
By year's end, at least ten organizations were lending their support. (Currently, the Partners page lists quite a few more businesses and agencies who help in some way. The social networking site Twitter, for instance, donated laptop computers for the staff.)
An online crowdfunding campaign that aimed to raise $75,000 only made $58,000, but more donations came from other sources. At that time, the yearly budget was anticipated to be more than $300,000, and it was estimated that a top-performing bus could handle 500 showers a day. The opening date was projected as March 2014, and with astonishing optimism the group hoped to have four buses remodeled and operative by then, an ambition that sadly did not come true. The timetable had to be adjusted too, with the opening month moved to June.
Thanks to her day job in public relations, Sandoval had developed immense skill working with the media, as shown by the extensive collection of news articles featured on the Lava Mae site. Wired, Huffington Post, Al Jazeera, Washington Post, Newsweek, and Fast Company are only a few of the publications where stories appeared.
Started by Private Citizens
The words "started by private citizens" appear in the organization's biography, and that concept is of primary importance. Sandoval and the other creators of Lava Mae are just regular people, and they want other regular people to understand how much is possible when problems are met with originality and determination. At the same time, they are eager to share their knowledge with anyone who is interested. The website says:
We've been contacted by groups and individuals across the globe – from Singapore to Sao Paulo, LA to Atlanta – who want to create a Lava Mae for their community.
We're here to help. Our business plan, budget, best pracitces and insights are there for the asking. Let's create a mobile revolution!
Reactions?

Source: "New Startup Hopes To Create Homeless Showers In Repurposed Muni Buses ,
Sfist.com, 04/29/13
Source: "Nonprofit Retrofits Buses as Mobile Showers for the Homeless," TriplePundit.com, 10/18/13
Image by Lava Mae0