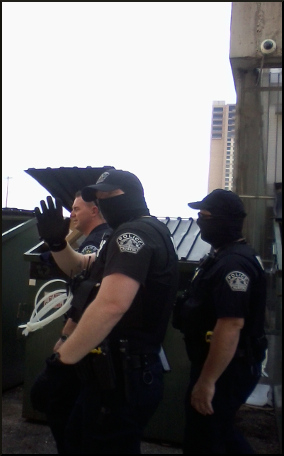 Readers will remember the Open Letter to the City of Austin, written by the President and CEO of House the Homeless, Richard R. Troxell. (Scroll down the page past more recent events such as Amplify Austin, the Traumatic Brain Injury Survey Report, Kids 4 Kids Sake, the Thermal Underwear Party, the Homeless Sunrise Memorial Service, the Veterans' Day Parade, and Bridge the Economic Gap Day. Look for the Department of Justice seal, and you're there.)
The letter was widely circulated and published, not only to the officials and bureaucrats of Austin, Texas, but to like-minded organizations and to the press. This was in August of last year, more than six months ago, and the problems outlined in the text have only become worse since then.
All over America, even people with jobs can't afford to pay for roofs over their heads. All over America, laws are in place that criminalize the most basic and necessary human activities, and "Quality of Life" ordinances take into consideration only the quality of housed people's lives.
Everywhere, "sweeps" and "cleanups" take from people experiencing homeless even the precarious communities they form in vacant lots and under highways. The constant message is, "Move on, get out of here, go somewhere else." But where?
Less than a week ago, this news came from Colorado:
Today, March 8th, the City Officials of Denver under Mayor Hancock used an "order of removal" ordinance to enable Public Works to decide what is an "encumbrance." They used this "law" to force everyone out of the area and take away people's tarps, blankets, and other belongings… Roughly 75 people were displaced from the places they have called home — many of whom for many months or even years. There is no legal option for almost anyone for where to go to.
As far back as last August Ed Lee, the mayor of San Francisco, California, told the press that the homeless would have to leave before Super Bowl time came around. By November, people experiencing homelessness were being pushed out of downtown.
In a city with an estimated 7,000 homeless residents, it is not easy to get them all out of sight so that tourists won't be bummed out by their presence. City workers "herded" as many people as possible to a new place under a freeway. Typical was a fellow named Oscar McKinney, whose situation was described by journalist Evelyn Nieves:
City workers had removed his possessions right in front of him, he said, including all his identification papers. "They even got my teeth," he said, displaying a wry, hollow smile. If they come around again, he said, he has no idea where he'll go.
Meanwhile, the Super Bowl organizers were making sure that no homeless people would get fancy ideas about benefiting from the upcoming city-wide party. No free events would be accessible to them, because no one carrying a tent or a sleeping bag would be allowed to enter.
Sam Dodge, the mayor's homeless czar, offered a typically callous statement to The Wall Street Journal reporter Stu Woo:
He said the homeless could likely retrieve confiscated belongings at city storage.
In "The Criminalization of Ownership," House the Homeless has examined that particular fairytale. Another instance of unintentional humor arose after the football festival was over, as expressed in this headline from The Guardian: "Homeless ordered to vacate camp they were pressured into before Super Bowl."
People who had previously existed in the areas most needed for the celebrations had been moved, in some cases, to shelters, but many were forcibly guided to the underside of a highway overpass. Three weeks after the big game, the public health department wanted them out of there within 72 hours of when the eviction order was issued, largely because of accumulated human waste and general trash.
Did the city not provide portable toilets or dumpsters? Apparently not. A statement from the director of health, Barbara Garcia, said:
Conditions where multiple tents are congregated have become unsafe. People are living without access to running water, bathrooms, trash disposal or safe heating or cooking facilities.
The solution that seemed good to the city authorities was make the people go find some other location without running water, bathrooms, trash disposal, or safe heating or cooking facilities.
Reactions?

Source: "City Sweeps People Without Homes from All the Blocks by Lawrence/Broadway/Park Ave," wraaphome.org, 03/09/16
Source: "'They're Herding Us Like Cattle': How San Francisco's Homeless and the City Are Paying Dearly for Superbowl 50," Alternet.org, 01/28/16
Source: "The Vanishing Homeless of Super Bowl 50," WSJ.com, 02/02/16
Source: "Homeless ordered to vacate camp they were pressured into before Super Bowl," TheGuardian.com, 02/25/16