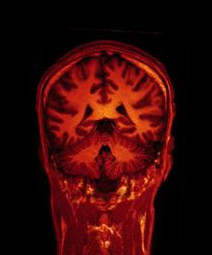 Traumatic Brain Injury (TBI) is a hot topic these days among civilians. In schools and even in the professional arena, contact sports are being rethought from the ground up. An irrefutable link between head trauma and homelessness has been identified. For example, an April headline from the Icahn School of Medicine stated, "Nearly Half of All Homeless Men Suffered Brain Injury before Losing Homes." TBI is closely linked to Post-Traumatic Stress Disorder, from which a lot of homeless people suffer. Modern warfare is very efficient at producing brain trauma, which has even been called the "signature wound" of the Afghanistan and Iraq conflicts. Military.com says,
Common causes of TBI include damage caused by explosive devices, falls and vehicle or motorcycle accidents. Most reported TBI among… service members and veterans has been traced back to Improvised Explosive Devices, or IEDs…
Medical technology has created the magnetic resonance imaging scanner, a machine that can measure brain injury. For research to go forward in a scientifically valid way, doctors would have to take MRI "before" scans of their human subjects, batter their heads, and then take "after" scans for comparison purposes. This would be an unconscionable violation of medical ethics.
Volunteers
But what if researchers had a large pool of newly-recruited soldiers to draw from, with extensive medical histories on record, from blood type, to weight, to recent inoculations? What if they took "before" MRI scans? Eventually, a certain percentage of those individuals would return from the field with brain injuries. "After" pictures could be taken, along with complete information about the circumstances of the injury, immediate treatment, complications, and so on. Researchers would accumulate a rich database for the eventual harvesting of medical breakthroughs, and/or to create improved means of preventing injury in the first place, such as better helmets.
As House the Homelessdescribed last time, Jeremy Schwartz of the Austin American-Statesman has written a disturbing history of the VA's mobile MRI scanner. This noble device was purchased in 2007 and "unveiled" in 2008, housed in its own semi-truck trailer, the better to commute between the new soldiers at Fort Hood and the injured ones in Waco's VA hospital. The $3.6 million taxpayer-funded investment was touted as "the most powerful mobile MRI on the planet." Capturing brain images for the sake of medical progress, it would eventually prevent a lot of human suffering, especially among veterans.
Anticlimax
But then, somehow, nothing happened. No fresh troops were tested before deployment; no service members with traumatic brain injuries were examined afterwards for comparison purposes. In 2010, North Carolina's Senator Richard Burr, as a member of the Senate Committee on Veterans' Affairs, addressed the VA:
This letter seeks clear answers about the shoddy administration of the Brain Injury and Recovery Laboratory in yet another effort to reinforce the need for proper oversight and responsible spending at VA.
Officials from the Center of Excellence assured Congress that the imaging program was on track, fueled by the cumulative resources of five grants which would fund its activities for several years. But then in 2011, research stopped, supposedly because the scanner produced images of poor quality. Schwartz says,
The machine has sat dormant for the past three years, plagued by a series of delays caused by mismanagement, mechanical failures and bureaucratic roadblocks… In a grim internal assessment, the center's associate research director… wrote in March 2013: "I think there should be serious consideration of returning the MRI from where it came because we do not have the expertise to use it or care for it."
While the rig is sitting there, a full-time technician has to perform daily maintenance checks. Turning it off and on would consume far too much costly energy, so it just stays on all the time. An administrator claimed that the mobile MRI taught the Veterans Administration valuable "lessons." Seems like one of those lessons should have been, "To run fancy machines, hire qualified personnel." If the machine itself is defective, why not get it fixed? Surely the power and majesty of the U.S. Government can compel a manufacturer to deliver a product in good working order. If Uncle Sam can't do it, who can?
That is where matters stand at present, with not a single published study to justify all the hoopla and expense. Meanwhile, the program has not helped even one veteran of any branch of service, regardless of rank, race, gender, or housing status.
Reactions?
Source: "Study: Nearly Half of All Homeless Men Suffered Brain Injury before Losing Homes," MSSM.edu, 04/26/14
Source: "Traumatic Brain Injury Overview," Military,com, undated
Source: "Lost opportunity," Statesman.com, 09/07/14
Source: "Troubled beginnings," Statesman.com, 09/07/14
Source: "VA claims troubled Waco MRI research program provided 'lessons'," ClaroSports.com, 10/03/14
Image by Jon Olav Eikenes