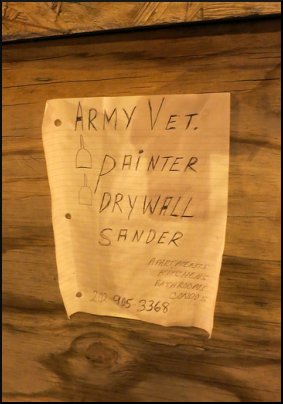 In The New York Times earlier this month, Tara Parker-Pope summarized the data on suicide in America, as compiled by the Centers for Disease Control, and also sought confirmation from an expert that the number of people taking their own lives is vastly underreported.
What we do know is that "More people now die of suicide than in car accidents." The first question that comes to mind is, how can statisticians treat those categories as separate? Surely, a proportion of auto accident fatalities are deliberate and successful attempts at self-extinction. There must be an overlap.
Anyway, the suicide rate has risen most among the "baby boomer" generation. A CDC official theorized, "There may be something about that group, and how they think about life issues and their life choices…"
Interestingly, the demographic includes Vietnam veterans and the widows and bereaved girlfriends of Vietnam casualties. Maybe that is the "something" that makes a difference. And the most popular means of suicide, overall, is by gunshot. Active duty military personnel and veterans of all ages are more likely to have access to, and knowledge of, firearms than the general population. Just sayin'.
Speaking of bureaucrats, remember when William Feeley, who was at the time an undersecretary at the Veterans Administration, said:
Suicide occurs just like cancer occurs.
But negligence on the part of the bureaucracy? Never happens, according to him. Still, two veterans' groups sued the VA, claiming that the Mental Health Strategic Plan, supposedly adopted in 2004, was never implemented. The VA failed to follow through on providing immediate help for vets with PTSD and/or suicide risk. Shockingly, the Justice Department ruled there is "no such expectation" of a suicide prevention program or anything like it.
In the same year, journalist Joshua E. S. Phillips recalled what the National Vietnam Veterans Readjustment Study had found out about post-traumatic stress disorder. The inner conflicts and moral and spiritual trauma experienced by veterans is perhaps worst among those who took part in "abusive violence" — defined as "torturing, wounding, or killing hostages or POWs." The psychological consequences can be more serious than those resulting from combat violence.
Phillips wrote that informational piece as background for an American RadioWorks project he collaborated on with Michael Montgomery, titled "What Killed Sergeant Gray." The 23-year-old had been in Iraq for a year, and apparently wanted to return there. But for some reason, he was found dead in the barracks and the event was declared by the Army to be accidental; it happened because the young man was trying to get high off some toxic chemical.
Maybe so. But it is known that Adam Gray had things on his mind. He and a small group of soldiers had opened fire on an Iraqi family, killing one parent and a little girl, to make sure they were not planting any bombs. He had also participated in detainee abuse. So who knows. One thing is for sure, there are an awful lot of equally troubling individual histories.
Around the same time, there was plenty of public attention for the story of James Blake Miller, the so-called "Marlboro Marine," made world-famous by the photojournalism of Luis Sinco. Miller's troubled and problematic road back to some semblance of normalcy put a human face on the abstraction of PTSD for many Americans who had previously ignored the problem.
In other news, Bob Ireland, mental health policy program director for the Department of Defense, reassured the public:
… [F]or the person who's suffering, if they're coming to the edge of suicide […] they always have a choice to engage in what the real issues are or not. And the support for them is there…
Meanwhile, increasing numbers of vets found that, actually, support was not there. The Veterans for Common Sense and Veterans United for Truth didn't give up. In 2011, reporter Jason Leopold tells us, the Ninth Circuit Court of Appeals declared that:
… [Y]ears of 'unchecked incompetence' at the Department of Veterans Affairs (VA) was directly responsible for an epidemic of suicides and lengthy delays in processing disability benefits for war veterans who suffer from post-traumatic stress disorder (PTSD)… Internal VA memos that surfaced during the trial showed VA officials were aware of and attempted to cover-up the fact that 18 veterans per day took their own lives and more than 1,000 veterans had attempted suicide per month…

Two years ago, the federal government settled a wrongful death lawsuit with the family of an Iraq war veteran who hung himself in his parents' basement in June 2005 after being turned away by doctors at a VA hospital in Massachusetts where he sought help for PTSD.
That one case alone drained the taxpayers of $350,000 plus litigation costs. Wouldn't it have been more economical to just treat the guy? Now, multiply that by 18 known and admitted veteran suicides per day — all potentially courtroom fodder. And the money is the least of it. What about the lives?
The director of emergency psychiatry at one VA hospital, Dr. Marcus Nemuth, said in a deposition that:
[…] he expected a high volume of post-traumatic stress disorder cases among veterans returning from Afghanistan and Iraq.
That was more than six years ago. How come so few others, even now, have caught on to this obvious fact?
(To be continued…)
Reactions?
Source: "Suicide Rates Rise Sharply in U.S.," The New York Times, 05/02/13
Source: "VA Official Says veterans' suicides not reflection of agency negligence," GovExec.com, 05/05/08
Source: "Inside the Mind of a Torturer," PublicRadio.org, 10/18/08
Source: "What Killed Sergeant Gray," PublicRadio.org, 01/10
Source: "Court Demands Mental Health Care Reform for Veterans," Truth-Out.org, 05/13/11
Image by Daquella manera (Daniel Lobo).