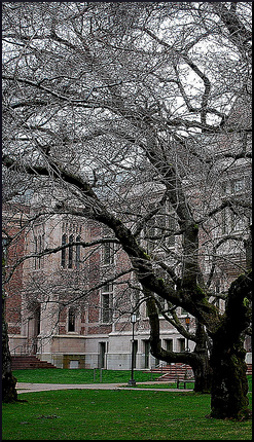 Every now and then a story crosses the screen that is really different. "Why a Seattle Homeless Camp was Invited to University of Washington" — see what we mean? Seattle is that West Coast city where rain falls 150 days a year. On any given rainy night, about 4,500 people are sleeping outside, and not to roast marshmallows and swap ghost stories. (Close to 3,000 are in transitional housing, and more than 3,000 in shelters.)
A bunch of people live in Tent City 3, a community that resettles every three months in a different area (including two previous college campuses). This is not an ideal solution for anyone, but when frequent uprooting is done in an orderly way, it can take a lot of stress off both the housed and the unhoused. One way or another, Tent City 3 has survived as an entity for 15 years.
As described by the reporters, the residents seem hyper-aware of the need to be role models and proud representatives of the homeless population. Shamar Waters and Jon Schuppe wrote:
A large portion of the residents are older and disabled, but many others have regular jobs and help keep the camp running. The camps feature communal areas, including kitchens and showers, depending on the availability of electricity and running water.
The 10,000-square-foot encampment will spend one-fourth of the year in a campus parking lot because the kids asked for it. Students in eight different academic disciplines will be able to claim credit for participating in studies and activities involving people experiencing homelessness. About 100 students pitched in with the move-in chores.
The story doesn't say whether any students objected, based on the parking space scarcity. But even that would be a learning experience, wouldn't it? Imagine having to park the car (your parents probably bought) a bit farther from class. Compared to having nowhere to live, that is a negligible inconvenience, and a lot of kids would never admit being bothered by it. Imagine having to walk for a considerable distance, out in the weather, to get where you need to go. That's the everyday reality for people experiencing homelessness.
In addition to the officially recognized educational benefits of interacting with tent-dwelling nomads, there are bound to be unofficial ones. Like when kids realize that if they don't actively work toward some kind of reform to the college loan system, they could easily end up living in tents too.
Elsewhere
The state of Texas is often perceived as hostile to any number of diverse populations, but Brownwood disproves the stereotype. Just southwest of Dallas-Fort Worth, the city of about 20,000 is the county seat, and the features in and around it include Howard Payne University, a branch of the Texas State Technical College, a state park, a state juvenile correctional complex, a regional airport, and a U.S. Army training camp.
Actor Bob Denver came from Brownwood, and so did legendary burlesque queen Candy Barr, and an impressive list of other people who have made a mark on the world. Perhaps the biggest celebrity is New Beginnings Church, which for 10 years has functioned as the city's only shelter.
Pastor Kelly Crenshaw says:
Sometimes people just need a day or two or a week or two to get on their feet. Sometimes they just need a little bit of time, once they get lost, to figure out what their next step is…
There are also long-term guests. From the larger community, food bank donations are received, along with blankets, scarves, and other items, which is generous in a place where the median household income is maybe $33,000.
***
Recommended: "The Year in Review," from House the Homeless
Also recommended: House the Homeless President Richard R. Troxell is interviewed by KXAN television journalist Kevin Schwaller in "Advocacy group to examine 'criminalization of homelessness'"
Reactions?
Source: "Why a Seattle Homeless Camp was Invited To University of Washington," NBCNews.com, 12/21/16
Source: "Church Acts as Homeless Shelter in Brownwood," BigCountryHomepage.com, 12/30/16
Photo credit: Joe Wolf (JoeInSouthernCA) via Visualhunt/CC BY-ND