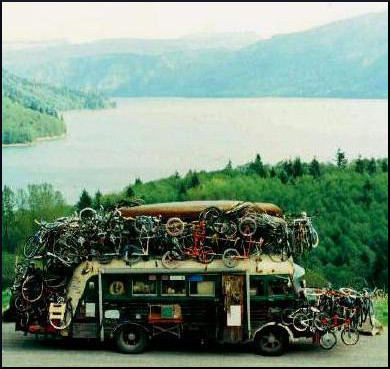 Because Berkeley, California, is such a quintessentially American city, things that happen there gain resonance. For background, see "A Berkeley Tale" which talks about last year, and "Activism in Berkeley," which covers the more recent past.
Today's post mentions several events briefly, so for hard information, please see the linked news sources. Their usefulness here is to highlight typical instances of things that go on wherever people experience homelessness, but particularly in a city that is known for dissent and social ferment.
Last year there was a lot of discussion about things that made housed people anxious, such as the growing number of tents in the camp, and what looked like a bicycle chop shop (where stolen bikes are dismantled for parts). This attitude assumes that anything done by a homeless person must be a criminal enterprise, because homelessness itself is fast becoming a crime.
It is entirely possible that someone with an aptitude for bike repair could have a totally legitimate talent for fixing bikes, and do it in a totally legitimate way. Housed people will throw away a punctured inner tube, but a thrifty and enterprising homeless person will recover it and patch it.
Enough bikes are abandoned or trashed that a supply of parts is available without any need to steal them. Bike repair is a skill that can be traded for money or other commodities, like food. If somebody is doing useful work, voluntarily, why disparage that? (Shown on this page is the legendary Bike Bus of RomTom, aka Thomas Holme, which used to roam the Pacific Northwest, California, and other parts of the country.)
Thanks in part to such stereotypical thinking, it was decided last summer that a big settlement on Gilman Street in West Berkeley would be cleared. It wouldn't be the first "sweep," nor the last. The number-one tactic for dealing with people experiencing homelessness is to cause them to move from one location to another.
In this particular case, the target area was an underpass, where Caltrans "needed to access an underground vault in the area to help set up a camera that will be used for its East Bay corridor freeway messaging system," wrote Emilie Raguso for Berkeleyside.com. And another camera, no doubt, to give early warning if the area starts to become recolonized.
So, city crews and volunteers do a massive cleanup and have their pictures taken wearing biohazard suits and sifting through piles of detritus. Headlines announce the dollar cost of removing the trash. As always, there are snide remarks about "squalid conditions" and the amount of human waste that was found. The whole area is cleaned up, sanitized, and, if possible, defoliated, and the carnival moves on.
What if, instead, a recycling station were set up, with receptacles for cardboard, glass, etc.? What if somebody who lived there took care of that, and got to keep any profit from selling the stuff? What if there were dumpsters, and regular trash removal? What if there were industrial-strength portable toilets and, at the very least, a water source for hand-washing? What if the people just stayed in one place and cleaned up as they went along? But back to reality.
The authorities come in numbers and they bring muscle. According to Raguso:
Jim Hynes, with the Berkeley city manager's office, said homeless outreach, city maintenance crews, mental health workers and environmental health staff were all on the scene to help out… The city always sends out workers to try to help connect homeless individuals to services that could improve their circumstances…

Oakland-area California Highway Patrol spokesman Officer Sean Wilkenfeld confirmed that officers were on the scene Thursday morning to help monitor the clean-up operation. Berkeley Police officers were also part of the effort.
Raguso also wrote:
Before Caltrans took over the area […] workers from Pacific Steel Casting used to park below the freeway. Hynes said a return to that historic use could help keep the area clear of camps in the future.
In other words, the priority here is to have a place for cars to park, and never mind the people who need a place to live. Hynes also told the reporter "the city plans to look deeper at ways it might keep the area safe and clean in the future." That statement presupposes that homeless people do not deserve to be in a safe and clean place, because they are the threat and the dirt.
Reactions?
Source: "Authorities clear out Gilman homeless camp in Berkeley," Berkeleyside.com, 06/16/16
Image by RomTom