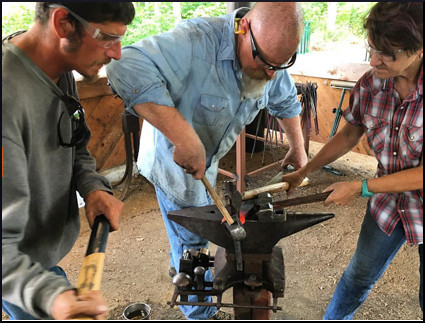 Austin, Texas, is an exceptional city for many reasons, one of them being the existence of Community First! Village (CF!V). It is the creation of Mobile Loaves and Fishes (MLF), the social outreach ministry that has been making a difference locally since 1998. Since then, among other accomplishments, the organization has served more than 5.5 million meals via its food trucks.
But treating the symptoms has never been enough. What is the underlying societal malfunction? MLF has found that the single most prevalent cause of homelessness is "a profound, catastrophic loss of family." This paragraph is from the Village's Facebook page, which we strongly recommend, along with the Village's inspiring YouTube channel.
Community First! Village was built on the basic philosophy that housing alone will never solve homelessness, but community will. Most often, we find people on the streets who have a regular, albeit dysfunctional, community, even though they have no houses or shelter to live in. The truth is, the fundamental component that human beings need is human interaction; and human interaction occurs within community.
The organization's website says,
It's from this understanding that MLF's vision emerged to build Community First! Village to welcome home our friends who had been pushed to the fringe of society… Community First! Village is a 51-acre master planned development that provides affordable, permanent housing and a supportive community for men and women coming out of chronic homelessness.
House the Homeless co-founder Richard R. Troxell calls it "a national best practices community, truly affordable for people experiencing homelessness who are disabled." For more than a decade, Richard has been helping people apply for the SSI payments to which they are entitled, and referring them to the Village.
Richard also introduced Village founder Alan Graham to Dr. Mark Gordon, and plans are underway to join with House the Homeless, Millennium Health Centers, the Warrior Angels Foundation, and local medics to create a Traumatic Brain Injury treatment program for 10 homeless veterans. Consult this publication to learn more.
How it goes
The idea here is for people to rediscover their talents and abilities, and translate them into making a living. The Community Works program includes car care, screen printing, catering, blacksmith work, art, gardens, a cinema, and an Inn. Animal husbandry is one of the areas in which participants can develop expertise.
Other features include a store, a hair salon, a health clinic and mental health facility, open-air barbecue facility, community kitchens, meeting spaces for worship, study and fellowship, and of restroom, shower, and laundry facilities. The Village also enjoys hiking trails and a conveniently located bus stop. The residents live in tiny houses, tepees, canvas tents, and trailers with extended slide-outs.
All that is about to change, because Phase II is underway. Additions include a woodworking shop, outdoor event center, memorial garden and prayer labyrinth, a community market, and a guest parking lot. The housing component will eventually comprise 100 RV homes and 200 micro-homes, and more laundry/restroom facilities will be added, along with more outdoor kitchens.
House the Homeless has also gotten traction for the idea to create an Adopt-A-Tree program at CF!V. It is designed to enable local, on-site arborists to "love on all the trees" already on the property's 51 acres, and offer an adoption program for a community-based/designed new tree program to soften and warm the Village with new trees.
Ultimately, around 500 people are expected to be at home in Community First! Village. The opportunity to be a part of this is wide open for both local supporters and distant ones. Learn more about that from the Ways to Give page.
The Home Coming statue unveiling
The Home Coming statue to be unveiled in the Village's community garden on Saturday, May 18. This unique statue project has been in development for several years, the result of a collaboration between House the Homeless and sculptor Timothy P. Schmalz. The much-anticipated life-sized bronze statue will be introduced to the public at Austin's Community First! Village, details below.
When: Saturday, May 18, 2019, 9 a.m.
Where: Community First! Village, 9301 Hog Eye Rd., Austin, TX 78724
Getting there: The bus from downtown Austin leaves at 6:58 and 7:58 a.m. (Take the route 6, East 12th, from 7th & Colorado). 
Accommodations: Out-of-town visitors awe welcome to stay at the Community Inn on premises. Call 512-551-5453 or contact the Inn at communityinn@mlf.org for more information.
There will be live music, and coffee and breakfast tacos will be served. 
Reactions?

Source: "Homeless Veterans in Action Traumatic Brain InjuryA Protocol to Help Disabled Homeless Veterans within a Secure, Nurturing Community," MFL.org
Source: "About Us," MFL.org
Image by MFL.org