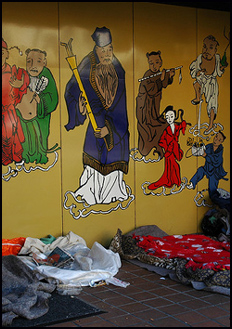 Back in 2005, the Department of Housing and Urban Development (HUD) activated a plan that would attempt to get a handle on the number of Americans experiencing homelessness. Each community would be responsible for counting and reporting their totals. These "point-in-time" surveys would ultimately determine how much federal money would flow to the community to address the problem. There seems to be a fair amount of latitude in how they go about it.
The enumerators might be volunteers or paid. In some places, they go around on foot, but a lot of the counting is done "drive-by" style. The count is supposed to include people who sleep outside; in substandard housing (no toilet, or washing, or cooking facilities); in HUD's transitional housing programs; and one-night-at-a-time shelters.
Confusingly, on alternate years there is supposed to be a "full count" that includes couch-surfers squeezed in with family members or friends, people scheduled for release from corrective custody or hospitals, and those in permanent supportive housing, although HUD no longer considers them technically homeless.
The first time Los Angeles County did a homeless census, they scheduled it over three days, and used both temporary employees (at $10 per hour) and volunteers, some driving their own vehicles. The 1,200 personnel went out in pairs, into a territory divided into 500 pieces.
Carla Rivera reported in the LA Times that the overall project also included "an in-depth survey of 3,300 homeless people and a telephone survey of households." It would be interesting to know more about that. Did they just call a random sample and ask, "Is a homeless person sleeping on your couch?"
Since the weather forecast threatened rain, the expenses included a sum for "hundreds of parkas to hand out" — to the enumerators. (Surely the reporter meant ponchos, not parkas.) The bureaucracy also had to rent a bunch of vans.
At any rate, the whole enterprise cost $350,000 out of the funds available to combat homelessness. Could the actual homeless people have used that money? Most certainly, but they must look on it as in investment in their future.
Another thing about the forecast rain, Rivera says:
… [T]he threat of wet weather probably drove some homeless people into hiding places.
There were further difficulties. A lot of homeless people who wanted to apply for the paying jobs were turned away. Enumerators were told by a police officer that Burbank had no homeless people, and to go away.
In Santa Monica, one team was twice challenged by the police, and anyway, they only found about a dozen people experiencing homelessness. To anyone who has ever visited the area where Santa Monica intersects with the ocean, this is an astonishing claim. Also, there were rumors that the local law enforcers had rousted the people experiencing homelessness just a few days before the "point-in-time" census.
In the Antelope Valley, where the government has been quite active in creating homelessness, a whole census tract:
[…] was scrapped after canvassers found the mountainous road washed out… Early morning was chosen because it is easier to locate homeless encampments in the daylight in the rugged rural terrain… [O]ne large census tract in Pacoima was abandoned because teams didn't have transportation.
More recently, Mary Flynn shared tales how the 2013 count was conducted, in different parts of California:
In Contra Costa, volunteers counted those visible from their vehicles, while more direct interaction with the homeless population is left to the teams of qualified outreach workers who venture to the known encampments of homeless people.
The 120 volunteers went around during the day, though the director contrasted this with the technique used at a previous posting in San Francisco, where the census was done in the middle of the night. The U.S. Interagency Council on Homelessness is eager to have more accurate numbers on "transitioning youth" between the ages of 14 and 24, but how accurate can the enumerators be about ages, when their observations are based on drive-by sightings?
Santa Clara county took to heart this emphasis on the young, and rather than in the early morning, sent its teams out in the afternoon, when more kids would be readily apparent. This county used homeless youth as enumerators, on the grounds that they would more readily recognize their compatriots. Apparently, young homeless people are not as easy to identify by sight, because they try to avoid the homeless "look."
According to HUD regulations, the count has to be made during the last 10 days of January. California is one thing, but in most parts of the country, this is not the time of year when you want to be out on the roads trying to catch sight of people who have burrowed as far as possible into the crannies and crevices of the landscape to escape the cold. In midsummer, the picture would be much different, so this the wintertime census is an excellent way to keep the total minimized, on paper anyway. And California is not alone in its erratic methods — there is much more to be said on this subject.
Reactions?
Source: "Homeless Count or Are Counted," LA Times, 01/27/05
Source: "In annual homeless census, counting youth is a challenge," HealthyCal.org, 02/21/13
Image by Wonderlane.