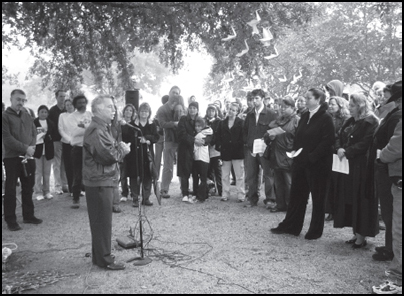 It's over for another year. On Sunday, November 14, at Austin's Homeless Memorial, amid prayers and songs, the list was read out. On the shore of Lady Bird Lake, we noted the passing of this year's street casualties, as well as the victims of previous years. The roster of those memorialized was a long one, and our dearest wish is that it would not be added to in the coming months.
The Tree of Remembrance grows where it was planted many years ago, and the plaque beneath it is still in place. The words on the memorial plaque have not changed either:
HOMELESSNESS:
It is the Essence of Depression.
It is Immoral.
It is Socially Corrupt.
It is an Act of Violence.
In Looking Up at the Bottom Line, Richard R. Troxell recalls the 1993 Memorial, when the needless death of Diane Breisch Malloy was on everyone's minds:
I suppose sixty or more people came. We were too sad to advertise it like some kind of event. It just did not seem right. Therefore, we just spread the news by word of mouth. The ones that did come had been drinking and thinking. They were mad. They were mad about what had happened to Diane. They were mad about what had happened to their friends, and they were afraid. They were afraid that what we were really doing was reading their own eulogies.
Of this year's Memorial, Richard says,
I was very sad to have read the list…but gathering it is always the worst. This involves too much reflection. These folks were not just my clients but also my friends. I hope it is as powerful to others as it is for me. The human cost is unacceptable. At least there were three City Council members and the City Manager (the first one in 18 years.) The saddest thing was that while there were about 125 people there, more origami birds with names of the deceased were present than there were people to place them in the tree.
Now, we are in the midst of the National Hunger and Homelessness Awareness Week. The issues are recognized as being urgent enough to merit the community's focused attention for a whole week, not just a day. Austin certainly subscribes to that. Among others, the participating organizations are the Ending Community Homelessness Coalition and the Basic Needs Coalition of Central Texas. The website of the city's Trinity United Methodist Church keeps people abreast of the various happenings, which included the Homeless Resource Fair on Saturday. It says,
Hunger and Homelessness Awareness Week is the largest annual event that connects policy makers, local business leaders, service providers, faith-based organizations, and community members to engage in implementing active solutions and prevention methods for hunger and homelessness.
Ongoing, from now until the year's end, is the annual Thermal Underwear Drive. Yes, it gets cold in Texas, and it would be a beautiful thing to make it through the year without any more illnesses exacerbated by winter weather. The drive officially started at the Memorial Service, and House the Homeless will continue to collect donations of warm underclothes, hats, gloves, scarves, and ponchos for the people experiencing homelessness in Austin, who include not only women and men, but children. At the New Year's Day Party, all this life-saving clothing will be distributed.
The picture on this page, of a previous year's Memorial, was taken by a House the Homeless member, and appears in Richard's book. At Sunday's Memorial, one of the newest names added was that of Edward Forrest Dutcher, who was stabbed to death during a fight on Halloween Night, October 31.
Witnesses pointed out to the police another homeless man, found to be in possession of a knife, who was immediately arrested. It is theorized that the murder was the result of a territorial dispute, with the issue being who has held the privilege of panhandling at the intersection. Dutcher was pronounced dead at the University Medical Center. The victim was 50 years old, his assailant 60.
By sad coincidence, the biography of Edward Forrest Dutcher, or "Dutch," was briefly outlined in Looking Up at the Bottom Line, whose publication date was Veterans Day this year. Richard described Dutch as tall and boyish-looking, and his situation as typical of so many people whose life is a constant struggle.
When work was available, he put in as many as 60 hours a week, which was eaten up by the high motel rent. He was never able to get ahead enough to save up the amount needed to move into an apartment, which in most cases means paying the first and last month's rent, plus a security deposit. That's a significant amount of money to scrape together, and the fact that anybody can work so many hours without being able to afford decent housing is a good argument for the Universal Living Wage. This is the condition known as economic homelessness.
What Dutch really wanted was to somehow buy a used van and start his own moving business. As Richard says, "He was just a regular person trying to survive."
Reactions?
Source: "Austin's 2010 Hunger & Homelessness Awareness Week," Trinity United Methodist Church Blog, 11/04/10
Source: "Police release more details on fatal stabbing Sunday," The Statesman, 11/02/10
Image of Memorial Service from Looking Up at the Bottom Line, used under Fair Use: Reporting.