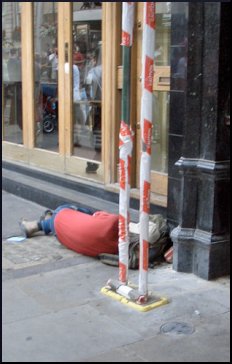 Every now and then a scandal arises from the foster care system. Earlier this year, Americans were horrified by a story from North Carolina that broke when a law enforcement officer observed an 11-year old boy handcuffed to the porch of a house. The weather was cold, and someone had tied a dead chicken around his neck. It turned out that, along with this foster child, four adopted children lived in the house. The adults in residence were a medical professional — a male who worked as a hospital nurse — and a female Department of Social Services employee who happened to be the county's child protective services supervisor.
Had no one noticed the abuse and neglect? Some faculty members did, where the kids used to go to school. But the couple who fostered and/or adopted them had unenrolled them in favor of home-schooling. The publicity surrounding this story pointed up the fact that North Carolina has more than 53,000 registered home schools, many of them populated by foster children — some of whom were taken on just for the sake of earning subsistence payments from the government. Since there is no legal requirement to inspect home schools, this means a lot of foster kids are being raised in sequestered environments, ignored and forgotten. The potential is huge for every kind of abuse.
The case made enough of a splash to get several other social services workers fired, and to stimulate a review of the process by which foster-care licenses are granted. Meanwhile, investigators looked for approximately 36 children who had been fostered by the couple in the past.
California
Those former foster kids must be scattered all over the map. Maybe some of them ended up in the Morongo Basin, an area of Southern California whose population includes about 800 people experiencing homelessness. On leaving the area, longtime advocate Rae Packard told an audience,
In my experience working at Morongo Basin Unity Home, women who choose to leave their abuser and go into a shelter most often lose custody of their children. Judges nationwide consider shelter housing to be 'homeless' and give custody of the children to the abuser, who is stable in the home.
Remember the House the Homeless post titled "Are Homeless Parents Paranoid?" If paranoia represents an unreasonable or unlikely fear, homeless parents apparently are not paranoid. All kinds of heart-rending scenarios take place every day in offices and courtrooms. A homeless mother faces the real possibility that her kids can be turned over to the violent non-provider who caused all the trouble, or taken by the state and placed in foster situations. Or she can try to stay under the radar and avoid government agencies altogether. This involves teaching kids to lie to authorities, and other habits that can get them in trouble.
Elsewhere in California, journalist Greg Lee interviewed the CEO of the Riverside County branch of Court Appointed Foster Children (CASA). In that county, some 4,000 foster children reside, with another 1,500 in the nearby Coachella Valley. CASA is a volunteer organization with not nearly enough volunteers for its mission, which is to assign each child an advocate to help them deal with the court system. Deborah Sutton-Weiss made a startling statement:
The foster system is broke. We have more homeless children on the streets now than we have vets and that's a big deal…. What does happen to them is that they either end up homeless, prostituting, in jail or dead.
The authorities take kids from their parents for reasons that are sometimes excellent and sometimes wrong or pointless. Those children grow up in foster homes, age out of the system, and all too often find themselves on the streets. Vulnerable and unprotected, girls get pregnant and have children who either have no place to live or are removed to foster placements. (Either way, they grow up with a greater chance of being chronically homeless.) There is far too much two-way traffic between the foster care system and homelessness, and plenty more about it to discuss.
Reactions?

Source: "Two growing NC student populations: homeless and homeschooled," BlueNC.com, 11/24/13
Source: "About 800 homeless in Hi-Desert, speaker tells advisers," HiDesertStar.com, 04/18/14
Source: "Homelessness among foster children on the rise in California," KESQ.com, 07/22/14
Image by Martin Belam