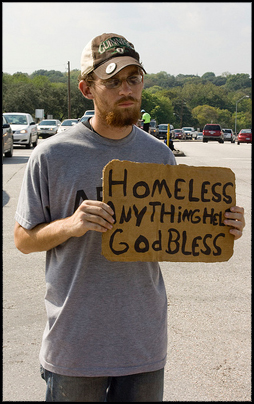 Is there a website called Harass the Homeless? A complete instruction manual for creating extra misery in the lives of the least fortunate and least capable people in a society? There might as well be, because in many nations that consider themselves quite civilized, self-righteous housed people are brilliant at thinking up ways to screw around with people experiencing homelessness. If there were an actual "How to Harass the Homeless" guidebook, it would read something like this:
Stop volunteers from feeding them, as in Houston, Texas. A married couple who have been providing as many as 160 meals per day to people experiencing homelessness, have been forbidden to continue. The post, at From the Left, is attributed to Christopher di Spirito, who says,
Anyone serving food for public consumption, whether for the homeless or for sale, must have a permit, said Kathy Barton, a moron for the Health and Human Services Department. To get that permit, the food must be prepared in a certified kitchen with a certified food manager… The alternative for the Houston homeless — who Kathy Barton is allegedly so worried about protecting, is forcing them to eat garbage out of dumpsters.
Turn them away from an event held to benefit them, as in Coeur d'Alene, Idaho. A citizen activist (and a housed person) organized a peaceful demonstration, during which he and other citizen activists (and housed people) slept outside on the grounds of a college building. Throughout the night, they collected blankets, jackets and sleeping bags for distribution to the city's needy. However, when dozens of actual people experiencing homelessness turned up, wishing to show solidarity by joining the caring citizens, they were directed by authorities to get back to their shelter.
Involve them in dubious political hanky-panky, as in Omaha, Nebraska. The blogger known as Street Sweeper covers the "homeless-pay-for-play scandal," a complex yet mundane story that involves a mayor, a bus, a weather-dependent election strategy, and a number of people experiencing homelessness. Critics accuse Mayor Jim Suttle of "taking advantage of people down on their luck," and of being a cheapskate besides.
The elected official apparently put the icing on the cake by telling the homeless people from the Siena-Francis house not to talk to any reporters about whatever it was he was doing with them. This was after being refused twice by another nonprofit agency, which plainly told the mayor's minions that their request was out of line. A tale of such abysmal pettiness, it must be read to be believed.
Forbid them to hold signs, as in Salt Lake City, Utah. Actually, this just changed. The law itself didn't change, but the municipality agreed to stop handing out citations to people experiencing homelessness who display hand-lettered requests for work, food, or whatever. This was accomplished by an attorney and some homeless plaintiffs, who made a federal case out of it. As Roxana Orellana tells us,
The lawsuit was filed in U.S. District Court last summer by one man and two women who were cited for panhandling by Salt Lake City police. The lawsuit challenged the constitutionality of the state law used to cite them.
For more than two years, SLC has debated the revision of its panhandling ordinance. A very tough group wants to outlaw any requests for handouts made within 10 feet of places like sidewalk cafés. No question about it, to be pestered by beggars is very disturbing for diners and espresso sippers. The article doesn't mention whether beggars can be arrested for removing leftover food from the tables after the diners have finished.
Reactions?
Source: "Houston FAIL: Puts a Stop to Homeless Food Program," From the Left, 01/16/11
Source: "Homeless turned away from event to benefit them," Associated Press via KHQ, 11/29/10
Source: "Mayor Shuttle strategy," LeavenworthStreet.com, 01/14/11
Source: "SLC agrees not to ticket homeless bearing signs," The Salt Lake Tribune, 01/13/11
Image by The Accent (Hanlly Sam), used under its Creative Commons license.