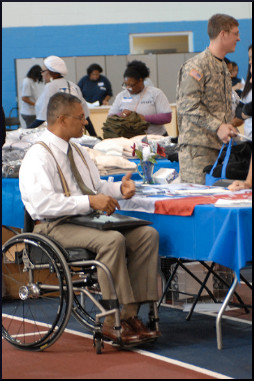 As we know, it's National Hunger and Homelessness Awareness Week, and nobody could say that the plight of homeless veterans does not get media attention. Homeless vets are in the news all the time, and we can only hope that awareness is actually being raised.
When Richard R. Troxell of House the Homeless was interviewed by Wayne Hurlbert of Blog Business Success Radio, one of the subjects turned out to be America's veterans. (The entire show is available as a free, on-demand podcast download.)
Richard pointed out that we're paying taxes so the Department of Veterans Affairs can take proper care of the nation's vets, but for some reason there is still a lot of need. Part of the difference is made up by thousands of volunteers and businesses who make donations and do pro bono work.
There are large organized events called Veterans Stand Downs, where dozens of donor participants help hundreds of veterans at a time, gathered in a central spot. There are small, ongoing efforts and individual initiatives that warm the heart. For instance, some police departments organize donations of backpacks and basic supplies, including information on where to get various kinds of help, and each squad car carries a pack to give away if the officers encounter a homeless vet.
In San Francisco, a coalition made up of the apparel outfitter Chrome, Planet Sox, the VA, the St. Anthony Foundation, and Craig Newmark (of Craigslist fame) gives away massive amounts of shoes and socks to the homeless.
Last year, the homeless veterans of Texas lost a great benefactor on the retirement of Dr. Joel Feiner from the position of medical director of the Comprehensive Homeless Center. As reported by Kim Horner for The Dallas Morning News,
At the VA, Feiner served as medical director of a program with long-term treatment that included psychiatrists, psychologists, a dorm, transitional housing, job training and work programs.
Horner learned that the doctor worked with the civil rights movement in the 60's, and had such unusual habits as inviting patients to call him at home.
Around 200 homeless vets have been in therapy with him, for such conditions as PSTD, severe depression, addiction, and bipolar disorder. He specialized in hopeless cases. The reporter interviewed a formerly homeless veteran, an actual cardboard-box-under-a-bridge kind of guy, who went on to become a GPA 4.0 student who aims to become a teacher, and then quoted Feiner:
We have some very quiet heroes and heroines here — the veterans themselves. Some have been clobbered by conditions they had, through no fault of their own. It's their ability to keep on that I am in awe of.
Another person recognized as a hero, specifically a CNN Hero, is Roy Foster. Formerly a homeless addicted veteran himself, he co-founded (with another homeless vet) a nonprofit organization and opened Stand Down House, which has been helping ex-military people since 2000. Foster says,
I not only wanted to help homeless veterans, I wanted to help them before they became homeless, before they have to live through what I did. My charity in Palm Beach County, Florida, assists veterans, soldiers, and their families by providing supportive services, financial assistance, housing, mental health service referrals and more.
Foster also belongs to the Palm Beach County Veterans Task Force and the Veterans Advisory Committee. He has lent a hand in burials of indigent veterans and created a local Veterans Court, whose aim is to keep his constituents out of the criminal justice system.
Reactions?

Source: "St. Anthony's Honors Homeless and Low-income Veterans With New Shoes and Socks," PR Newswire, 11/08/11
Source: "To homeless veterans, retiring Dallas VA psychiatrist is a hero," DallasNews.com, 10/31/10
Source: "Once homeless vet's mission to save his brothers-in-arms," CNN.com, 11/11/10
Image by MD GovPics, used under its Creative Commons license.