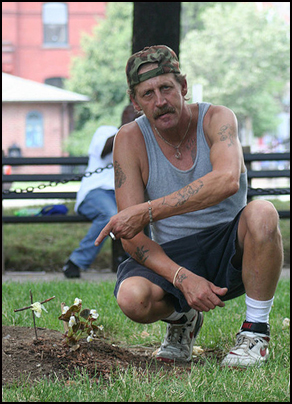 A journalist's first instinct is always to quote statistics, and there is nothing wrong with that. For instance, the National Coalition for Homeless Veterans says, "107,000 veterans are homeless on any given night" [link is ours]. USA Today says that out of every four people experiencing homelessness, one is a veteran. One in four is 25%, and if you multiply it out, that would make a total of 428,000 homeless in the U.S.
However, in 2009, the National Alliance to End Homelessness put the total at 656,129, and you know things have only gotten worse since then. It's not an exact science.
In the era of information saturation, it's nice to think that readers have developed enough savvy to know that statistics can mean a lot of different things. Nothing is more tedious than a dispute with someone who says, "You're wrong, because according to this other survey, only 22% percent of the homeless are veterans."
Can we just accept the fact that, for a number of reasons, sociological surveys can't be exact, and move on? In fact, here's a destination to aim for: the plain, unvarnished truth that 100,000 homeless veterans are too many, and 1,000 homeless vets are too many. One homeless vet is too many. That's the signal, and everything else is just noise.
Perhaps the biggest news on this front is the battle over some prime real estate smack dab in the middle of Los Angeles. Back in February, the ACLU demanded an investigation of what the Department of Veterans Affairs has been doing with the 387-acre piece of property. The deed, dating from 1888, specifies that it should be used as a home for disabled veterans, and forbids its use for anything not related to veterans. Portions of the veterans' land have been leased out to a car rental company, a charter bus outfit, a hotel laundry, and a deluxe private school, and the finances looked murky.
The very next day, it was announced that the local government and the Dept. of Veterans Affairs had started a project designed to house 60 veterans within two years. (There are an estimated 8,000 homeless vets in Los Angeles, so that only leaves about 7,940 on the streets.) Question: How is the military capable of flying into another country and setting up a complete base within hours, yet unable to create housing for just a few more than 60 personnel, and a bit quicker than 24 months?
In June, the ACLU filed a lawsuit alleging that…
… the federal Department of Veterans Affairs has misused large portions of its West Los Angeles campus and failed to provide adequate housing and treatment for the people it was intended to serve.
This was reported by Martha Groves, who further explained,
The complaint, which seeks class-action status, was filed in U.S. district court on behalf of four disabled homeless vets; the Vietnam Veterans of America, a leading nonprofit organization dedicated to helping Vietnam-era vets and their families; and a descendant of one of the property's original owners.
About a week later, Matt Sledge told The Huffington Post readers about a brand new report from the Los Angeles Homeless Services Authority. It indicated that although homelessness in the metropolis was declining overall, veterans as a class have been making up an ever-larger proportion of the homeless.
The reporter names one of the stumbling blocks:
The chronically homeless have burned through their social safety net of friends and family. Physical or mental disability — along with addiction — often contributes to their plight… VA officials, however, disputed the notion that space on the West L.A. campus provided under a "housing first" rubric — which would not require those suffering from addiction to stay sober for housing — would be appropriate for the land.
Following the debate has been a surreal experience. On June 8, one news source said that $20 million had been committed a year ago to convert a building into therapeutic housing. It said the project was not completed, which would seem to imply it had at least been started. Same day, a different news source, Congressman Henry Waxman, announced that the president has signed a 2011 budget item for the $20 million renovation of an existing building. Is that supposed to refer to the same project, which was supposedly already funded and had begun?
Then, on June 16, a fellow named Dave Bayard, the VA's regional public relations director, told Sledge that the buildings on the land are around 60 years old, seismically unsafe, environmentally unsound, vermin-infested, and possibly lined with asbestos. He said,
These are not places where someone could live.
They got a bad case of "the left hand doesn't know what the right hand is doing." Five days later, Fox News quoted VA spokesperson Josh Taylor:
The VA plan calls for three of the 12 buildings to be renovated to provide housing for homeless veterans. The other structures would be used for outpatient clinics and research facilities involving the care of vets… he said the VA's renovation plans have been in the works for months.
A mere two days after that, BusinessWeek published a story by Jacob Adelman outlining the ACLU's objections to the West Los Angeles VA Medical Center's plan. Attorney Mark Rosenbaum noted that it included no commitment to care for disabled veterans who need permanent homes. He said,
It is a direct slap in the face for tens of thousands of homeless vets. If you want to imagine a document that says `We don't care about you and we're turning our back to you,' this is that document.
Furthermore, what first seemed to be a promise of three renovated buildings turned out to be only recommendations for which three buildings to renovate. Even the one they talked about in early June as already financed and underway, as it turns out, also awaits its turn for Congressional approval like the other two. It's just possible that work could begin in December. Or not.
Reactions?

Source: "Homeless vets sue VA alleging inadequate housing and treatment," LA Times, 06/08/11
Source: "Homelessness In Los Angeles Drops," The Huffington Post, 06/16/11
Source: "VA moves to renovate buildings in LA for homeless," Fox News, 06/21/11
Source: "ACLU faults VA plan for homeless Los Angeles vets," BusinessWeek, 06/23/11
Image by Elvert Barnes, used under its Creative Commons license.