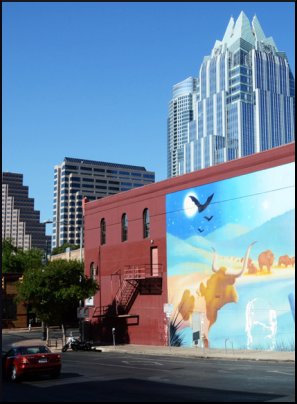 The capital of Texas is such a happening place, and exemplary in so many ways, and of course the home of House the Homeless. Though the organization's concerns are national in scope, it's only natural for this blog to concentrate on Austin now and then, and not everything would fit in last week's edition. In fact it won't all fit here either, but what a year it's been! 2013 started out with the traditional HtH Thermal Underwear Drive, which reminds us that another one is underway!
The South by Southwest festival is huge in Austin, and in 2012 a marketing ploy involving homeless people stirred up a lot of controversy. An ad agency hired people from ARCH (Austin Resource Center for the Homeless) to walk around and sell access to mobile wifi hotspots. According to a spokesperson from Front Steps, the group which currently administers ARCH, 11 of the 13 participants are now housed.
What SXSW offered homeless workers in 2013 was the expansion of a small but ambitious program from one ice cream vending cart last year to four vending carts this year. Mark Horvath reported:
Today I was invited to a training and started to talk to a few of the homeless vendors. To my surprise, they are not living in a shelter. All of them are sleeping outside. To me, that makes this program even so much cooler. See, often opportunities like this go to sheltered homeless. Providing a social enterprise for street homeless people takes a lot of trust on everyone's part. That trust alone may be better at restoring a life than the money these vending carts will generate.
The spring saw a return of Austin's Public Order initiative, whose stated object is to curb violent crime in the downtown area using the services of undercover police officers. When interviewed by Fox News, House the Homeless founder Richard R. Troxell said:
It's clearly a coincidence, but it's a coincidence that keeps occurring every time we have another event, whether it's South by Southwest or we have Formula 1 or whatever…. It's ludicrous to even suggest that there's even a connection between public solicitation and violent crime.
The Austin police have been breaking up an average of two temporary settlements per week in the Barton Creek Greenbelt, cheered on by headlines such as "Homeless Camps Lurking in Austin Parks" (from KEYETV) and promising, "One camp at a time, APD will continue to keep the parks safe making sure your hike is just that."
In September, upwards of 400 homeless advocates gathered in Austin for the Texas Conference on Ending Homelessness. In conjunction with the event, Pat LaMarche wrote about an interesting organization called Art from the Streets, through which homeless artists have been selling artwork for 20 years. Here is an interesting side note on how obstacles are constantly erected on the path to getting everybody housed:
HUD regulations changed this year. They now require that agencies prove their clients don't have anywhere to live. Luckily, Art on the Streets doesn't receive HUD funding and the participating artists don't have to jump the often out of reach administrative hoop of proving a negative in order to participate.
The group Mobile Loaves and Fishes is in the process of creating what one local business owner called "the very first 'yes, in my backyard' project!" although, being 10 miles outside Austin, it's technically in Webberville's backyard. At any rate, the backyard "sits on a 27-acre master-planned community and will provide affordable, sustainable housing for approximately 200 chronically homeless disabled people in Central Texas."
The plan is for a gated community made up of tiny storybook houses and tents and mobile homes, each with a garden around it. There will also be a community garden, a medical facility, an interfaith chapel, an outdoor movie theater and a woodworking shop. The residents will pay low rent from their disability benefits, and House the Homeless is poised to help them through the red tape of the system. Meanwhile both agencies, and others, are concerned with helping homeless Austinites through yet another unexpectedly cold winter.
In March, Richard R. Troxell announced an ambitious project. Andrea Ball wrote:
Troxell, 62, is crafting a piece he calls "The Homecoming," a life-sized statue depicting a scene between a homeless Vietnam veteran, his young daughter and a "bag lady," as Troxell calls her. The idea, he said, is to present an emotional snapshot of life on the streets. Ultimately, he'd like to see the work displayed somewhere in Austin…. It will take a lot of money to make the project happen, probably $200,000, Troxell said. He hopes to raise the cash through donations and sales of 12-inch replicas of the sculpture.
If realized, the sculpture will take up a 17-by-8-foot space in the park near the Lady Bird Hike and Bike Trail, where the Homeless Memorial service is held each autumn. In the ensuing months, there was controversy. Ed Morrissey wrote:
Art, however, has a lasting impact and message, one that might well provoke enough attention and concern to prompt more public but hopefully private efforts to reduce homelessness and poverty for a much longer time. That is why art and culture matters, why it is … upstream of politics, and why engagement with it is crucial for public policy and development. If Austin has the cash to do this without soaking taxpayers or shorting services (which is a big if), it's not an irrational option.
Sculptor Timothy P. Schmalz has taken an interest in the project and believes it can be completed for around half the original estimate, or about $100,000. In November, Schmalz visited Rome, where he presented to Pope Francis his sculpture depicting Jesus as a figure asleep on a park bench.
Two weeks ago, Pope Francis blessed another statue by Schmalz at about the same time Schmalz and Richard signed a contract to sculpt Troxell's statue of homelessness. And one last thing: the Pope was named Time's Man of the Year in part for his efforts to shape thinking about the world's poor.
Reactions?

Source: "Homeless Who Participated in SXSW Wi-Fi Stunt Now Have Housing ," ABCNews.go.com, 03/13/13
Source: "At SXSW Helping Homeless People Is Delicious With Street Treats," HuffingtonPost,com, 03/10/13
Source: "Is APD's initiative targeting crime or the homeless?," MyFoxAustin.com, 03/04/13
Source: "Homeless Advocates Cooperating: It's an Art Form," HuffingtonPost,com, 09/27/13
Source: "Homeless To Be Housed In Tiny House Village In Austin," Samuel-Warde.com, 11/20/13
Source: "Homelessness memorialized: Advocate making statue to depict life …," Statesman.com, 03/02/13
Source: "Should Austin spend $175K on statue honoring homeless … or on the homeless?," Hotair.com, 08/29/13
Source: "'Homeless Jesus' sculpture presented to Pope Francis," News.va, 11.20/13
Image by Woody Hibbard