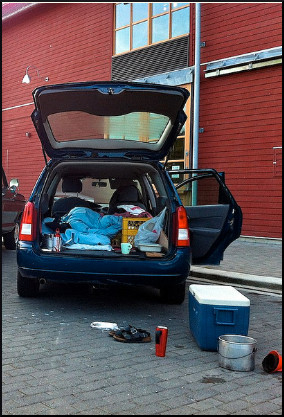 A few American cities have reached a kind of homelessness boiling point, and San Francisco is one of them. The latest count, more than a year old, determined that 6,686 people experienced homelessness in the city at that time. In the San Francisco Chronicle, Heather Knight notes that "There are about 700 homeless people living in 100 encampments around San Francisco," and goes on to enumerate the myths of homelessness.
The first myth to fall is that San Francisco is overburdened with homeless people because of its generosity, which is predicated on the notion that people are voluntarily homeless. According to that school of thought, if the city would summon the will to exert "tough love" by cutting services, people experiencing homelessness will change their minds and pursue a different lifestyle.
According to the myth, the services offered by a compassionate city act as a magnet to draw an opportunistic crew of dispossessed people from everywhere. On the contrary, a survey showed that 71% of San Francisco's street people had formerly been housed in the city.
They were trying to establish lives there, and they experienced setbacks. Knight says:
So a few hundred of the 6,686 homeless people in San Francisco came for our great homeless services — a sizable chunk, but nowhere near the majority.

Matthew Doherty, executive director of the United States Interagency Council on Homelessness, came to San Francisco recently and said just about every city he visits claims it's a magnet for homeless people because of its robust services. Los Angeles, Seattle, Portland, Ore. — you name it.
This suggests that if other communities would do more, the hub cities would not have to absorb so many abandoned and disenfranchised individuals.
Myth 2 — "A lot of people just want to be homeless" — contains a kernel of truth. A small percentage of rough sleepers actually insist on a nomadic life, for reasons that range from schizophrenia to PTSD to reckless adventurousness. Unfortunately, some folks are "treatment resistant" because of inadequate excuses for treatment they have been subjected to in the past. Most shelters don't let partners stay together, or allow pets, or provide safe storage for belongings. Even if a shelter bed costs nothing, the price may be too high in other ways.
But if everybody stayed in full compliance with the rules, there wouldn't be enough beds for nearly 7,000 San Franciscans. Despite Myth 3, that there are plenty of beds, the city only has 1,200, and at any given time more than 600 people are likely to be on the waiting list.
Myth 4 holds that if only the homeless people were gone, the streets would be pristinely clean. According to this myth, college students, tourists, and housed people never toss litter on the sidewalk, pee in the bushes, dispose of unwanted possessions inappropriately, or let their dogs deposit feces in public places.
Myth 5, according to Knight, is a particularly hurtful one, that the Coalition on Homelessness is getting rich off the current situation and only wants it to become worse. This is related to Myth 6, which has to do with the mathematics of how the city's homeless services budget is distributed. We needn't go into San Francisco's particulars, but it is a good reminder that in any city, someone needs to keep a close eye on how the homeless money is spent.
Next is Myth 7 and its rebuttal:
Myth 7: If a homeless person wants services, he or she can get them immediately.

You'd hope this would be true in a city that spends $241 million — a whopping amount — on the problem. But it isn't.

A homeless person can get a one-night emergency shelter bed quickly. But anything else — supportive housing, longer-term shelter beds, mental health care, substance abuse services — requires a waiting list. If the waiting list is even taking new names. Some are so long, they're closed… All waiting lists for housing beyond shelter take years.
Myth 8 on Knight's list is that "We're all just one paycheck away from being homeless." She believes that the average person, if faced with homelessness, would be helped by friends or family members.
Unfortunately, in the real world, housed people are not willing to get rid of their pets just because an animal-allergic friend needs a place to stay. They keep their spare room empty in case their college-student kid decides to visit, or keep it filled with stuff owned by another relative who doesn't want to pay for a storage unit.
People receiving Section 8 help are forbidden by the government from sharing their living space. Housed people have a lot of different reasons for being unable to help, so Knight's assessment might be overly optimistic.
Reactions?
Source: "What San Franciscans know about homeless isn't necessarily true," SFChronicle, 04/01/16
Source: "Myths, like homeless problem, not going away," SFChronicle.com, 04/08/16
Photo credit: Dale Simonson via Visualhunt.com/CC BY-SA