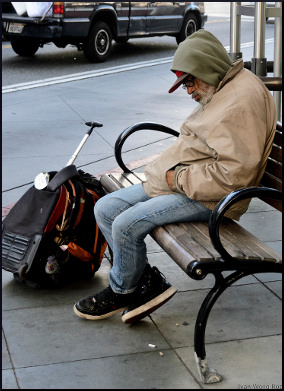 In case you missed it, we strongly recommend this very thorough overview of the latest development in reducing the horrendous amount of damage that has resulted from traumatic brain injury.
"Survey Links Brain Injury to Medical Causes of Homelessness To be Addressed with Hormone Therapy" describes the efforts of endocrinologist Dr. Mark L. Gordon of Millennium Heath Centers, who has made it his mission to certify 500 doctors in hormone replacement therapy. Dr. Gordon is collaborating with special forces veteran Andrew Marr and the Warrior Angels Foundation, and with House the Homeless.
But what does this have to do with homelessness? Our readers will remember that traumatic brain injuries have been suffered by an astonishing number of people experiencing homelessness, including a large humber of veterans.
California
Now let's celebrate some other people who work at the intersection of medicine and homelessness. California is always a good state to look at, because a lot of things are tried out there first before being adopted in other parts of the country. Five years ago, when Alameda County received a $300,000 federal stimulus grant, the money went to replace the old worn-out mobile health bus with a "flashy RV with the ability to treat almost every small to medium-sized medical problem on the spot." The plan was for it to travel among 28 locations in the county, which includes Oakland, Berkeley, and several other cities. The current schedule can be found online.
In San Diego, the St. Vincent de Paul organization has been holding the line against poverty and homelessness for some 60 years. They have had mobile clinics for a long time, but homeless healthcare is only one facet of the many services, which include rental assistance, education, job training, mental health, food, clothing, addiction treatment, case management, and child development. The Village Family Health Center exclusively serves homeless patients, including care in the specialized areas of dentistry, pediatrics, obstetrics and gynecology, and psychiatry.
Dr. Chris Searles, the former director of clinical outreach, once described the frustration of knowing that, for every patient who eventually would be seen, there were rough sleepers who could not muster up the trust to present themselves, and others who did not identity themselves as having a problem. Equally dismaying, then and now, are the many people who need multiple medications just to maintain, but who can't afford to pay several hundred dollars a month for pharmaceuticals.
Dr. Searles told reporter Randy Doting:
We see a lot of people with skin infections. We see people who make their living from canning (gathering cans for recycling) in dumpsters get impetigo… [D]ifferent types of skin infections and a lot of respiratory problems…

Sometimes it takes seven or eight times before they're ready to make an appointment…

We see people who've lived with untreated schizophrenia or bipolar disorder for years, and sometimes the very thing they need to be treated for is pushing them away from the clinic. A paranoid schizophrenic who doesn't trust easily is not going to want to go to a doctor…
Serving as medical director of Homeless Health Care LA, Dr. Susan Partovi espouses the same take-it-slow philosophy, and told journalist Usha Lee McFarling that street medicine is all about developing relationships. This is done by listening respectfully, moving gradually, and most of all, waiting.
In Los Angeles, "Skid Row" is famous worldwide for its huge concentration of people experiencing homelessness, and an awful lot of the residents are very sick with everything from scurvy to the virulent MRSA infection. For over a decade, Dr. Partovi has visited the area often, helping in any way she can. Often, this help involves exercising a skill that has caused her to be known as Queen of the Abscess. The practice of street medicine offers many intangible rewards, but glamour is not one of them.
Reactions?
Source: "Roving Medical Bus Provides Health Care to Alameda County's …," CBSLocal.com, 10/01/11
Source: "Alameda County HCHP Homeless Services Calendar," Alameda County Public Health Department
Source: "St. Vincent de Paul Village, Inc.," AllianceHealthCareFoundation.org, February 2012
Source: "A Transient Doctor for the Homeless," VoiceofSanDiego, 06/10/11
Source: "Her office is Skid Row: A doctor tends to the staggering needs of the homeless," StatNews.com, 05/13/16
Photo credit: Indavar via Visualhunt.com/CC BY-ND