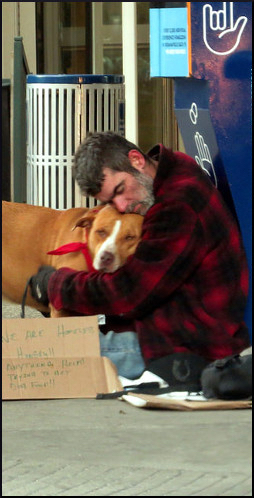 Consensus holds that between 5% and 10% of people experiencing homelessness have pets, most often dogs. The notable exception, Ace Backwords, lives in the Berkeley hills with a herd of cats that he feeds, photographs, and writes numerous blog entries about.
Most homeless shelters don't allow pets. But of course, the people who are allergic to hairy animals deserve consideration too. As do the people responsible for keeping shelters clean. Dogs can and often do have continence problems. Even a dog who is trained to only relieve itself outdoors could make a mistake, because institutions run on schedules. There are safety issues, and a responsible shelter can't let people wander in and out all night long.
Richard R. Troxell of House the Homeless says:
We are also now learning that many battered women won't enter a shelter because they won't leave their "other child" (dog or cat) with the batterer. In response, many woman's shelters have now opened their hearts and their doors to these beloved family members, so all battered women can find sanctuary.
Occasionally there is a situation that is unclear, or hard to resolve. What about a blind person with a guide dog? In that case, the Fair Housing Act forbids discrimination against the disabled, and supersedes the no-pets rule. But a City Rescue Mission in Pennsylvania got in trouble for not knowing that, or not caring.
It is probably fair to say that most of the dog owners are street people, because of the hassle. Who is on their side? Depending on where a person lives, either nobody, or a patchwork of a safety net that may or may not be able to help with any given problem. It all depends.
Allies and advocates
In Los Angeles, a park hosts health fairs for people experiencing homelessness and their pets. Pets of the Homeless is a national group with 424 donations sites, which have collected 588 tons of pet food and extended medical treatment to more than 18,000 pets.
In Louisville, KY, the group My Dog Eats First helps out with pet food and supplies, vaccinations, and even spay/neuter services. It's not just for the sake of the humans. Pets have healing power that helps people, and there is benefit also to the healthy pets who will not wind up in shelters, or worse yet, euthanized. The local volunteers pick up donations, clerk at the Pet Food Bank, and separate jumbo size bags of food into 1 gallon plastic zip bags.
The video on this page shows the process involved in helping to supply My Dog Eats First with food and other commodities to distribute in the homeless community. It was made by Prank It FWD producer Tom Mabe, who has a message for uncomprehending housed people:
I used to get really upset when I would see a homeless person with a dog. I would think, "You can't take care of yourself, how are you going to take care of this dog?" But after spending a lot of time with them, I realized that they take great care of their dogs… They're best friends, there's all kinds of unconditional love. A dog doesn't judge the person, a dog doesn't steal from the person… Maybe think twice, the next time you see a homeless person with a pet.
Mabe also said, "It gives them something to be accountable for," which is no small matter. Part of that accountability is that a canine companion might also motivate some folks to steer clear of avoidable trouble. You don't want to go to jail if that will jeopardize your best and only friend.
Aside from giving the human a sense of purpose, a dog often lends protection, or at least some extra-alert senses. If someone is asleep and would be better off awake at the moment, a dog will know it. There are shady humans intent on thievery or assault, and even some very ill people who believe that their divine mission is to execute rough sleepers.
Personal testimony
Becky Blanton, who has experienced homelessness and presented a TED Talk about it, was blocked from renting an apartment partly by the security deposits that her cat and dog would require. (Again, it is hard to blame landlords, because even nice animals can do extensive and expensive damage.) But loyalty to the pets was certainly a factor in her staying in a vehicle, rather than gaining a roof.
HtH has written about the film Wendy and Lucy, in which a heartrending dog-related decision is made. If the pet owner happens to become homeless in a city where people tend to be rehoused pretty quickly, the temptation is strong to hang onto the pet or pets, even if it means living in extremely limited conditions, i.e. outside of the official shelter system. After all, it would be terrible to give up the pet, find a place soon, and later have to think, "If only I'd held onto Buddy for just two more weeks!"
What can people do?
House the Homeless raised awareness by publishing Pet Calendars, two years in a row, and redesigned its logo to include a canine companion (see top of page.) Also relevant is the memorial page for Austinite Judy Lynn W. Beall. If you are someone who carries around extra clothes or water to randomly give out, consider adding some dog food to the stash in your trunk.
NOTE: Actually, this post is a teaser. We will be talking more about a specific little dog named Joey, in the context of a project called The Homecoming.
Reactions?
Source: "He Said He's Filming The Homeless & Their Pets, But What He Really Does Shocks Everyone," PawMyGosh.com
Photo credit: Steve Baker on Visualhunt/CC BY-ND