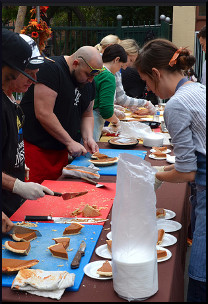 Last week, House the Homeless remembered the good work Robin Williams did on behalf of people experiencing homelessness, but forgot to mention the outstanding gesture he made some years ago, described here by journalist Dustin Volz:
In a stunning moment of candor, Williams testified before the Senate Labor and Human Resources Committee in 1990 in support of the Homelessness Prevention and Community Revitalization Act, which sought to direct funding to housing-based support centers for the chronically homeless and to boost mental-health services. (A related bill became law later that year.)
Williams is of course not the first celebrity to leverage fame and name recognition into promotion of societal change for the better. This summer, film star Susan Sarandon told lawmakers at a congressional briefing that people experiencing homelessness need to be included as a protected class, as defined by the Hate Crimes Statistics Act.
But often the venue for publicizing a good cause is less formal than the legislative halls of Washington, D.C. Every Christmas, celebrities come out to serve dinner to thousands at the Los Angeles Mission. Last Christmas, hip-hop stars YG and Snoop Dogg financed a $10,000 shopping spree for 60 L.A. shelter kids, and actor Charlie Sheen donated $50,000 to My Friend's Place, a center in Hollywood that serves homeless youth. Vocalist Cyndi Lauper holds an annual holiday benefit concert to raise money for her True Colors foundation, which helps homeless LGBT youth.
The extremely popular TV series Breaking Bad, which was made in Albuquerque, N.M., gave many of the show's wardrobe items to be sold at local thrift stores that support the homeless shelter. Because they are not just used clothes but entertainment-industry memorabilia, the donated items fetched good prices. Back in May, wildman comedian Russell Brand shocked some Beverly Hills neighbors by letting homeless friends stay in his multimillion-dollar house while he was out of the country.
But consciousness of social inequity is not recent. In this video clip from San Antonio 20 years ago, country music legend Townes Van Zandt performs "Marie," his song about a homeless couple.
<iframe width="560" height="315" src="https://www.youtube.com/embed/pXJPVRw3hmk" frameborder="0" allow="accelerometer; autoplay; clipboard-write; encrypted-media; gyroscope; picture-in-picture" allowfullscreen></iframe>
In A Deeper Blue, biographer Robert Earl Hardy said of the singer:
Townes had exhibited concern for the poor and homeless since his childhood, and he still made it a habit to give money — often his entire earnings from gigs — to street people.
The Los Angeles Times published a fascinating story by Rene Lynch, who interviewed the winner of the popular televised culinary competition Chopped. The subject, D. Brandon Walker, administers and teaches in a culinary training program for the St. Joseph Center, the venerable helping institution in Venice, Calif. He also fills the post of executive chef, cooking for the Bread and Roses Cafe, which serves meals to people experiencing homelessness. The students get a chance to practice there too. And Walker likes the idea that even people who are broke can have a luxurious dining experience.
Here is the really interesting part. Since the supplies at the Bread and Roses Cafe are donated by food banks and restaurants, the staff never knows what will show up on any given day. They are constantly forced to improvise, creating meals on the fly from whatever is available. It was perfect training for Walker, because the whole format of the TV show Chopped is based on presenting the contestants with a random assortment of ingredients.
So Walker won the competition, and he gives credit to the experience gained from many years of cooking for the indigent people of Venice. The guests and trainees at the St. Joseph Center were very proud of having their very own chef go to New York and win a competition. And Walker says he has the best job in the world. Lynch quotes his inspiring words:
My job is unique in that I am cooking everyday and I'm teaching. We train people who are coming out of all different types of difficulties in their lives…. People who are unemployed or underemployed. Coming out of rehab, or transitional housing, coming out of penal system, or being laid off. We give them the opportunity to learn.
Now, all they need is a Living Wage job!
Reactions?

Source: "What Robin Williams Told the Senate About Homelessness," NationalJournal.com, 08/12/14
Source: "YG & Snoop Dogg Donate $10,000 To Los Angeles Children," hiphopdx.com, 12/27/13
Source: "'Breaking Bad' gives clothes to homeless," ABQJournal, 02/26/13
Source: "LA chef says serving the homeless helped him win 'Chopped'," LATimes.com, 10/27/13
Image by Neon Tommy0