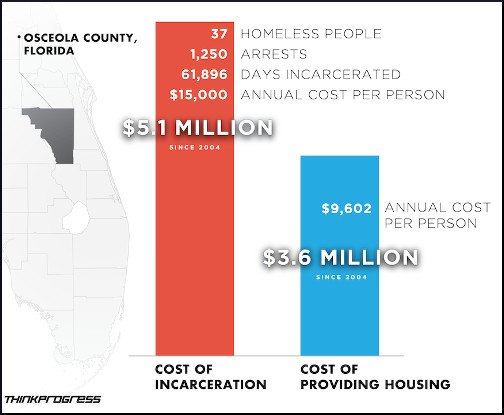 Sometimes people have the most inane knee-jerk reactions to ideas. For instance, the idea of housing the homeless elicits howls of resistance — "Think how much money that would cost! It would be so expensive!" Well, O.K., let's start by thinking about how much money goes into doing things the way they are currently done. This enlightening quote is from Elizabeth Dillard, executive director of the Homeless Resource Network in Columbus, Ohio:
Homelessness is about what happens in our emergency rooms. It's about what happens in our jails, what happens with our fire and rescue, what happens when a building burns down because a person built a fire because he was cold.
Homelessness is about what happens in our libraries. A disgruntled San Franciscan recently warned his fellow citizens that since the Internet has made public libraries less relevant, the bureaucrats "scrambled around" to figure out what to do with libraries and decided to turn them into homeless outreach centers.
We live in a society that levies fines on people who obviously have no money, for the crime of having nowhere to live, and punishes them by providing a place to "live" that's temporary, dangerous, and locked. Then we punish them further by putting marks on their record to guarantee they will never become employed, productive members of the community. Could anything be more absurd than the street-jail-street merry-go-round?
It's worse than bad, it's useless
Upon learning how Eureka, Calif., spent $13,000 to prosecute one person for sleeping in public, Arnie Klein, a retired deputy district attorney, called the judicial system a travesty. He elaborates:
The maximum penalty of six months in county jail or a $1,000 fine is a farce…. In no way will this prosecution prevent homeless people from camping on our public lands. Having 40 years' experience on both sides of the table in the arena of criminal law, I would have recommended a more humane and cost-saving solution.

I do know for a fact … that money was expended to pay the judge, the bailiff, the court reporter, the jury, the defense attorney, and the prosecutor, as well as for the use of the courtroom, to pursue this fool's errand.
On the other side of the country, in Orlando, Fla., public defender Bob Wesley had this to say:
Any time you have a court case, you're going to have judge with a graduate degree, two lawyers there, bailiffs in the courtroom, court reporters — you've got to have a court, all to solve the problem.
From just south of Orlando, in Osceola County, Scott Keyes reported that, over the past 10 years, a grand total of $5 million has been spent on 37 individuals. Did this $5 million buy them houses fitted out with all the mod cons, and perhaps a swimming pool and a couple of servants? No, all it paid for was to put them in jail a bunch of times.
The charges were what are called "quality-of-life" offenses, which basically means it bums everybody out and ruins their day to see people snoring on the sidewalk. Never mind how the people experiencing homelessness feel about it — their lives don't have any quality, and aren't supposed to, because they screwed up by taking a wrong turn in life's journey.
Some of the "bad choices" that have rendered people homeless include joining the military and coming back with a head injury; needing to escape from a spouse who turned abusive; working for a company that fires loyal employees the day before their pensions kick in; and accruing ruinous medical bills from being hit by an uninsured driver. Babies make the stupid choice of being born to homeless parents!
It's worse than useless, it's bad, and it's costly!
Those 37 Osceola County homeless people piled up 1,230 arrests, resulting in 61,896 jail days at $80 per day, resulting in a cumulative price tag of $5,081,680. Keyes weighs the costs:
A far cheaper option than criminalizing and jailing the homeless is to provide them with permanent supportive housing. An average permanent supportive housing unit in Osceola County costs $9,602 per year, which includes $8,244 for rent and utility subsidies and $1,358 for a case manager (with a case load of 30 clients). In other words, each supported housing unit costs the county 40 percent less than what they're currently paying to put homeless residents in jail.
For more on this question of costs, please see Richard R. Troxell's Looking Up at the Bottom Line, pages 102 and 131.
Reactions?

Source: "Homelessness organizations look to house 100,000 by July," Ledger-Enquirer.com, 01/12/14
Source: "Surprise! San Francisco Public Library Now a Homeless Shelter," DailyPundit.com, 01/17/14
Source: "Hauling homeless into court a waste," Times-Standard.com, 01/08/14
Source: "Arresting homeless people for sleeping outside costs taxpayers," WFTV.com, 12/25/13
Source: "One County Spent Over $5 Million Jailing Homeless People Instead Of Giving
Them Homes," ThinkProgress.org, 02/05/14
Image by ThinkProgress