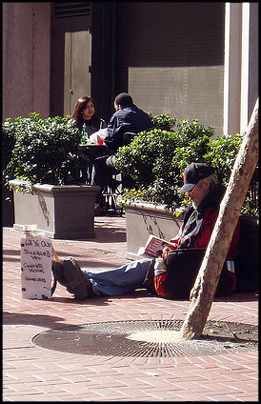 First tangent: Really, at this moment, the thing to pay attention to is the upcoming Tax Day Action. So, hop over to that page to find out what part you can play in making the Universal Living Wage a reality. Then come on back here, okay?
Second tangent: Did you ever accidentally run across some little tidbit of news or information that just makes your day? Sometimes it even does more than that — sometimes it lifts the heart and gives hope for the future. For instance, Nicole Pariser, having completed a combined honors degree in Global Studies and Anthropology at Wilfrid Laurier University, is now at York University, in Toronto. These words are from her Graduate Student Profile:
In broad terms, my research focuses on migration and mobility; who is allowed to move and who is not, and how these choices are justified, particularly by nation states to their citizenry… My research has primarily focused on human trafficking, however following experiences in Vancouver's downtown eastside, as well as San Francisco, specifically relating to homelessness and the passage of 'no-sit-no-lie' policies, my research interests have expanded to include the ways in which migration and mobility come to be constrained not only across national borders, but within them as well… I believe… in the transformative power of engaged anthropology and activism to expose, contest and change that which is unjust.
Now back to our regularly scheduled post. We've talked about Austin's No Sit/No Lie Ordinance before, but not in as much detail as the subject deserves. Here is the background. In 1989, Richard R. Troxell created House the Homeless (HtH) and began challenging the No Camping ordinance that criminalized the homeless for their economic circumstances by fining them $500 for sleeping outdoors. He is still fighting for change in the rules of that excellent Texas city.
Being especially appalled by the treatment of people experiencing homelessness who are also disabled, HtH strives to banish ignorance by collecting facts. As Richard testified to the Health & Human Services Committee of the City Council in July 2010, the HtH surveys found that nearly half of the homeless have medical (including psychological) conditions that make them need to sit down from time to time. Sometimes it's the effect of their medication that makes them need to sit down, but they're on medication because they have medical problems, so it amounts to the same thing. But there were no exceptions for this group of people, not even if they were on crutches or wearing a leg brace. Sitting around in public was good for a fine or a jail sentence.
HtH took the position that Austin was out of compliance with the Americans with Disabilities Act (ADA), one of the federal laws that states really are supposed to observe. Also, the ADA is not the Americans with Physical Disabilities Act.
HtH garnered support from other organizations such as Mobile Loaves and Fishes; St. David's Episcopal Church; Legal Aid for the Homeless; Advocacy, Inc.; and the National Coalition for the Homeless. They were asking for 20 exceptions to the harsh law, but the city would not consider any of them. Among those expected to stay on their feet at all times were people newly released from hospital treatment; people officially recognized as unable to work by the fact that they receive disability checks; patients waiting in line at health clinics; and disabled veterans. Particularly, the city seemed to target people with mental disabilities, who can be persecuted and prosecuted without very much complaint from the voting public. As Richard says,
…people suffering with mental health disorders are routinely treated with very powerful drugs that often cause them to become woozy and dizzy. They often have sunlight and heat sensitivity that depletes them of their energy and causes them to need to temporarily sit and rest.
A mentally ill, disabled person experiencing homelessness is particularly vulnerable to being punished for her or his condition. How does a person like this go to court and prove that they were, on a certain day, at a certain time, suffering from pain, weakness, nausea, faintness or dizziness? But the city insisted that the accused must "create an affirmative defense." Richard met with various authorities, including the chief of police, but reports, "The Chief said that he simply did not want disabled homeless people sitting and lying down all over the city."
So there you have it. You'd think the city was being invaded by commies or rabid biker gangs or Black Panthers or terroristic Islamists or interplanetary aliens. But no, it's worse. It's a bunch of people who are in the midst of being pretty badly beat up by life. And they have the gall to sit on the ground, or, worse yet, lie on the ground. That is the threat from which the police are happy to defend us.
Reactions?
Source: "Anthropology Graduate Student Profiles," York University
Source: "Austin City Council Discriminates Against the Disabled," housethehomeless.org, 01/19/11
Image by Kevin Wong (Marlith), used under its Creative Commons license.