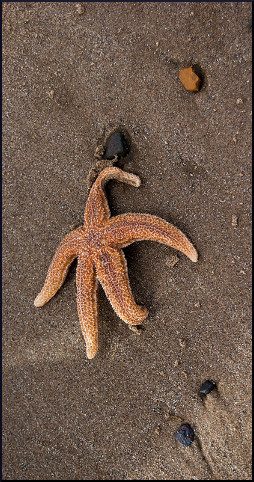 There are many versions of the starfish story. Here is one.
A man walking along a shore covered with washed-up, dying starfish notices a boy throwing them back into the ocean, one by one. The man says to the boy that there are miles and miles of beach and hundreds of starfish, and that he'll never make a difference. As the boy throws a starfish back into the ocean, he says, "I just made a difference to that one."
Almost three years ago several Denver-area news sources related how Joe Manzaneres, on his way to work as a real estate broker, drove past Chris Razec. A certified welder and forklift operator, Razec had fallen on hard times and was experiencing homelessness and displaying the typical cardboard sign.
The real estate broker returned with a different sign and paid Razec $25 a day to show it to the public instead. It read, "No need for your cash! I'm sponsored by Joe Manzaneres!" and gave the businessman's contact information.
Subsequently, Manzaneres also helped out with clothes, haircut, cell phone, and resume creation. Unfortunately, we don't know more about either the individual fate of Chris Razec or what happened with Joe Manzaneres's idea of asking the mayor's office and the Colorado Coalition for the Homeless to begin some type of one-on-one sponsorship program.
Also in Denver, Purple Door Coffee is an espresso shop that employs "teens and young adults who have been homeless and want to leave homelessness behind." The interesting thing about their website is the page containing profiles of and interviews with the employees. It really radiates conviction that people's lives are indeed changing.
From Dothan, Alabama, journalist Matt Elofson described a plan that might help a few people in a state that many consider, social policy-wise, to be very backward. He wrote:
Ken Tuck, the president of Love in Action International Ministries, said they're planning to open the former Dakota Coffee Works cafe and make it a self-sustaining business by helping train homeless people to run the business…

Tuck grew up in the restaurant business… He said the coffee shop will serve breakfast and lunch. He also said the coffee shop will have a meeting room, and will include a stage for live entertainment and worship nights.
The goal is to provide job training and actual paying work for people experiencing homelessness. Ken and Martha Tuck plan to also teach such life skills as budget planning and how to handle a job interview. Meanwhile, they are holding yard sales, trying to raise at least $250,000 in startup funding.
If a business like this can find its footing, who knows how many people it might help? But it is never easy. A similar project began in 2014 in Fort Collins, Colorado, when RedTail Coffee joined with the city and a local not-for-profit organization to open a coffee shop inside the South Transit Center, a large and fancy new bus transportation hub.
The intention was to only hire people experiencing homelessness. Toward the end of 2015 one of the proprietors, Cailte Kelley, wrote:
We struggled but eventually we figured it out. The people we needed appeared, the opportunities appeared, and with no money, no experience, we put the pieces together…

We're a small shop, run by my incredible sister-in-law Kelly, with 3 employees with a fourth about to be hired. Two of our employees have found permanent housing and are well on their way to piecing their lives back together.
The food and drink selections were varied and the prices reasonable, but somehow RedTail Coffee didn't catch on. The transit hub lies well back from the main road, close to nothing but a recreational bike trail, and populated by folks waiting as long as an hour for their transfer buses. It seems like they would be a captive clientele.
But people who ride city buses often can't spare even a couple of dollars for snacks. Bike trail users are trying to work off calories, not ingest them. And in that location, the little shop certainly was not a "destination." Only a few months later, it closed without fanfare.
So these efforts have either helped a handful of people, or tried to, or hope to very soon. Sometimes that's all a person can do, and there is nothing wrong with a small project. But some critics will try to float the idea that unpopular change should exclusively be made by individuals who care about that particular issue, and that those changes are not the responsibility of the country as a whole to endorse, support, or finance. This last paragraph by a writer named Rich Tafel reminds us that, magnanimous as they are, individual efforts are not enough, and need to be backed up by public programs and laws:
Real world problems usually result from a broken ecosystem, and solutions most often require some kind of change to the rules…

Starfish throwing, like charity, isn't a bad thing, but it is not a solution. When we confuse charity and justice, we perpetuate injustice. True world change requires more of its leaders. We must have the courage to work within our complex systems to change the rules.
Reactions?
Source: "Denver real estate broker hires homeless to help them and his business," WTKR.com, 01/03/14
Source: "Purple Door Blog," PurpleDoorCoffee.com, August 2016
Source: "Homeless employees to operate ministry's downtown Dothan coffee shop,"
DothanEagle.com, 09/03/16
Source: "The Greatest Thing I've Ever Done," Opportunities-fc.com, 11/12/15
Source: "Social Entrepreneurs Must Stop Throwing Starfish," Ssir.org, 03/20/12
Photo credit: Matt J Newman via Visualhunt/CC BY-SA